Hamlet
William Shakespeare
Ambassador Theatre Group, Sonia Friedman Productions and the Almeida Theatre
Harold Pinter Theatre
–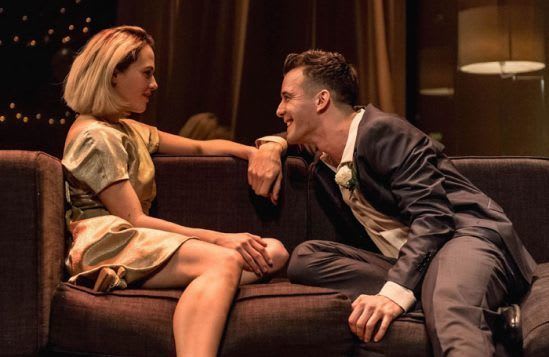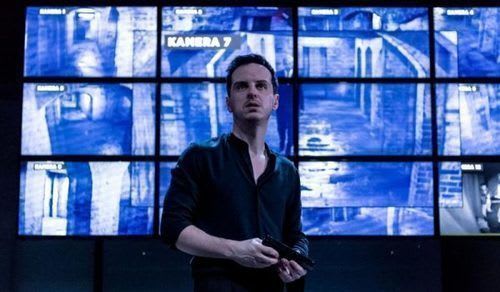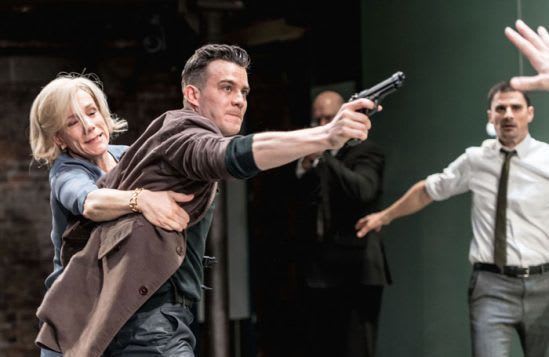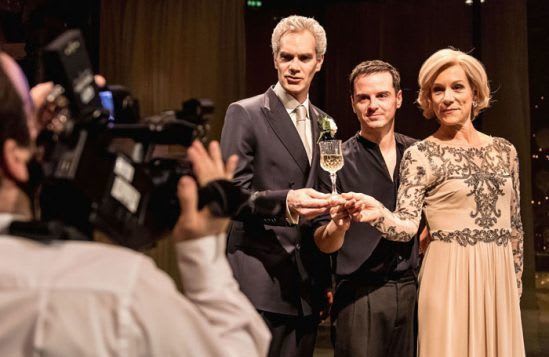 This is a modern dress Hamlet, its royal family very Scandinavian and domestic. They may live in a castle, its ancient vaults continuously covered by security cameras, but their own apartments are ultra-modern all sliding glass doors and comfortable sofas, though they do seem to have only one room which they all escape to.
Their PR is very efficient: cameras at the ready when they want something made public and discretely removed when that business is over. Though on familiar terms with the family of Polonius (who seems more a court official than a politician) and some others by invitation, formal contact with ambassadors and others is conducted on CCTV. There has been a diplomatic solution to an external threat from Norway but castle security seems always active and it is on camera that those watching first see Hamlet's father's ghost.
Director Robert Icke has drawn on both Quarto and Folio texts, made some cuts, rearranged the sequence of some scenes, reassigned some lines and updated a few words for clarity to create a version that plays for 3¾ hours (including two intervals). It says much for its effectiveness that when the first interval comes after two hours it hasn't felt too long. Perhaps that's partly due to a strong feeling of having been let in the royals' private world: the lustfulness of King Claudius and Gertrude, the feelings for each other that Hamlet and Ophelia have kept secret, as well as the openness of Hamlet's soliloquies, shared with the audience, even as he thinks them.
Although he has hit it off with Ophelia, there is something about Andrew Scott's Hamlet that has kept him away from court; at 30 he's still at university (where he has picked up a slight accent). Now, with his bag already packed (and carrying it himself), he is about to be off again, his mother's sudden marriage so soon after his dad's death to an uncle with whom he isn't comfortable has made the situation worse. Is there a back-story we don't know about? When his mother convinces him he should stay, he kicks the case under a sofa and leaves it there.
This guy is a man who thinks on his feet, thoughts half-formed, shaped on the instant, rather than the pattern of iambic pentameter. He is unsettled certainly and when, set on the path to avenge his father's murder, he feigns madness there are moments when he seems to question his own sanity. When he finds his murderer uncle on his knees praying, it turns into a confrontation that could be in his mind, not reality. Scott's performance is full of emotion, not histrionics.
Angus Wright's Claudius is no obvious villain but a smooth-talking diplomat who knows how to handle power. You might think him guiltless until you see him in television close-up, caught out by Hamlet's "Mousetrap," and overhear his plotting to get rid of his nephew. That suaveness then takes on a sinister quality.
Juliet Stevenson as his queen, Gertrude, seems totally innocent of any knowledge of how her husband died but is now enjoying a more relaxed life. You see her becoming suspicious but convinced only when she finds herself poisoned.
Instead of acting out the "Mousetrap" play in dumb show preview, Ickes makes this a prelude of courtship and the birth of a baby. It emphasises how much his production is about family, both Hamlet's and that of Polonius, a tightly knit one.
Peter Wight's rotund courtier is no ridiculous dotard, his more comic outpourings cut. When he trots out his familiar parental advice, his children view it with amused affection. Like Thompson's Laertes has absorbed his father's understanding of protocol but is full of affection for sister and father. It's not surprising their loss rouses rage, especially when Jessica Brown Findlay presents Ophelia in such touching derangement. This is no romanticised madness but a real breakdown and, when Juliet Stevenson's Gertrude describes her suicide, you feel that the queen must have been there, watching and helpless.
This is a production that makes the action very intimate (strangely it is the actual soliloquies, brought forward right downstage, that make you aware that you can't reach out and touch), but just occasionally on press night the playing was a fraction too quiet or needed more projection for complete comprehension.
This Hamlet isn't a hero but he does hold the attention and so does the whole play, all 3¾ hours of it!
Reviewer: Howard Loxton