Hamlet
William Shakespeare
Guildford Shakespeare Company
Holy Trinity Church, Guildford High Street
–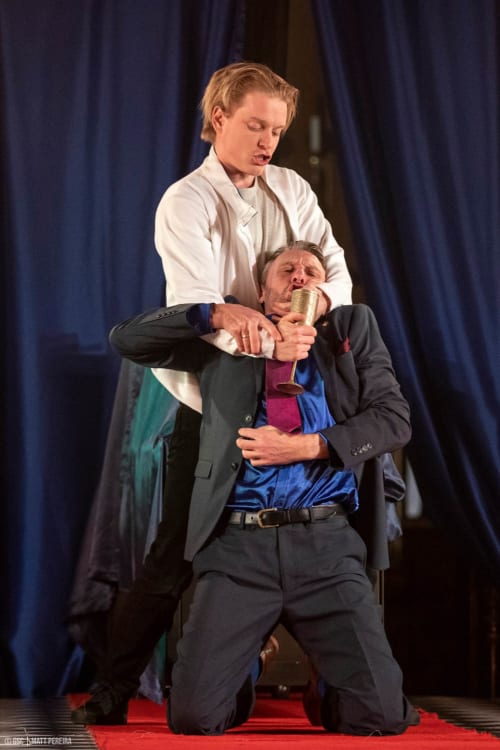 About ten years ago I reviewed Guildford Shakespeare company's production of Hamlet in this church and I believed it could not be beaten. The same company, in the same church, has now proved me wrong with a magnificently thrilling, thoughtful and involving Hamlet so gripping that not a sound was heard from the totally attentive audience, intent on not missing a thing.
Played in modern dress, what comes vividly across is that these are real people with the sort of feelings and sentiments we have all experienced—although hopefully not due to murder or suicide. Bishop Polonius, in the way of all fathers, tells his son Laertes how to behave during his coming visit to France. He must "restrain himself from acting on rash desire and never a lender or a borrower be", finishing his 'sermon' by handing him some money for the journey. Advice to his daughter is rather more curt, warning her to beware the promises of young men and of Hamlet in particular. A typical father, protective of his beloved daughter.
Stefan Bednarczyk is the fatherly Polonius, turning up later as the Gravedigger, then Captain in the Norwegian army. A man of many parts, he is also the musical director and organist, and another musician is Rosalind Ford who plays cello so beautifully I could listen to her all night. As Ophelia, she is a sweet and trusting young girl, although perhaps more could have been made of her 'madness'.
Designer Neil Irish has provided some very appealing outfits for Karen Ascoe who plays Queen Gertrude as a beautiful, elegant and gracious lady, understanding her son's grief at the death of his father but trying to comfort him with the inevitable "all that lives must die". Perhaps it is that remark which prompts Hamlet to reflect on life, what is the purpose, is it really worth the tumultuous journey of living just to die in the end. The ghost of his father, appearing in the night, tells that he was murdered and by his own brother giving Hamlet a purpose, so he must avenge the killing and, to give himself time to think, he feigns madness, putting off making a decision.
The evening truly belongs to Freddie Fox in a breathtaking and nerve-wrenching performance as he inhabits the spirit of Hamlet living every moment with such conviction and pent-up feelings of anger, despair and confusion. His "to be or not to be" speech is a masterclass of a young man trying restlessly, and often introspectively, to find his way in the world and desperately needing help. Considering the situation, no wonder his mental health is in turmoil. A stupendous performance which must have left him completely drained.
Incidentally, and rather appropriately, the voice of the ghost is provided by Edward Fox in a manner which echoes around the huge church and sends shivers down the spine, and could this be the first time a ghost has been confronted with a revolver?
Fox is well supported by an excellent cast, especially Bednarczyk in his multiple roles. Pepter Lunkuse deserves a mention as Horatio giving a different character (and gender) to the role, and the murderous Claudius is in the hands of Noel White who actually played the same role ten years ago.
Overall, Tom LIttler's production is an evening of exceptionally dramatic and engrossing theatre with the memory of Fox's mesmerising performance being one to treasure. Superb!
Reviewer: Sheila Connor