Hamlet
Ambroise Thomas, libretto by Michael Carré and Jules Barbier
Met on Demand
Metropolitan Opera House, New York
From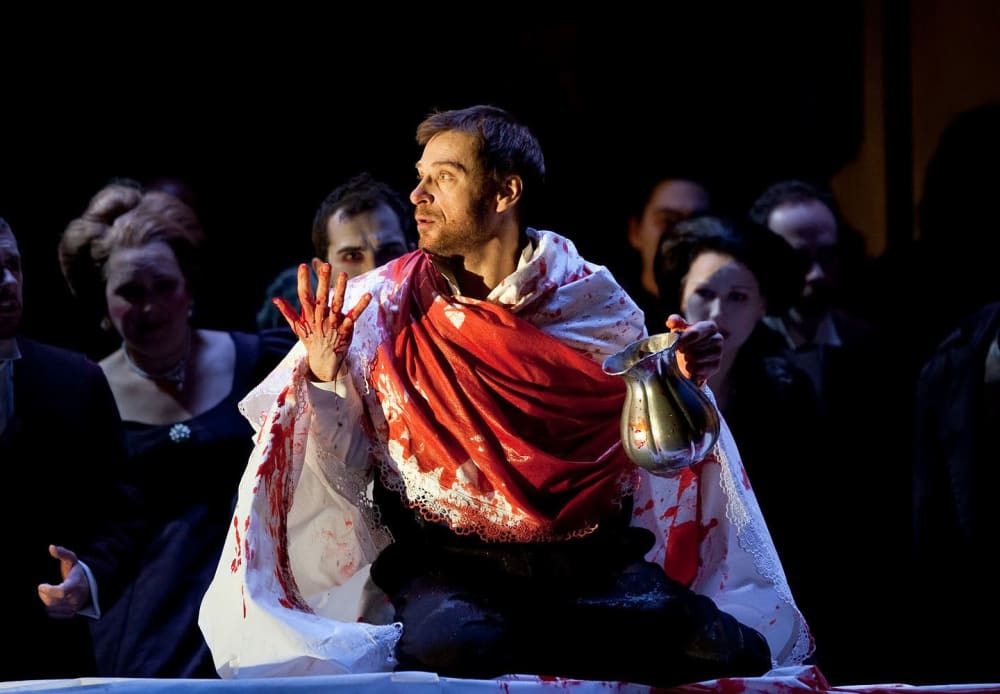 It was seeing Anglo-Irish actress Harriet Smithson performing Ophelia in English in Paris in 1847 that persuaded Alexandre Dumas père and Paul Maurice to translate Shakespeare's Hamlet and it was on his translation that Ambroise Thomas (1811–1896) based his opera which premièred in Paris in 1868 with great success.
In 2010, The Met, New York, which had not revived the opera in 100 years, specifically revived it for Simon Keenlyside. The production was by Patrice Caurier and Moshe Leiser. The conductor was Louis Langrée. Keenlyside's singing and acting have rightly been much admired.
The opera immediately establishes that Hamlet and Ophelia are in love and engaged. Gertrude, feeling guilty as hell for the murder of her husband, joins them in the nunnery scene and they have a very effective trio, but I have to admit I found it very difficult to believe Jennifer Lamore was Keenlyside's mother.
Hamlet is not mad. He's angry. A high spot is his delight in the success of the Players' performance of The Murder of Gonzago in exposing Claudius (James Morris) as a murderer. Keenlyside stands on the banquet table and pours red wine all over himself, a bloody red mess.
Heroines going mad in white muslin was once the staple diet for theatregoers and operagoers. Ophelia has a whole long act all to herself. The stage is full of flowers, just like a diva's dressing room. The play comes to a halt for Marlis Petersen's florid performance. Impressive, vocally and physically, though it is, it is far too removed from the rest of the play to be moving. It feels too much like a music hall act you might have seen at the London Coliseum at the turn of the 20th century.
The final scene takes place in the graveyard. Hamlet and Laertes fight and kill each other. Laertes dies immediately. Hamlet lives long enough to pick up the dead Ophelia and stagger around with her in his arms and then, on the orders of the Ghost, kills Claudius. Nobody intervenes. The Ghost, in flowing robes and flowing hair and half-bared chest, looks like a Roman statue which has stepped off its pedestal.
In Thomas's original version, Hamlet lived and assumed the crown. At the London première in 1869, the happy ending so infuriated critics and audiences that Thomas provided a tragic ending and it is this ending the Met is performing.
Polonius makes the briefest of appearances, so brief as to be unnecessary. Rosencrantz and Guildenstern have been cut completely. Tom Stoppard 100 years later made amends and gave them a play in which they had the star roles.
I should add there is no ballet at The Met. Shucks. French Grand Opera without a ballet, putain de merde, is not French Grand Opera.
There are a number of ways of tapping into this opera and others at will. The Met Opera on Demand service offers annual ($149.99) and monthly ($14.99) subscriptions as well as a one-off payment ($4.99) for those who have limited time or only want to watch the occasional opera.
Reviewer: Robert Tanitch