Hamlet
William Shakespeare
The Faction Theatre Company
New Diorama Theatre
–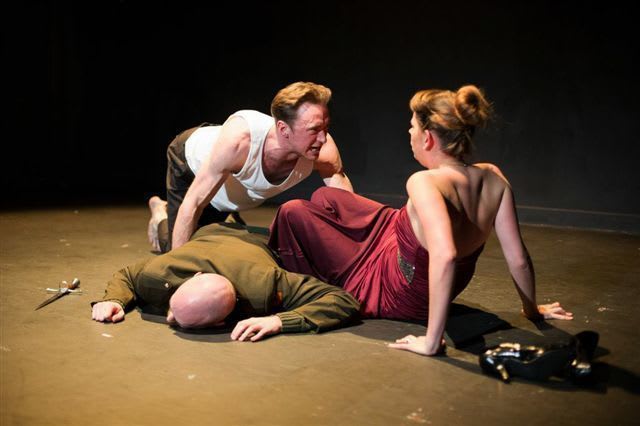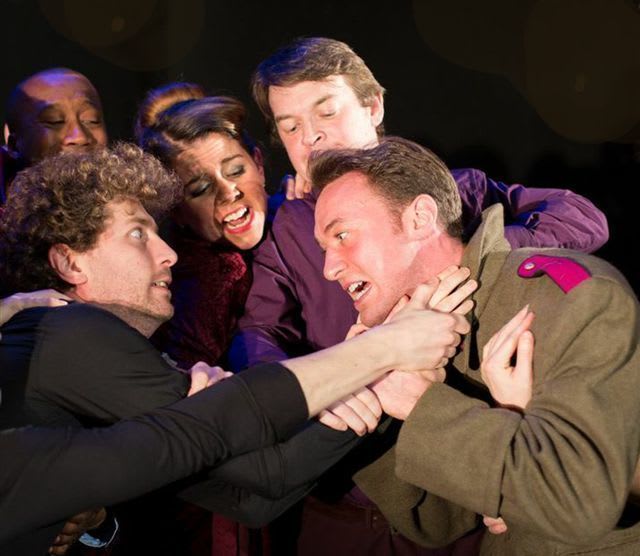 Faction Theatre opens its 2014 Rep Season at the New Diorama with this production of Hamlet, which will play in repertoire with the première production of Gareth Jandrell's Thebes and a revival of their 2010 production of Schiller's The Robbers.
Played against the black walls of the theatre, it is presented in a kind of modern dress but clothes identify character rather than period. Although public speeches are made with a microphone and eavesdropping carried out with radio microphones, it is a world where sentries are still armed with swords and death dealt by dagger.
From its opening with uniformed figures with glinting swords seen by the light of electric torches as sentries patrol the battlements of Elsinore, this is a production that uses simple means to achieve effect.
With Queen Gertrude in a diamond-decorated velvet evening gown (that she wears day in day out), her son Hamlet in a black Mao jacket or the singlet under it, his uncle King Claudius in crimson jacket over blue jeans, courtier Laertes in a patterned yellow tee-shirt and his father Polonius in a black uniform, it is perhaps just as well that this is a Danish royal family; such informality would never do at Buckingham Palace.
The costume and eclectic propping really doesn't matter for the stark intensity of this production and the proximity of the playing concentrate attention on the relationships and action.
Damian Lynch's still-youthful Claudius has authority and an open charm that makes his easy succession to Hamlet's father's crown and marriage to Kate Sawyer's Queen Gertrude seem the more plausible. A rapid delivery is still clearly spoken and, though his casting may in intent be blind to colour, the hint that perhaps Hamlet's father's black younger brother may have been by their father's second wife adds an extra layer to Hamlet's situation.
Old Hamlet's ghost is realised digitally, projected onto a cloud-like assembly of round cushions that appears in a flurry of activity manipulate by the company, but the gimmick does not detract from the quiet authority of Simon Russell Beale's performance as he tells Hamlet about his murder.
Director Mark Leipacher gives his production a strong sense of family relationships. When Alexander Guiney's Polonius appears, we see exactly where Cary Crankson's Laertes gets his long-winded pedantry from. Ophelia accepts being lectured by brother and father with tolerant amusement. She is a sensible girl but Derval Mellett makes her breakdown into madness seem entirely plausible when, with her brother abroad, both her lover and her father are taken from her.
Hamlet has inherited some of the cussedness of his father, he won't stand for other people's nonsense but Jonny McPherson makes him very self-aware. He certainly doesn't look like thirty. There is an immaturity and an honesty about him that suggest why he is still the apple of his mother's eye and why Ophelia loves him and why friends would put up with his sometimes trying manner. His attraction is given more force in the directness with which he engages the audience when sharing his thoughts with them.
This is a Hamlet that is intelligently and clearly spoken, though perhaps it is as well that the production has cut his advice to the players for he is given to a little hand-soaring. His attempt at histrionics is nicely contrasted with a very restrained but heartfelt delivery by Richard Delaney's First Player of the speech by Aeneas.
The playing of the scene between Hamlet and Ophelia, which is secretly observed by Claudius and Polonius, is particularly interesting. Here "get thee to a nunnery" seems to be a straightforward suggestion from a Hamlet who is speaking openly and honestly. This is not mad, raging Hamlet until he suddenly realises that she has been miked.
Hamlet's relationship with Horatio seems more distant than one might expect, perhaps because his confidante is played in clerical collar—though surely not a bishop as his purple shirt would seem to indicate. Lachlan McCall makes him gently supportive but there doesn't seem to be a closeness that would warrant his wish to kill himself when Hamlet is dying.
There are some gimmicks in Leipacher's production, including a risky one in the gravedigger's scene before Ophelia's funeral that comes off, and some scenes that are described by the characters are also acted out. In the case of Ophelia's description of Hamlet coming to her distraught this is very effective but elsewhere they are not so successful and detract from what is carried in the text.
The decision to make the recorders on which Hamlet asks Andrew Chevalier and Tom Radford's Rosencrantz and Guildenstern to play the touring actors' microphone and recording equipment is another mistake, but, though this may not be a perfect production, it is an engaging one that looks freshly at familiar material and seems to go more quickly than its actual playing time, sometimes at quite a spanking pace, that makes the audience really concentrate.
Reviewer: Howard Loxton