Hamlet
William Shakespeare
Lunchbox Theatrical Productions
Shakespeare's Rose Theatre, York
–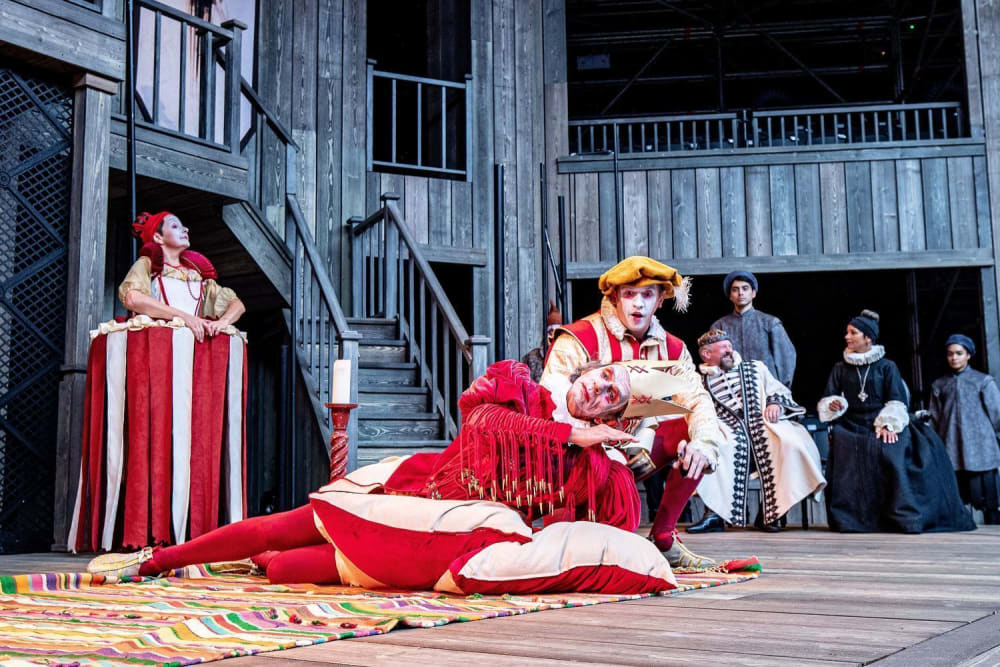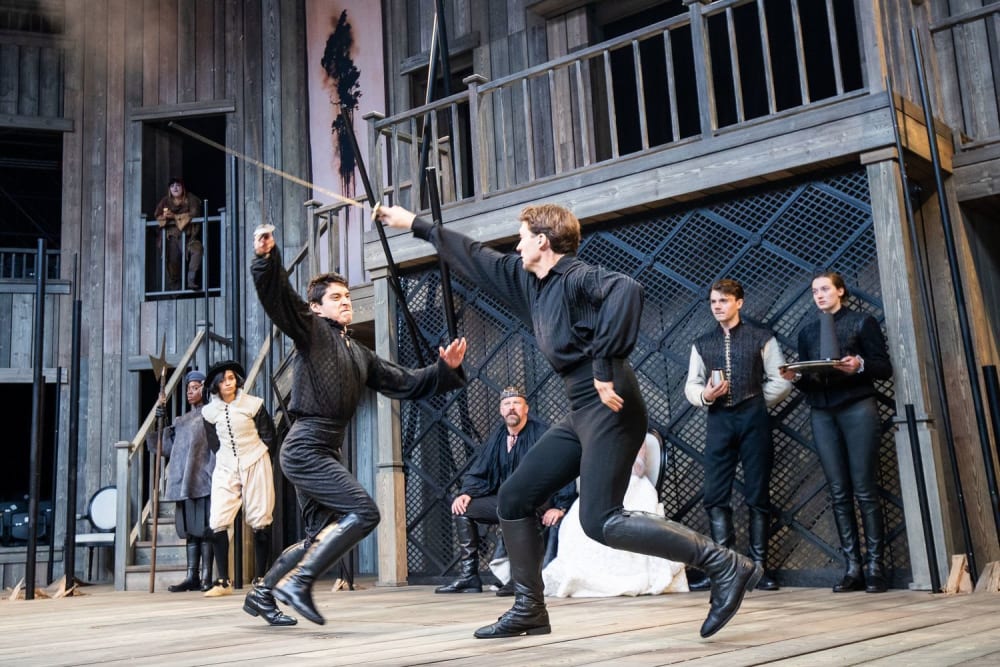 Following its huge success last year, Shakespeare's Rose Theatre returns to York for a second season, meaning that audiences will have the opportunity to watch Hamlet, The Tempest, Henry V and Twelfth Night over the next two months.
Audiences coming to the Rose for the first time are in for a treat as it is undeniably a striking theatrical space. Situated in the car park next to Clifford's Tower, this pop-up venue is closely modelled on the London Rose Playhouse that was originally built in 1587. Its Elizabethan-style interior—which includes an open-roofed courtyard for the 'groundlings' to stand in—provides audiences with a glimpse into what theatre-going might have been like four hundred years ago.
Hamlet is widely regarded as the greatest of all Shakespeare's plays, so the stakes are high for any company that chooses to tackle it. Although Damian Cruden's production doesn't scale the heights of the Leeds Playhouse production I saw earlier this year, it still provides a solidly entertaining experience.
Hamlet may be a powerful meditation on life and death, but it is also a revenge tragedy filled with ghosts, skeletons and sword fights. At just over three hours, Cruden's production is clear and purposeful, with a strong sense of momentum. That being said, there are occasions where the pacing flags slightly, with some of the production's comic sequences outstaying their welcome.
Cruden makes effective use of the Rose's multi-level design, particularly in the thrilling confrontation between Hamlet and Laertes at the end of the play. The balcony and staircases also provide ideal locations for spying and surveillance, as does the fretwork screen at the back of the stage.
There is much to admire in Sara Perks's design. Inspired by Sandy Powell's monochromatic costumes for The Favourite (2018), most of the characters are dressed in black and white, with the exception of the travelling players who are clothed in eye-catching reds and yellows.
Hamlet remains the most challenging role in the dramatic canon. His nature is so paradoxical, his consciousness so vast, that any actor who plays him must inevitably make specific decisions about which aspects to focus on. David Oakes's interpretation of the Danish Prince is charming, clever and quick-witted, striking up an excellent rapport with the audience. While I prefer my Hamlets more psychologically tortured, it is still a confident and arresting performance.
Richard Standing makes for a slimy and boorish Claudius, and Gordon Kane is an amusingly pompous Polonius. However, the most captivating supporting performance comes from Serena Manteghi as Ophelia. In the early scenes, she offers us a stronger, more assertive interpretation of the role than we're accustomed to, and she has a haunting presence in the later scenes.
I attended a sun-drenched matinée performance of this production, which was perhaps not ideal for such a moody, claustrophobic play. While this staging doesn't quite grasp the dark heart of Shakespeare's masterpiece, it is still an engaging and handsomely performed piece of work.
Reviewer: James Ballands