Hamlet
William Shakespeare
Black Theatre Live in association with Watford Palace Theatre & Stratford Circus Arts Centre
Tara Theatre
–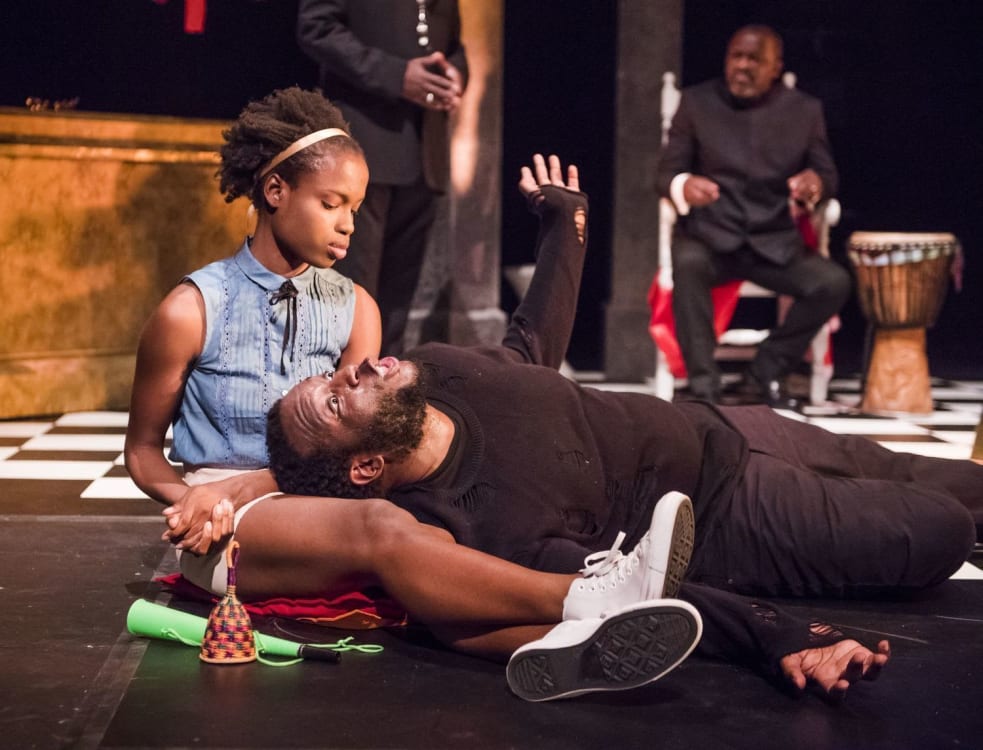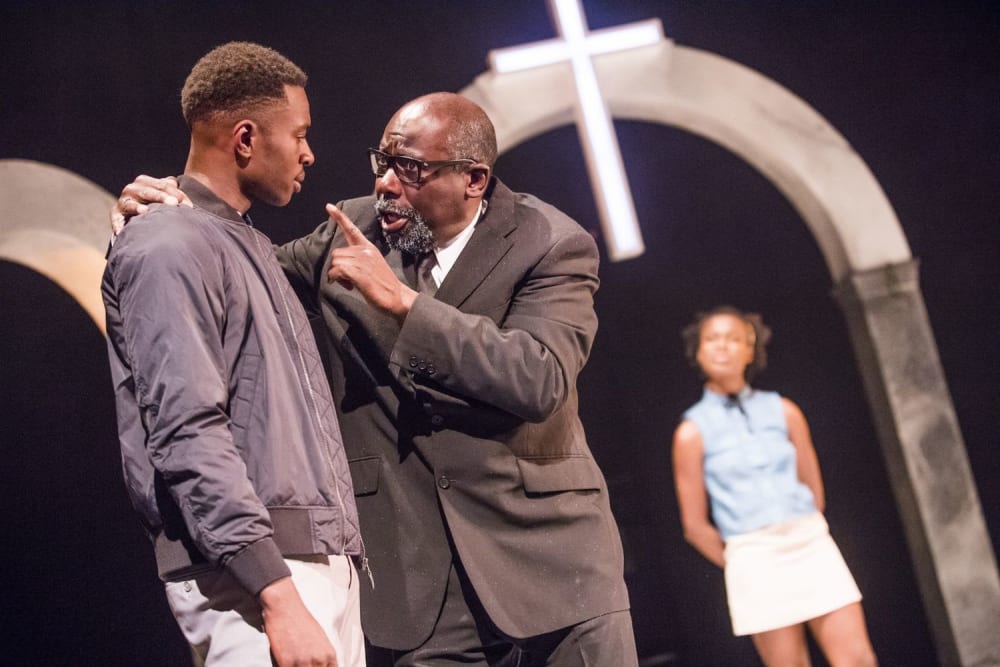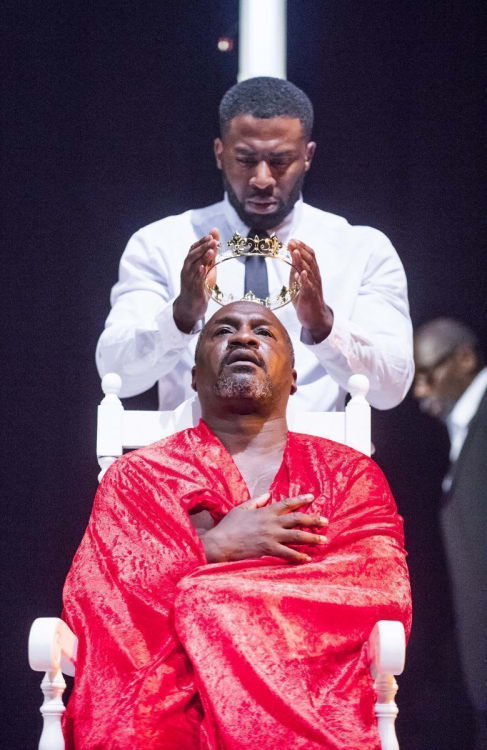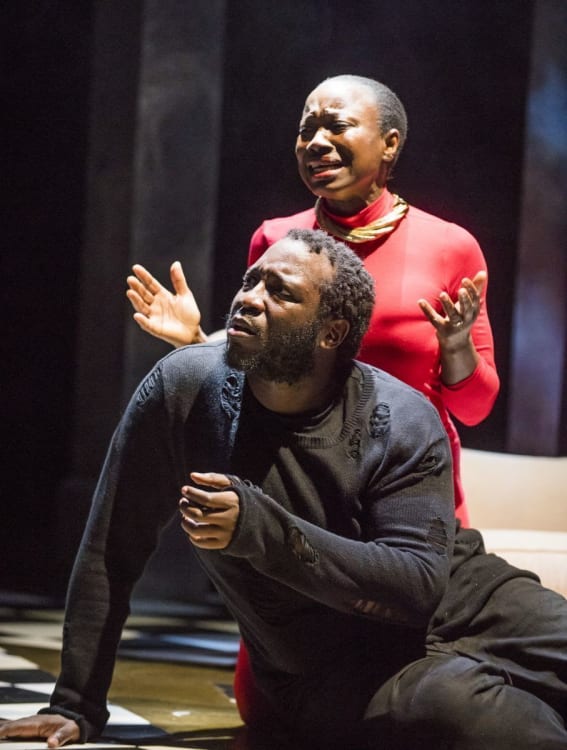 Black Theatre Live's all-black (cast and creatives) Hamlet is a 2½-hour version (plus interval). It is heavily cut, reducing length and cast size and concentrating on the central story. Although described as "adapted" by Mark Norfolk, there seem no major alterations apart perhaps from an archaic word's replacement or an added phrase to explain something now cut. The staging, following Norfolk's published script, seems to be making an additional statement.
An Egyptian Ankh dominates the set and a disc displaying human and animal figures, bordered by arm-raised supporters, suggests this Elsinore is capital of an African empire. The Masonic image of dividers is projected on the stage floor.
The play opens not on the battlements with a ghost but with cloaked figures mourning King Hamlet's death, then video shots of Westminster, the strains of "Jerusalem" and a telecast of new King Claudius making his inaugural speech announcing his marriage. He is followed by fireworks and pealing bells but not before an ominous sound accompanies the shattering of the Ankh which splits to a form suggested of a horned beast—it could be Hathor's cow, it could be a South African springbok. What sort of regime change is it implying?
Now the old king's ghost appears, dressed in an Egyptian inspired, Masonic looking uniform. Prince Hamlet's friend Horatio is the only witness, sharing his experience with the audience. This isn't the only place where lines addressed to characters now cut are addressed to them and, especially in Tara's intimate new theatre, creates a strong transference.
Raphael Sowole, as Hamlet, exploits this intimacy. His solid build matches a certain stubbornness but his voice is full of gentle introspection. When he raises it, there is a sense of roiling passions. This Hamlet's madness is clearly faked; he's even got himself a threadbare jumper, but as the play progresses and he repeatedly sharpens a dagger there's a risk he'll lose control. It is a thoughtful performance though he sometimes interrupts the sense flow with a hiatus on conjunctions.
Patrick Miller is a Claudius with a conscience. He even gets Rosencrantz to give him corrective flagellation. More fun-loving than his elder brother, he's a smiling villain but not melodramatic. Perhaps that's what Gertrude likes about him. Joy Elias-Rilwan plays Hamlet's mother as innocent of her husband's murder, face frozen after Hamlet makes his accusations.
Trevor Laird makes Polonius a comic old buffer; there is little to suggest the serious councillor, but a strong sense of bonding with his children: Theo Solomon a clearly spoken Laertes and Abiona Omonua a lively Ophelia, not under her father's thumb as much as he would like. Her madness puts her in a blonde wig as a Monroe imitation and then as a sun-topped pop queen, as though she's now free to be what she always wanted.
Mark Ebulué's Rosencrantz (there is no Guildenstern in this version) is a bit of an innocent. When he tells Hamlet "you once did love me" you see how he might have got caught up in this.
I'm baffled as to why Victor Power's Player King should be restricted to a wheelchair and tippling from a hipflask, with just one fellow player (Theo Solomon as Player Queen)—these actors must being having a hard time, but Power does get a contrast role in foppish Osric.
Doubling is cleverly managed, not least with Millar as Old Hamlet's commanding ghost and Laird as a singing gravedigger. His grave was somewhat awkwardly managed, in Jeffery Kissoon's otherwise smooth, well-spoken production. Perhaps there was some different arrangement at other venues on this play's tour for production photographs clearly show that setting had to be much reduced to fit it into the Tara Theatre, though any loss is made up for by its close audience contact.
During the second half, the shattered Ankh emblem was replaced by a projected white cross, particularly present for the soul-searching scene between the queen and Hamlet. The printed script of this version (which includes the programme) has this cross replacement happening when the Ankh first crumbles. Does this make its meaning clearer?
The final scene of this production suggests Hamlet reunited with his father in the old faith. Is it referencing the changes wrought by Christianity or by any incoming faith, on the black nations—or is this a reference to white missionary-brought changes?
Hamlet went to Wittenburg but seems to have come back sticking to old tradition. There is no Fortinbras in this production. Who will grab power now? Have the old gods, the old political patterns been replaced? Black Theatre Live offers a clear telling of the Hamlet story but they have added another layer of mystery too.
Reviewer: Howard Loxton