Hamlet
William Shakespeare
Royal Shakespeare Company
The Lyric, Theatre Royal Plymouth
–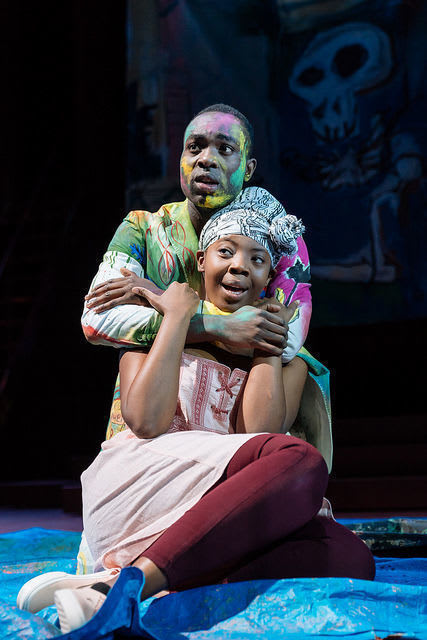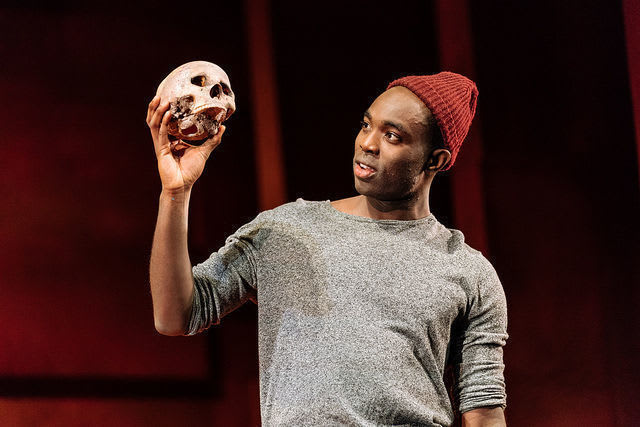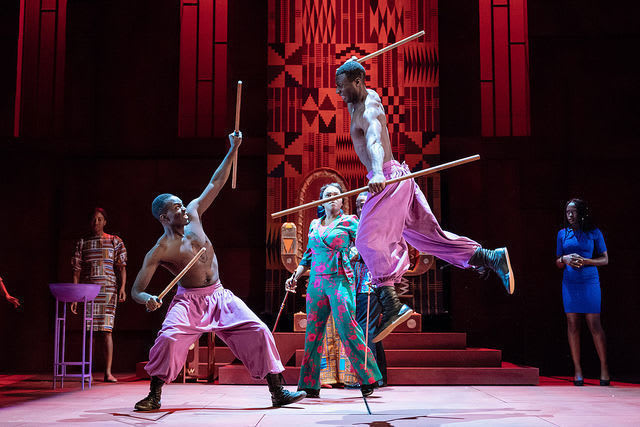 Wow. RSC director Simon Godwin breathes new life into Shakespeare's long and challenging classic for a vibrant piece with an engaging Hamlet and pared-back melodrama.
Set in an African state, politics are underplayed to place sharp focus on the personal as young Hamlet is wrenched from student life and carefree mates to brood at court where his uncle and mother's speedy, seedy love affair is inescapable.
Paapa Essiedu is an exceptional, human, beanie-wearing Hamlet: mercurial, moody and melancholy, consumed by angst and anguish, and—literally—Hell bent on revenge.
Charismatic and believable, the ubiquitous accolades are deserved as nuance, freshness and timing rejuvenates well-worn soliloquies and subversive behaviour is reframed. Never quite descending into unfathomable madness or despair, Essiedu's Hamlet is a complex, tormented, ultimately relevant young man calculating the downfall of his father's murderer—but only when an eternity in Hell is inevitable—and venting his rage in graffiti. In contrast, a measured Clarence Smith as younger, better-looking brother Claudius conceals (rather too well) his inner baddie under silk shirts and smart suits.
Paul Wills places the action on a towering, stark, Jengaesque stage with fabric drops and sliding platform moving action from court to bedroom to studio. His costuming is generally everyday simple but with a paint-splattered Hamlet and regal tribal dress for Gertrude (a dignified Lorna Brown). Machine-gun armed soldiers roam in camouflage while players and calypso-singing gravediggers (Ewart James Walters a delight) sport an eclectic, rag tag wardrobe featuring plenty of shorts and loud shirts.
Joseph Mydell is a mild and affable Polonius, the consummate family man; Laertes (Buom Tihngang) struggles with avenging his family's deaths at the hands of his old friend while Mimi Ndiweni (what a beautiful voice) is compelling as Ophelia with the difficult insanity scene perhaps the most gut-wrenching and believable I have seen.
Romayne Andrews and Eleanor Wyld are seemingly well-meaning, naïve youngsters Rosencrantz and Guildenstern offering trashy tourist gifts and desperate to please the king, contrasting James Cooney as sweet best buddy Horatio, faithful to the toxic end.
African overtones allow for apposite use of drums: visceral rhythm from on stage musicians ramping the tension as Hamlet awaits the ghost, the funeral procession approaches the grave and throughout the ultimate fiery slaughter scene where the weapons of choice are escrima with Kev McCurdy's choreography convincing. Most effective.
It's a long night (an hour 40 first half, an hour 10 second) but Godwin keeps it on pace and on-point for a must-see production.
Reviewer: Karen Bussell