Hamlet
William Shakespeare, adapted by Kelly Hunter
Flute Theatre
Trafalgar Studio Two
–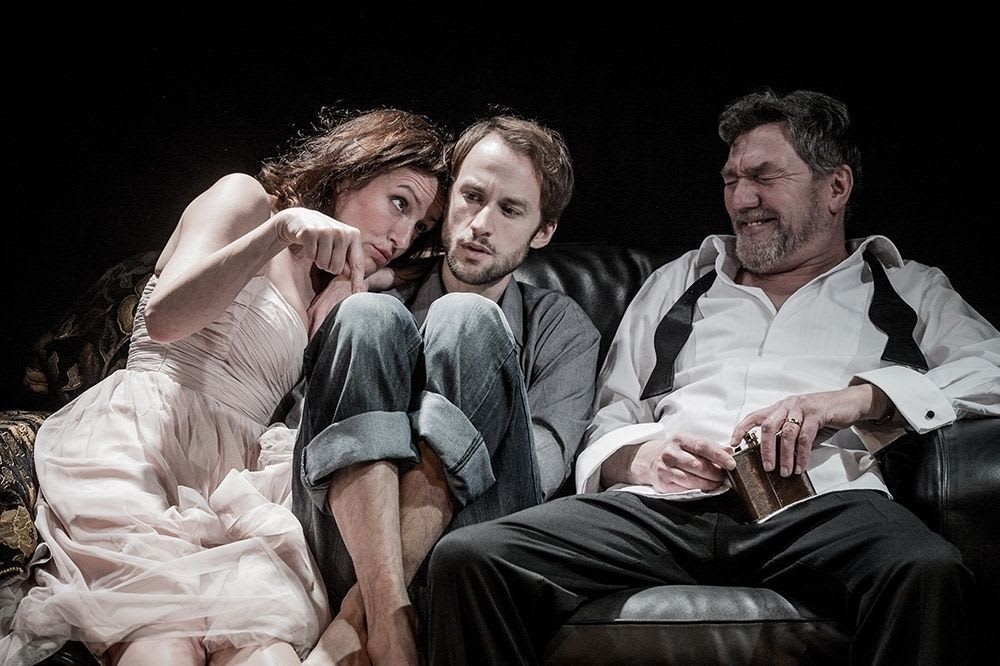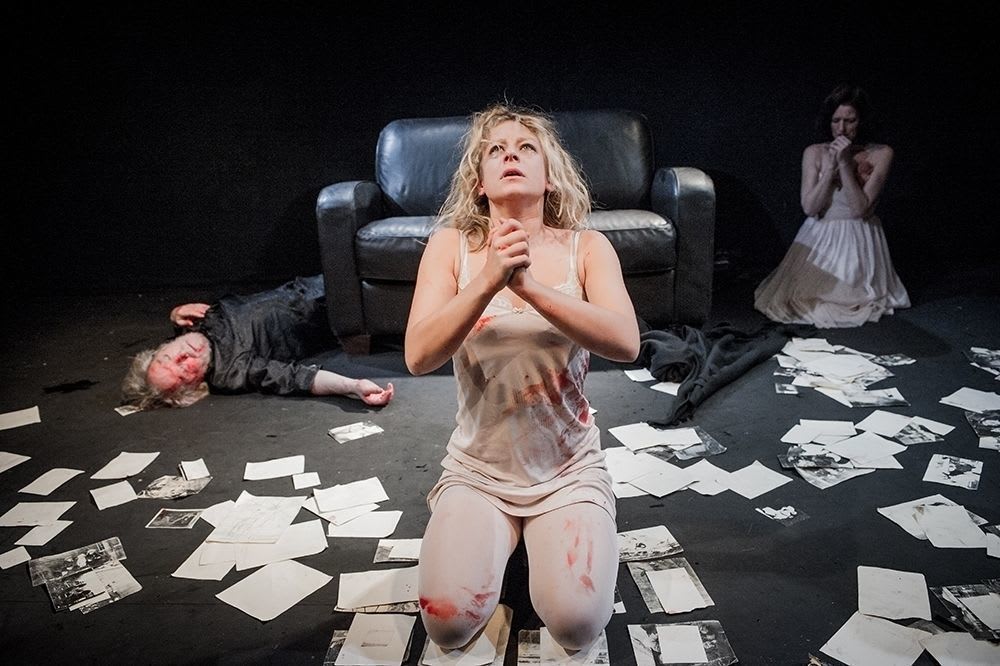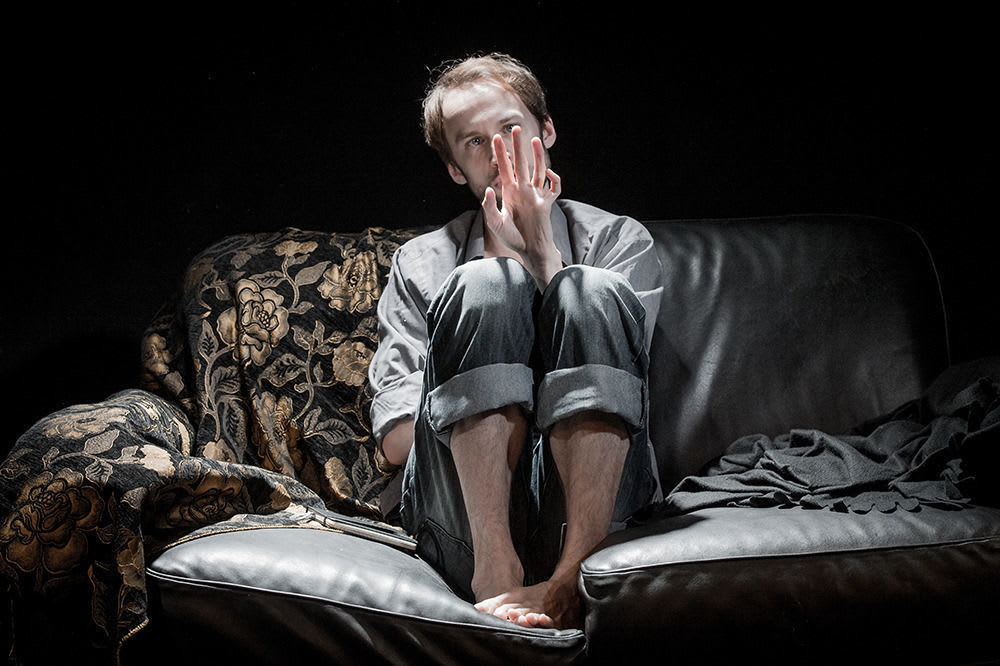 They are all mad in Denmark! That's the impression we get from Kelly Hunter's adaptation of Hamlet. It's not just that Hamlet seems dangerously unsafe, especially when he's waving a bloody knife at the entire cast, but everybody else also seems slightly unhinged.
Don't get me wrong, this is a clear, accessible ninety-minute production that most of its audience will find engaging and worth seeing.
Scenes, dialogue and characters are cut. Some things said by characters have been given to others to say, and Rosencrantz and Guildenstern have been merged into Laertes (Finlay Cormack).
However, the show retains the main sequence of events and speeches from Shakespeare's play and even adds songs, drumming and a whole new scene in which the characters play a game.
Kelly Hunter shifts away from the politics of a struggle for state power. Instead, there is an intense focus on the madness of Hamlet.
This is evident even from the changes made to the start of the play. The guard Bernardo opens Shakespeare's Hamlet with the challenge to someone approaching of "who's there?" It leads to a discussion amongst soldiers about the instability and corruption of Denmark along with the threat from Norway.
The scene is important in demonstrating that Hamlet's criticisms are shared by others and that the very fate of Denmark could be at stake in any power struggle.
In contrast, Flute Theatre focuses the crises on Hamlet's madness. The soldier's discussion is removed and the words "who's there?" are spoken by Hamlet who is alone in his room sifting through old pictures.
They suggest paranoia and within minutes he also seems to lose his identity and become his father detailing how he was murdered.
Mark Arends's performance as Hamlet is so intense in this scene, I did wonder if it was possible for him in later scenes to increase the tension without over-acting. He generally does but his remarkably fine acting is hampered by the unshaded intensity he is expected to play.
The sequence also raises questions about Hamlet's relationship to his mother Gertrude (Katy Stephens). She is flirtatious and physical with him and in the bedroom scene when he is scaring the life out of her; he again becomes his father and this time kisses her on the lips.
Of course, this Hamlet doesn't just kiss his mother. He also kisses Claudius (Tom Mannion).
No wonder Ophelia (Francesca Zoutewelle) is bothered. In fact, even on her early appearance, she seems close to a mental breakdown and things don't seem to improve. Once Polonius (David Fielder) has been killed, she crawls from behind a sofa carrying his dead and bleeding body on her back. She is clearly weighed down by his death.
However, the madness of Ophelia cannot match the homicidal rage of Hamlet who, from the bedroom scene onwards, begins to wave a huge bloody knife at everyone he comes across.
When he says "there is something rotten in the State of Denmark", I half expected someone to shout out "yes, you!"
This is possibly the only production where you might actually sympathise with Claudius and wish that he might summon someone to prevent the massacre or at least tell Hamlet to put away the knife.
He doesn't and instead Hamlet goes on to murder the unarmed Laertes as he is holding his dead sister and then fatally stab himself. His final words are "the rest is silence."
Except the rest is not silence because he has forgotten to kill the gravedigger (David Fielder) who has stood motionless as everybody else is killed and, being the last character alive, says "go, bid the soldiers shoot."
I've no idea why. Maybe he was mad.
Reviewer: Keith Mckenna