Hamlet
William Shakespeare
Wales Theatre Company
New Theatre, Cardiff, and touring
(2005)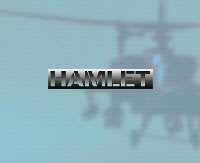 There is no wisdom in any of the characters in Shakespeare's Hamlet. Although everyone else has convinced themselves, for their own convenience, that Hamlet is mad, he is quite the most sane and logical thinker in the play. Tragically, by the end of this series of desperate events, his mind has become so befuddled with grief, pain and anger, he is no longer able to behave with the cool logic the situation requires. Cruel death surrounds him and, as he himself dies, he hands his kingdom over to the invading neighbouring state, once routed by his own father, whose own death was the catalyst to the action of the drama.
The rottenness in the state of Denmark is as rotten today as it was some 500 hundred years ago when the play was first written. Michael Bogdanov's Hamlet is very much a play of today, clearly achieving one of his Wales Theatre Company's aims of producing high quality large-scale theatre for the South Wales Community complementing the work of Terry Hands' Clwyd Theatr Cymru in the North. It is to Bogdanov's very great credit that he is able to give such a first class production with the limited resources that his company is now receiving.
The sixteenth century battlements of Elsinore Castle have been replaced with a state of the art twenty-first century military base with all the electronic surveillance gear that goes with it. A searchlight dazzles the audience as it takes its seats in the packed auditorium, increasing the eagerness and expectation for the greatest play in the world. Life is something we must all value, one and other's lives, not just our own. This is a play about death and destruction and Bogdanov's updating sadly brings home the fact that humanity is no wiser today than it was half a millennium ago.
The sudden death of the king, Hamlet's father, has brought Hamlet home from his studies in a German university. Like any decent human being he's upset and bewildered. His father's brother has jumped into bed with his mother, bringing to an end one of those marriages that had three people in it, and made himself king, Shakespeare never explores why the rightful heir was deprived of inheritance! To add to the lad's confusion, his father, in ghostly form, appears and informs Hamlet that Claudius, his uncle, has murdered his father. You bet he's mad! Wouldn't you be angry in those circumstances.
Wayne Cater's performance as Hamlet grows as the play progress until he reaches moments of superb and splendid acting; his character draws little sympathy from us but the clarity of the production and his line of expression leave us in no doubt as to the terrible angst he has to endure. The quality of the acting is a strong feature of this production and gives the audience that magic thrill that is in all good theatre. Kathryn Dimery's Queen is a truly magnificent performance: she creates a complete and compelling Gertrude; the hey-day in her blood will take a long time to tame.
Ophelia is delicately and beautifully played by Catrin Rhys, getting even better in her 'madness' scenes. Here is the one character in the production we can shed a tear for. On the face of it Ryland Teifi's feisty Laertes is a good guy who might sort things out but he is corrupted by the scheming Claudius. Whilst Julian Lewis Jones towers broodingly over everyone, his delivery lacks a touch of clarity and he should listen carefully to Hamlet's speech to the player. Owen Garmon so cleverly reveals Polonius as a benign reactionary that his death, accidentally from the gun of Hamlet, almost pleases us.
It is a long play but for most of the time it speeds along. As is often the case much of the early discourse between Rosencrantz and Guildenstern is cut,but nevertheless the characterisations from Ieuan Rhys and Dyfrig Morris have that unique and unusual quality that is a major characteristic of this very successful production.
The play can be seen at Theatr Bryncheiniog, Brecon 17 – 19 November and The North Wales Theatre Llandudno 21 – 24 November.
This review first appeared on the Theatre in Wales website.
Reviewer: Michael Kelligan