Hamlet the Clown Prince
Written and devised by the company
Company Theatre, Mumbai
Northern Stage, Newcastle, and touring
(2011)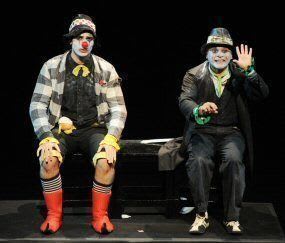 A group of clowns decide to put on a production of Hamlet, and so they do, in a mixture of Italian, French, Swahili (or so I am told!), English (often but not always Shakespearean) and... well, gibberish. Because they're clowns, they do it as clowns would.
There's little scenery - a rostrum, a bench, a curtain made up of mismatched bits of fabric. The costumes and make-up are those of clowns. Props are minimal: there is much use of "dust", probably talcum powder, but the swords are very real, as is the Hamlet/Laertes fight.
The individual clown's personalities keep coming through: Puja Sarup's Buzo, who plays Gertrude, is a bit of a lush (as Gertude is often played) and has romantic issues with others in the cast; Fido (who plays Claudius and is played by Neil Bhoopalam) is a dancer and takes every opportunity to break into dance; Atil Kumar's Soso (Hamlet) sulks a lot - sometimes it's Hamlet doing the sulking, sometimes Soso. There are some knowing comments thrown in for good measure: at one point it is suggested to Ophelia that she should learn to swim!
It's generally fast moving and great fun. There was a great deal of laughter from the audience but, like all good clowns, the cast could switch almost instantaneously to pathos and they did, inded, capture the essence of Hamlet.
It runs for 100 minutes without an interval - not quite the Reduced Shakespeare Company version but very much shorter than the original! - but I did feel that it was a little too long. Devised pieces always run that risk: when the actors and director are responsible for creating the piece, it is very difficult to step back and recognise where scenes go on too long or even become a little self-indulgent, where the proverbial blue pencil is needed. There were moments where I felt this did happen.
On the whole, however, this is a thoroughly enjoyable, fun production in that great modern tradition of looking at Shakespeare from a different perspective, in this case from the dual viewpoint of clowning and Indian culture. (And incidentally, it was great to see that a good proportion of the audience were from the sub-continent.)
We can get too reverential in our approach to Shakespeare which runs the risk of making him into a museum piece rather than the living, very relevant writer he truly is. Thanks to the Company Theatre of Mumbai for "mucking about with Shakespeare" (see my article of September, 2001) and helping us see him in a new light!
At Northern Stage until 12th March, then touring to Warwick Arts Centre (16th - 19th March) and Hackney Empire (23rd - 26th March)
Howard Loxton reviewed this production at Hackney
Reviewer: Peter Lathan