Hamlet a retelling
William Shakespeare
Metta Theatre Company
The White Bear, Kennington
(2007)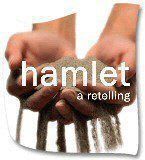 Set in a harem, nine women re-tell this wonderful tale of betrayal and corruption. In turn, they re-enact, send up and revel in Shakespeare's masterpiece.
I did expect an all-women cast to do the play no favours, but in fact it didn't bother me at all; probably because the acting was fairly strong, the women were dressed androgynously and, whether playing male or female, gender-neutralised their roles.
Apart from the joy or re-acquainting myself with this play, it was the sweet and imaginative details that brought it alive; a Tibetan singing bowl's eery ringing during the ghost scene, a pebble passed between the characters to symbolise death, and the basic use of puppetry.
Because the play is set in a Harem, there is a physical closeness they transfer into their roles; from play fighting and rough tumbling to a soft tactility that verges on sexual. I imagine this intimacy gives the harem idea an authenticity while also serving as a subtle reminder of femininity despite the gender-neutral roles.
I personally liked the physicality. I've no doubt the men in the audience rather liked it too.
Anyone who had to study Hamlet at school, probably shares my 'been there, seen it, done it' attitude to seeing this masterpiece, especially when staged on the fringe. If you make an exception, like I did, I suspect you'll find yourself pleasantly surprised. In any case, in its mission statement, Metta Theatre says it's committed to gender and colour blind casting, promoting ethical consumerism and trying to ensure productions are socially responsible off stage. With these aims and objectives, you have to take your hat off to them and give support!
Running until 30th September
Reviewer: Zia Trench