Hamlet! The Musical
Alex Silverman, Timothy Knapman and Edward Jaspers
Eleanor Lloyd in association with Royal & Derngate, Northampton
Richmond Theatre
(2011)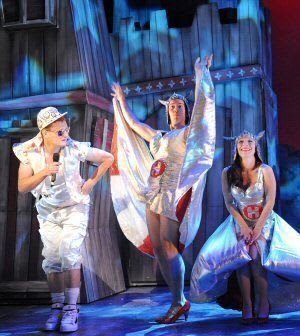 With William Shakespeare as their inspiration and Andrew Lloyd Webber as their muse, Alex Silverman, Timothy Knapman and Edward Jaspers have added music, music, music to Hamlet's words, words, words and in doing so created a spectacular Shakespearean jamboree.
Hamlet! The Musical has been a labour of love for Silverman, Knapman and Jaspers. As the old adage goes, things get better with age and this is certainly the case here. It may have been ten years since the musical's first inception at the Edinburgh Fringe, but it has been an amazing 410 years since the play was first written. If Shakespeare saw it today, he would most definitely be dancing in his grave.
Parodying the sacred Bard and spectacle that is musical theatre, Hamlet! The Musical is full of pizzazz and pathos. In a piece all about ghosts, it seems only right that the musical styles and lyrics should ghost Britain and Broadway's many theatrical greats: from Lloyd Webber and Cameron Mackintosh, to Ashman and Menken via France's Boubil and Schönberg. Fosse seems to have been the inspiration behind the Players' 'We're In Showbiz' number, announced by Stephen Fry as 'Die Fledermaus-trap' and Rosencrantz and Guildenstern puppet their way through 'Where Else? Elsinore!' in a quasi-tribute to Rogers and Hammerstein's Oklahoma!
This zany world of Danes shares much in common with our festive panto Dames as the worlds of Pantomime and Shakespeare collide, resulting in cross-dressed capers, cod-corpsing and a perfect execution of the 'Not Yet' early entrance gag. A musical version of the 'What's happened?' super-fast summary gag set to music opens the Second Act and no panto would be complete without the Songsheet, which takes pride of place at the end of Act Two. At one point the cast sing 'It'll turn into a panto if we let it' and at this point it's not far off. In the late 19th Century, Augustus Harris at Drury Lane, along with many other managers, used to stage a pantomime in order to subsidise the Shakespeare - if only he'd come up with Hamlet! The Musical, he'd have been able to keep everyone happy!
There is stellar acting throughout as each cast member tunefully recites their lines in this sung-through musical directed by Ryan McBryde. As Hamlet, Jack Shalloo oozes street, swaggering around the stage in his baseball cap and ruff, whilst step-father Claudius, played by Mark Inscoe, poses in his blinged up wardrobe, complete with golden codpiece.
Virge Gilchrist makes for a glorious Getrude, and along with David Burt, who also plays Polonius and Fortinbras, cooks up a storm when the two perform their Gravediggers number complete with skateboard tombstones and singing skulls.
But the real troopers here are Gabriel Vick and Jess Robinson who play a myriad of roles and manage to bring the house down with their comic timing and characterisation. Vick's Spanish, and later French inspired Laertes is a master class in character acting and has the audience in fits of laughter with a swish of his cape and a joust of his baguette. The two are hilarious as Rosencrantz and Guildenstern and Robinson once again gets the opportunity to show off her wonderful multi-rolling skills by bringing a chavvy Horatio and sickly sweet Ophelia to life onstage.
An array of movable battlements make up the simple, yet most effective set courtesy of Diego Pitarch around which the cast tap, pirouette and jive thanks to choreographer Abigail Rosser. Topical references abound, from texting to television casting shows, and the witty lyrics herald a return to the golden age of Musical Comedy.
Pantomime has survived due to its constant evolution and Shakespeare must do the same. In embracing both past and present, Hamlet! The Musical suggests a future for the Bard. Since the millennium many films have become musicals and now it's time for Shakespeare's tragic heroes to do the same. Who wouldn't want to see Macbeth! The Musical or Othello! The Operetta? Are these titles to be or not to be? Could this be the start of the Broadway Bard? Here's hoping!
Playing until 28th March 2011
Reviewer: Simon Sladen