Hamlet
William Shakespeare
Directed by Yukio Ninagawa
Theatre Royal, Nottingham, and touring
(2004)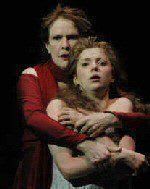 The tragedy of this Hamlet is that director Yukio Ninagawa's reputation has preceded him. His work is respected all over the world - but this is not full of eastern promise.
Hamlet comes from a good background: Theatre Royal Plymouth and Thelma Holt began a three-year Arts Council initiative with Richard Briers in The Tempest in 2002 and followed it with Ross Kemp in The Taming of the Shrew last year. Briers was a commendable Prospero in a production which concentrated on the text while Kemp was surprisingly good as Petruchio in a show which had freshness and charm. At the time I said I couldn't wait to see what the same company would do with Hamlet.
Unfortunately, Ninagawa's offering is a disappointment. There's no comparison between this and the work at the RSC since Michael Boyd became artistic director. At Stratford the actors get a much longer rehearsal period than usual so that they can give full meaning to Shakespeare's wonderful words. Ninagawa's presentation appears to have been made ready for the stage in a very short time. Several actors recite their lines very quickly, almost as if they're trying to rattle through the three-hour production which could have been cut in a few places.
The Japanese director doesn't speak English. This is a major stumbling block. He may have been able to convey the mood of each scene but too often actors appear to be working without direction.
The best example is Edward Clayton. I've seen him at the RSC where he was a blue-collar performer, taking on small roles but putting everything into them. Never a star, he's the type of reliable, solid actor that's at the heart of every successful company. But as Cornelius and the second gravedigger, he's less than inspiring.
Casting Michael Maloney as Hamlet is a strange move. At 47 Maloney isn't an angry young man, nor does he portray the mischievousness sometimes associated with the role. He brings to it an air of maturity but he fails to reach the depths of despair a younger man would experience at the murder of his father.
The surprise success of the evening is Robert Demeger's interpretation of Polonius. The Lord Chamberlain is a vile, odious man who is cruel physically and mentally to Ophelia. There's no doubt in your mind why she goes mad. However, Ninagawa's Elsinore isn't as intimidating a place as it ought to be; there are not enough control freaks there to explain why the younger characters become insane or do a Laertes and leave as fast as they can.
Peter Egan doubles up as Claudius and the Ghost but fails to hit the heights as either. As Claudius he doesn't have a longing for power and isn't evil enough. As the armour-clad Ghost, he walks offstage as if he's trying to get the last pint in before the pub closes. There's no sense of purgatory, so Hamlet's fear of joining him by taking revenge is lost.
The actors do an excellent job of bringing out the comedy in the text. Some of the audience who presumably were new to the play enjoyed Shakespeare's wittier moments. But as a whole it fails to generate the thrills and stimulation you expect from the world's greatest play.
"Hamlet" runs at Nottingham Theatre Royal until Saturday, then plays Bath Theatre Royal from December 7th to 11th.
David Chadderton reviewed this production at the Lowry, Salford, and Philip Fisher did so at the Barbican.
Reviewer: Steve Orme