Hamlet
William Shakespeare
Cameri Theatre, Tel Aviv
(2005)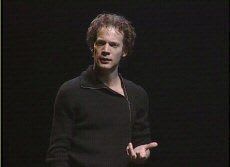 Omri Nitzan's new version of Hamlet is a dynamic, provoking and captivating abridged version of the Shakespeare classic and is currently playing at the New Cameri Theatre. The Hebrew is modern although there is headphone translation available for les étrangers. The politics are as relevant as ever.
The stage is set in a black walled oblong auditorium. A narrow, catwalk-like stage runs the full length of the theatre. The audience are seated on swivel chairs on either side of the stage and are physically free to follow the twists and turns as the plot unfolds around them.
This production dispenses with the traditional "Who's there' opening, but starts instead with Claudius (Gil Frank) and Gertrude (Sara von Schwarze) dressed in white modern outfits. Claudius, smart and calculating, regally addresses the audience from the podium and gestures to the audience to rise for a minute's silence in memory of his dead brother. He duly indicates (with the gentle move of his right hand and a mocking smile) that the audience (now his subjects) should sit down. As the audience regain their seats, a sarcastic grin of self-satisfaction says it all - triumph. Frank brilliantly portrays Claudius as a seasoned manipulator. He comes to his much anticipated sticky end with the microphone brutally clamped between his jaws.
Hamlet, performed by Ittai Tiran a 25 year old Israeli actor, is one of the greatest Hamlets I have ever seen on stage - and I have seen quite a few in my time. Not only is he an engaging and charismatic Hamlet but he is also an actor with great musical versatility. Tiran accompanies the 'play within the play scene' on a grand piano with extracts from The Magic Flute, Carmen and Auld Lang Syne (among other familiar classics). In so doing Hamlet becomes more than simply the director/author of the Murder of Gonzago but also an active participant in the closely stage-managed dumb-show.
No emphasis is placed on the emotional ties between Hamlet and his mother. In this production Gertrude (Sara von Schwarze) was weak and uninspiring.
Polonius is humorously portrayed by Itzhak Heskia, who exploits small formal gestures to suggest a blind slavish devotion mingled with a slow grinding mind. His son Laertes is played by a dashing Amir Krief who, following his father's death, returns from France with a submachine gun.
Laertes' sister, Ophelia (Neta Garti, is a young, attractive and sensitive teenager: the confrontational 'nunnery' encounter between herself and Hamlet is particularly powerful and moving. In her mad scene the garlands Ophelia offers are composed of the rifle bullets she takes from Laertes' machine-gun clip and is a disturbing reminder that in Shakespearean tragedies "Blood will have blood".
The bloodbath at the end of the play arrives on cue and Hamlet drops dead on the throne next to his already lifeless mother. Fortinbras meanwhile, epitomising the political moral, returns to the devastated Denmark in full modern combat uniform. In a dismissive but deeply symbolic move he displaces Hamlet's body and seats himself on the now vacant throne and with a triumphant smile crowns himself King.
A brilliant production, with innovative direction and a must see.
Reviewer: Rivka Jacobson