Handbagged
Moira Buffini
Oldham Coliseum Theatre, Wiltshire Creative and York Theatre Royal
Oldham Coliseum Theatre
–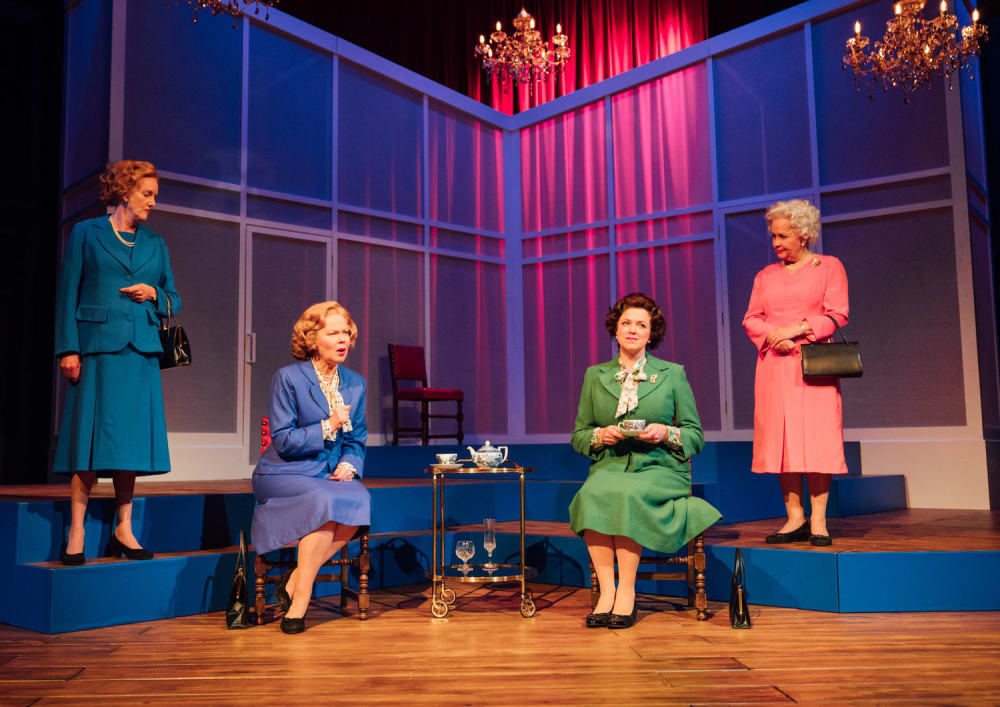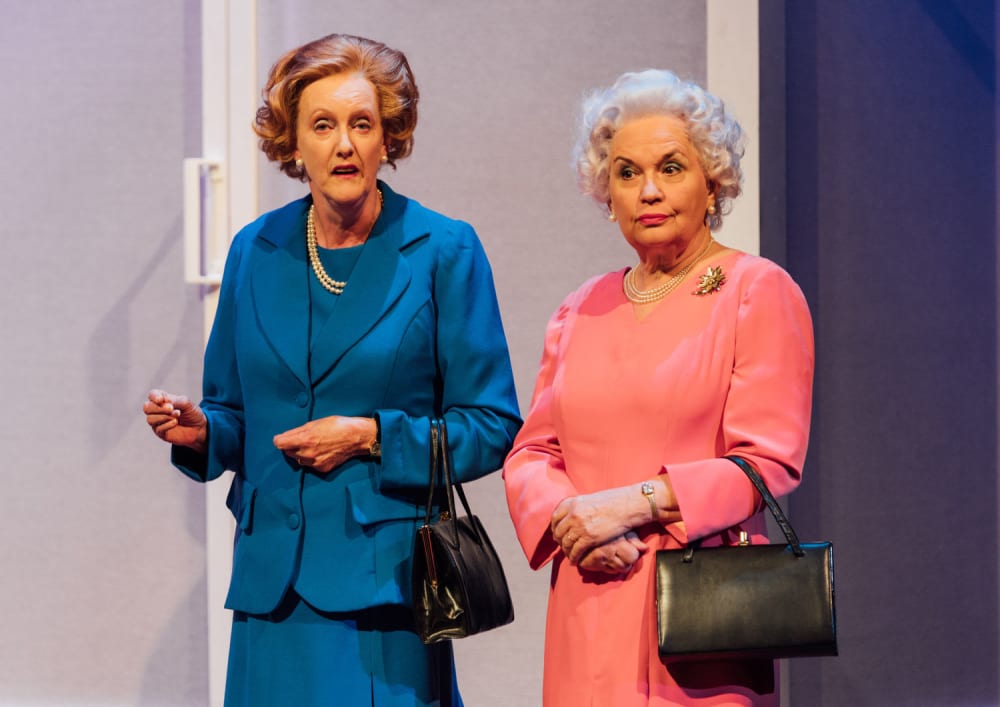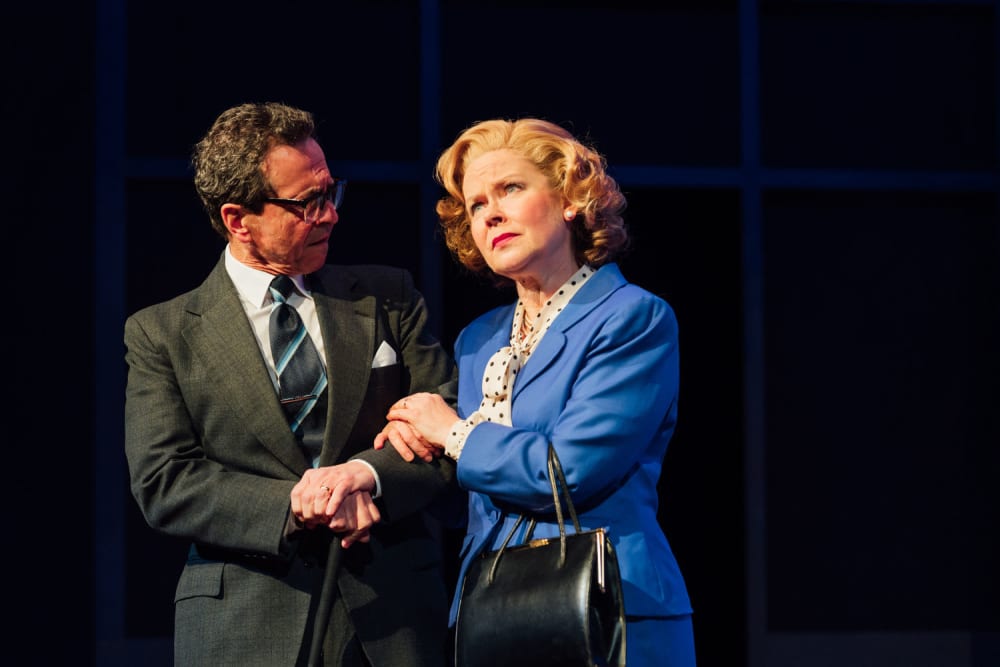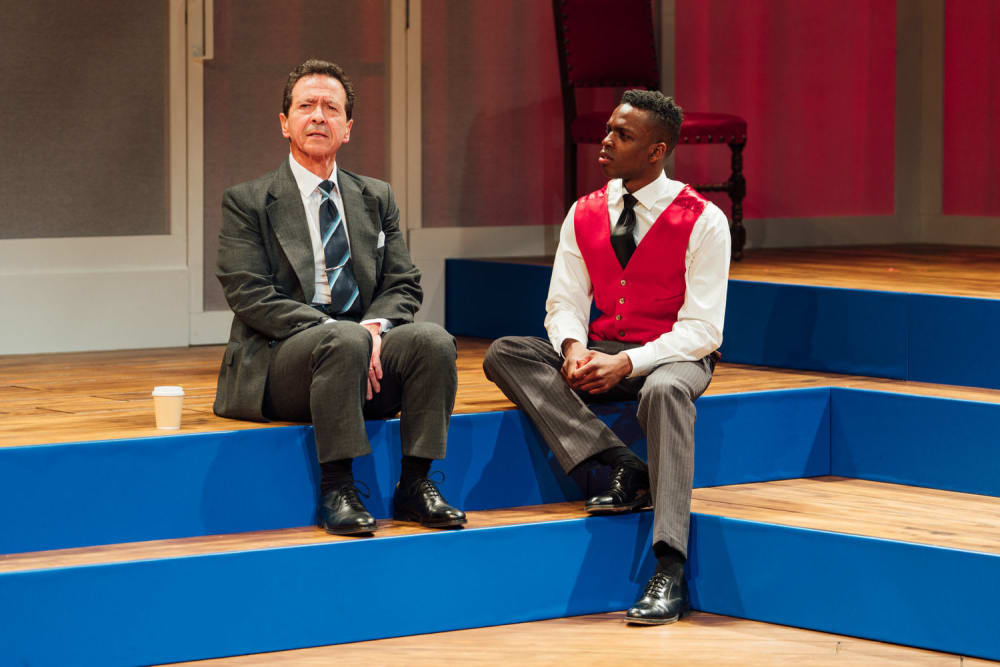 The loud boos that greeted the opening of this play, as Sarah Crowden's Margaret Thatcher stood alone on stage waiting to address us, suggested immediately that a vocal Oldham audience didn't have much sympathy with the policies of our first female Prime Minister; I'm not sure our second (and current as I type, but who knows what may happen by I get to the end of this review?) would have fared much better.
Crowden is one of two Thatchers on stage, the older one reflecting back on her time in Number 10, while Alice Selwyn plays her during her time in office—they are quirkily named 'T' and 'Mags' respectively in the cast list. The other half of the conversations that make up the play are supplied by Susan Penhaligon as 'Q' and Caroline Harker as 'Liz', representing the two ages of, to the rest of us, Queen Elizabeth II.
The play traces the period from when Thatcher was elected as PM in 1979 until she was finally persuaded to step down after a Cabinet revolt in 1990 through the weekly meetings between the current monarch and PM that have taken place throughout recent history. Here, Thatcher is portrayed as someone with strong, unshakeable principles and with an almost McCarthyite hatred of anything that smells like Socialism, whereas the Queen is far more moderate and concerned with the effects of these policies on the lives of her subjects. However, the meetings took place in private and no records were kept of what was said, so these conversations are entirely fabricated by the playwright; in case we don't get this, Q or T will often follow up a statement by her younger self with, "I didn't say that".
It is billed as a 'comedy', but it is really more of a team-taught lecture as it relies heavily on narration of historical events and even most of the dialogue is delivered directly towards the audience. Much of the comedy comes from witty observations on events and policies, mostly from the Queen, with some physical clowning thrown in, which mostly comes through the multi-role playing of Jahvel Hall and Andy Secombe, billed only as Actor 1 and Actor 2 respectively, filling in all the other characters we see in the story. Secombe's Ronald Reagan is more of a gameshow host than I remember him coming across at the time and his Michael Heseltine follows through on his nickname with a Tarzan call, while Hall dons dress and heels to portray a glamorous Nancy Reagan and some variable accents as Welsh Labour leader Neil Kinnock and the Queen's Scottish press secretary Michael Shea.
They do dwell rather a lot on the repeated gag of actors complaining about the parts they are playing or getting confused about which character someone else is currently portraying, which must have been a lot of fun to rehearse but quickly gets tiresome to watch (Blood Brothers did this better in a single line thirty years ago). The one time when this is made relevant is when Hall, who is black, refuses to play Enoch Powell, not known for his tolerance to racial integration. The two Actors are also used to introduce, as 'themselves', the counter-arguments to Thatcher's single-minded pursuit of principle, introducing subjects she tries to skip such as the riots, rising unemployment and the Poll Tax. The many actors in the press night audience responded very favourably to Secombe's definition of a 'closed shop' to much-younger Hall as "the reason actors used to earn proper money."
The performance that stood out most for me by a long way was Susan Penhaligon's total embodiment of Queen Elizabeth, which captures the gestures, facial expressions and vocal inflections of the real person while also putting her across as an intelligent human being, not merely an impression.
The play was originally Buffini's half-hour contribution to Women, Power and Politics, a cycle of short plays by different writers at the Tricycle Theatre (now the Kiln) in 2010. As such, I can imagine it being both fun and informative, but stretched to 2¼ hours it soon gets repetitive and preachy, using slapstick to try to break up the monotony rather than to reinforce the message. Perhaps the youngsters on the front row learned something useful about the development of modern Britain, but to those of us who lived through the '80s, the play doesn't teach us anything new.
Reviewer: David Chadderton