Handbagged
Moira Buffini
Wiltshire Creative, Oldham Coliseum Theatre and York Theatre Royal
Salisbury Playhouse
–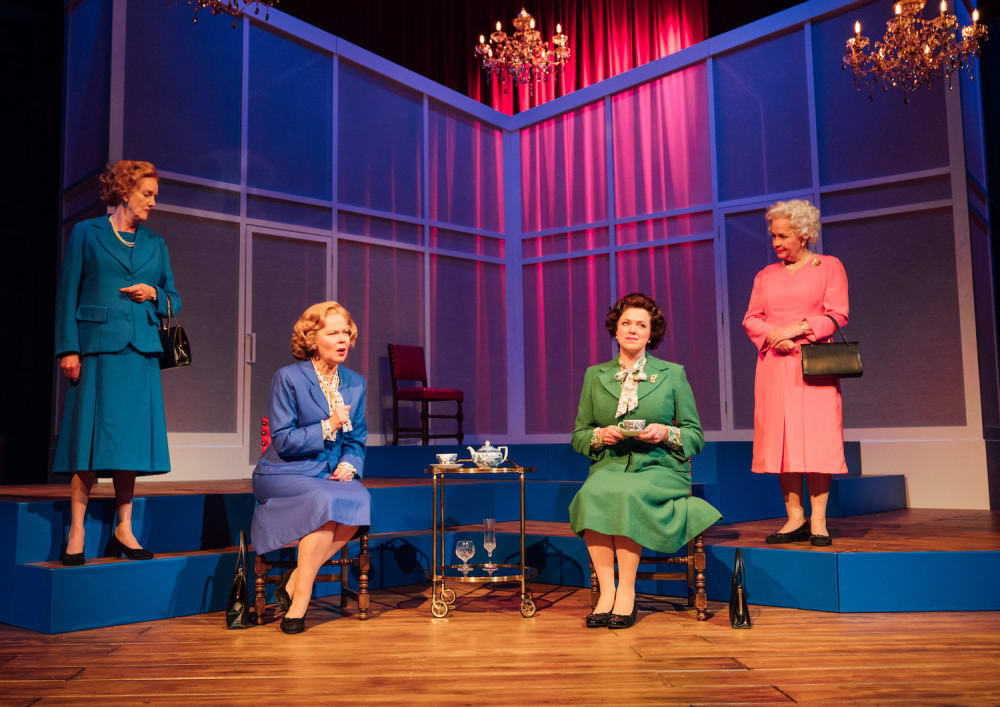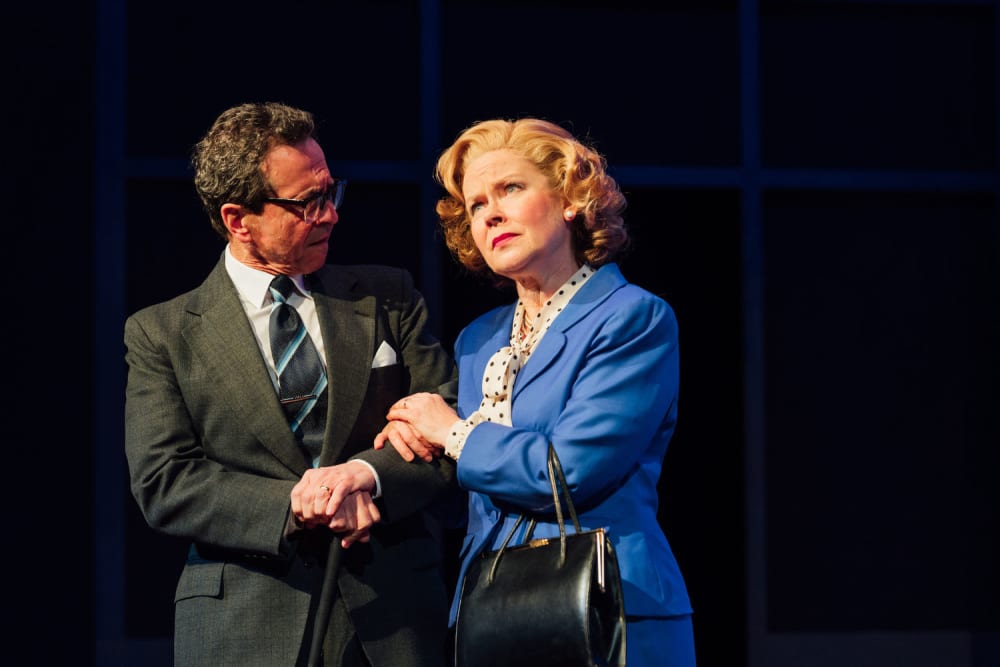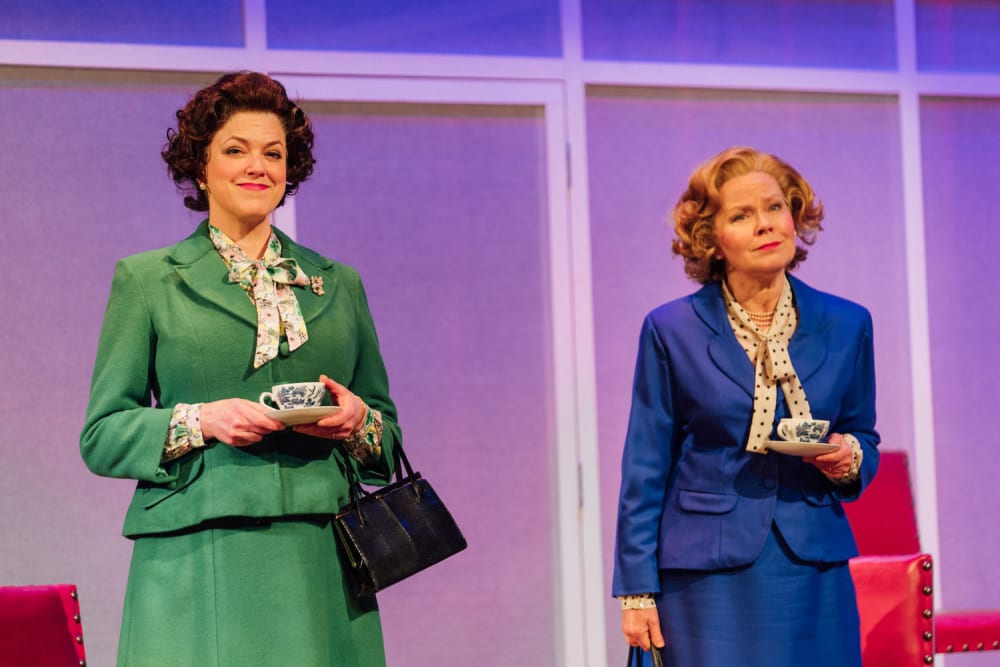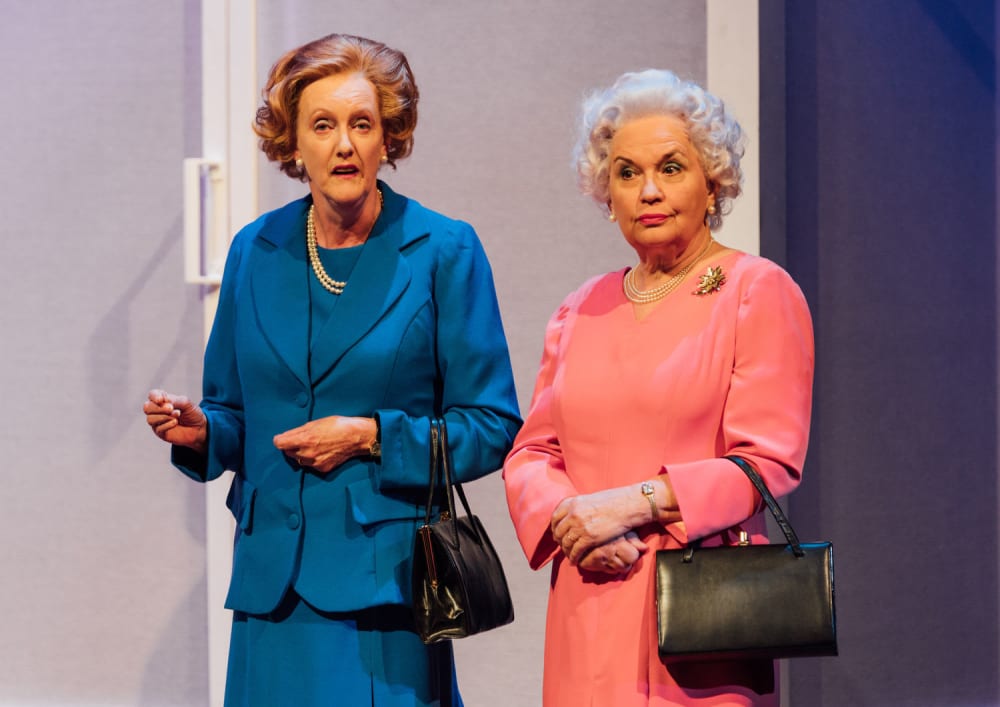 Is there a single one of us, especially on a Wednesday afternoon, when the Prime Minister traditionally visits the Queen, who hasn't speculated on what they talk about? Well neither of them are actually going to tell us, are they? And what about the Thatcher years, from 1979 to 1990? Did they always discuss politics or did they sometimes mull over the latest fashions, swap recipes or share anecdotes, safe in the knowledge that their conversations were never going to reach beyond the Queen's inner sanctum? Did they actually enjoy these sessions or was there ever friction between them? Acrimony even?
Well we're never going to know, are we? So that makes the theme of Handbagged all the more intriguing.
The simple setting is Buckingham Palace. Three layers of staging, the top layer reserved for the Queen and Mrs T, with three chairs and a tea trolley. There are two main roles, of course, Her Majesty (Susan Penhaligon), in pink, and Mrs T (Sarah Crowden) in blue, each of these characters having a double, Liz (Caroline Harker) and Mags (Eve Matheson) to make complementary, often hilarious, asides. I mean, the Queen may actually have called Mrs T "that bloody woman" and Mrs T may have regarded the Queen as "only fit for shaking hands," yet they're never going to let on, are they? But they "never disagreed"? Naturally not.
The play covers eleven years of British history beginning with Mrs T being elected leader in 1979 and announcing that "the lady's not for turning", Mugabe becoming president of Zimbabwe and Ronald Reagan being elected president of the US. Then there's the miners' strike in 1984, the invasion of the Falkland Islands in 1984, the Brighton bombing and the international fuss over Mrs T refusing to inflict sanctions on South Africa over their apartheid policy. In 1988, there's the Lockerbie disaster and in 1989, there's Hillsborough and in 1990, there's the poll tax riots.
But the following year, Nelson Mandela is freed and will have a beneficial influence in world politics for many years to come.
And that is the end, really, of the Thatcher influence because 1990 is the year in which she resigned. Still, ten years at the helm is pretty good going, isn't it?
But Mrs T never acted alone, did she? There are other characters, in fact, played by just two actors. Andy Secombe has the main supporting role as Denis Thatcher, Margaret's constant support and helpmate, as well as Peter (Lord) Carrington, Father of the House of Lords, who complains that he's only got one line, then the telling question by an IRA spokesman about Ronald Reagan, "How can an actor become president?" And Reagan's question, "The Falkland Islands? Where the hell are they?"
The 1981 riots? "They even occurred in High Wickham." Then Reagan eating his very first hot dog at Windsor Castle.
Then there's the sixth actor, Jahvel Hall. Such versatility, such style! He begins as a Buckingham Palace footman, goes on to portray Kenneth Kaunda, first president of Zambia, then the glamorous Mrs Obama and even then transforms into Nancy Reagan. This actor is destined for great things. But we all applaud his decision, being black himself, to decline the part of Enoch Powell.
An enlightening reminder of some recent history and an immensely enjoyable evening then.
But there's one thing we'd like to know, of course. It's about the Queen and we never shall know, even if she watches it. What would she think of the play?
She'd laugh constantly, of course. Just as we've done.
Reviewer: Anne Hill