Handbagged
Moira Buffini
Vaudeville Theatre
–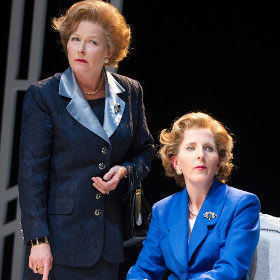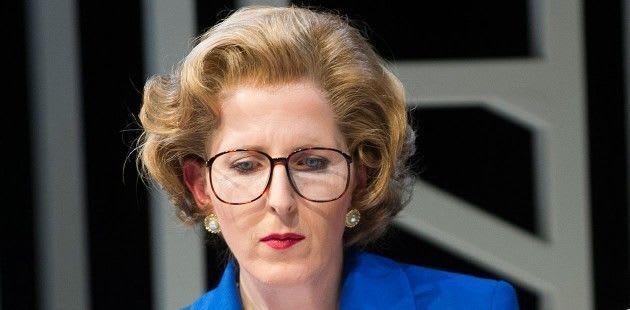 Moira Buffini's sparkling play directed by Indhu Rubasingham was a storming success at the Tricycle Theatre back in September 2013 and is now looking to take on the West End.
It's an extremely clever imagining of the relationship between her majesty Queen Elizabeth II and the Iron Lady throughout Thatcher's three terms of office. Every week, like all the Prime Ministers before her, Mrs T and Her Maj sat down to talk off the record and no notes taken. Rumours are that there were clashes possibly rather significant differences of opinion.
Buffini brings to life this tumultuous period of British politics in a fresh and utterly engaging way. Some Maggie T lovers may balk at the distinctly left-wing slant imposed upon her portrayal. Equally, staunch anti-monarchists may wonder why the Queen seems to come out of it all rather well.
Two actresses play Thatcher and two Elizabeth—one older, one younger—which provides a beautiful marriage of hindsight and a means of communicating the internal opinions of both women.
Marion Bailey is particularly funny as the 'older' Queen. Her facial expressions are spot on and comic timing is genius. Bailey is matched by a tough-as-nails performance from Stella Gonet, who is somewhat horrifyingly similar to the real Mrs T.
However, the award for most toe-curlingly wonderful portrayal of Mags goes to Fennella Woolgar whose mannerisms and turn of phrase had me squirming in my seat. As she converses with young Queen Liz—the wonderful Lucy Robinson—Woolgar expertly portrays Margaret Thatcher's single-minded and almost entirely emotionless character for which she has come to be famous in some—well let's be honest most—circles.
Handbags clutched around their arms at all times, these four women are aided by a vast cast of political characters played by just two supporting actors: Jeff Rawle (everyone from Dennis Thatcher to Arthur Scargill with great aplomb) and Neet Mohan representing all disgruntled youth/protesters, Neil Kinnock and Nancy Reagan.
Together they thunder through the Thatcher years in a style which sometimes called to mind Joan Littlewood's Oh What a Lovely War, in that the play is self-aware and uses sharp wit to shed light on touchy political situations.
All involved with Handbagged are absolutely worthy of outstanding performance recognitions. The standing ovation at the close was heartfelt and deserved.
Reviewer: Anna Jones