Handful of Henna
Rani Moorthy
Rasa with Oxford Theatre Company production
The Customs House, South Shields, and touring
(2010)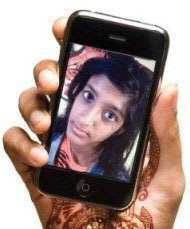 Based on real stories from Muslim women, Rani Moorthy's Handful of Henna tells the story of the conflict and reconciliation between 13-year-old Nasreen and her mother, Saheeda. During a trip back to 'the family village' – thousands of miles away from her friends, unable to text them and stuck in the monsoon rain, surrounded by wagging tongues of relatives – Nasreen embarks on a journey that will lead to her developing a deeper understanding of the woman who is her mother.
Rochi Rampal gives a worthy performance, as Nasreen, and she is superbly supported by Bharti Patel (Saheeda), Nimmi Harasgama (Auntie Munah), and Sohm Kapila (Alia). Each of the women deftly deliver performances that are packed with poignancy and loaded with laughs.
Initially, the production starts out as a comedic clash of cultures. British-born Nasreen has only ever known the United Kingdom as home and feels no affinity with 'the home village'. Saheeda experiences feelings of displacement in both the UK and in her birth country. Much weeping, wailing, yelling and screaming ensues between the mother, daughter and relatives, before a series of memories, which have haunted Saheeda for many years, are re-lived. The sharing of these long-repressed events signify the catalyst that enables Nasreen and Saheeda to build a new, more tolerant relationship.
One sparse set, designed by Rachana Jadhav, is used imaginatively and effectively to represent several different locations, whilst song and dance create an authentic and evocative air of Asian ethnicity.
The audience, which was largely made up of women, received the piece well and spontaneously clapped along to the uplifting closing number.
Tours to Darlington Arts Centre, Middlesbrough Theatre, and Queen's Hall Arts Centre, Hexham.
Reviewer: Steve Burbridge