Hanging Hooke
Siobhan Nicholas
Take the Space
Yvonne Arnaud Mill Theatre, Guildford, and touring
(2011)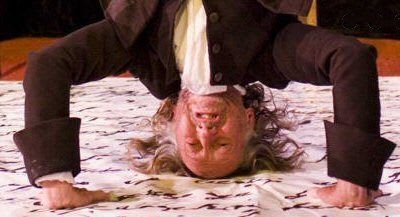 In seventeenth century England there lived a man, one Robert Hooke, a contemporary of Isaac Newton and Christopher Wren and undoubtedly a genius to rival Leonardo da Vinci, yet he has been almost written out of history and forgotten - until now. This is his story.
The performer (Chris Barnes) stands motionless and listening as the voice of an auctioneer booms through the room describing a manuscript, the folio of Robert Hooke, for sale but with a reserve of one million pounds. Then, switching back in time, the play begins.
This man is not Hooke, but Jack Hoskins, who seems to be an amalgamation of three John Hoskins of the time, a miniaturist, a portrait painter, or perhaps Sir John Hoskins, the founder of the Royal Society where Hooke was employed for forty years as Curator of Experiments. This job perfectly suited his enquiring mind, his wide-ranging subjects covering science, engineering, architecture, the possibility of flight, the elasticity of air - the list goes on and on, "Robert Hooke is all around you".
One experiment had him in a sealed vessel, from which the air was gradually pumped, and Barnes recreates the intense discomfort and pain of this by standing on his head while describing the effects on the body.
As Hoskins, Barnes takes us first from Hooke's boyhood on the Isle of Wight to Westminster School where the boy's first question is "Does the school have a lathe?" (something my engineer husband considers a possession no one should be without), later going on to Oxford.
Beginning as a friend and mentor, Hoskins' regret and guilt is obvious when he seems to side with the rival Newton, but he so "loses himself in the world of his subject' that he becomes Hooke and the performance is as intense and enthusiastic as if the man himself is standing before us describing his work. The intrigue, resentment and betrayal as others take credit for his discoveries are heartfelt, leading to his becoming reclusive and secretive, hiding the precious manuscript of his experiments in a trunk.
The friend, rival, then enemy who most upsets him is Newton whose theories of the gravitational pull of the planets are based on Hooke's previous work, and a lighter note is his understandable annoyance when handed a newspaper to find headlined the story of the apple. Although his own name is mentioned, it is spelt incorrectly.
The floor of Lizzie Wyllie's set resembles a hand-written manuscript with 'tools of the trade' (or of Hooke's experiments) surrounding the performer, and music or appropriate sound is used to emphasise the mood.
Together the writer and performer direct and obviously feel passionately about their subject, as well they might. Barnes is on stage addressing the audience for a full hour and a half without a break and his energy and earnestness never flags - an inspired performance to complement some exceptional writing.
As a 'codicil' to the story, in 2006 Hooke's lost folio was discovered in a house in Hampshire, auctioned at Bonhams and, with thanks to the Wellcome Foundation and donors, has found its way back to the Royal Society where it belongs. It can be viewed on the internet.
Hooke also worked closely with his friend Christopher Wren on the Monument and St. Paul's Cathedral, and today, at last, there is a plaque crediting his contribution, and a memorial tablet in St. Paul's.
I would urge everyone to see this play: it is an education as well as an entertainment, exquisitely written and performed, and a tribute to the man who inspired it all.
Touring to Octagon Theatre Bolton (April 14th), Norden Farm Theatre for the Arts (May 10th), Christ's Hospital Theatre, Horsham (May 12th), Ustinov Studio, Theatre Royal Bath (May 25th and 26th), The Barn Theatre Tenterden (June 25th), Stephen Joseph Theatre, Scarborough (June 29th).
Reviewer: Sheila Connor