Hans Was Hieri
Martin Zimmermann and Dimitri de Perrot
Barbican Theatre
–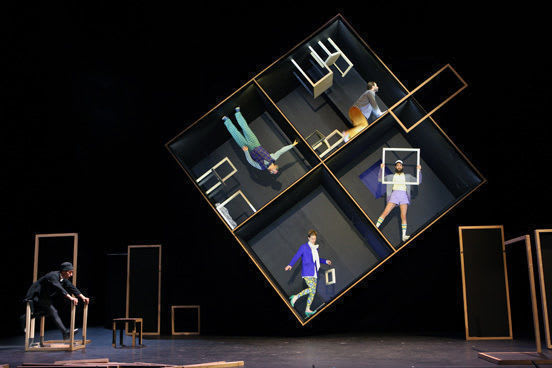 Contrary to what Orson Welles said in his role of Harry Lime in the Graham Greene-Carol Reed film, The Third Man, the Swiss have produced more than a cuckoo clock. There's Dürrenmatt, Frisch, Corbusier, Apia, Grock, Giacometti, Goddard, Jung, Federer. I could go on.
And now there is Zimmermann and Perrot. Martin Zimmermann is responsible for the concept of Hans Was Heiri, its direction and design. Dimitri de Perrot is responsible for the music and sound. They are from Zurich (sponsored by the city) and have performed in theatres and festivals across Europe and around the world and won several awards in Switzerland.
Hans was Heiri is their fourth production to feature at the London International Mime Festival. Here are some of the things that they have said about their work:
We call it theatre because we haven't found a better word.
We like distortion, we turn everything upside down.
We seek the possible in the impossible.
For us, objects are living beings.
We fool around at the edge of the abyss.
We laugh our heads off and are deadly serious.
We ride roughshod over physical pain.
Hans Was Heiri is a German expression meaning six of one and half a dozen of the other. The production is a mixture of acrobatics and slapstick. It's not always obvious what is going on; but then anything goes. And that's the trouble. The 80-minute show (without interval) would be better if Zimmermann himself did far less and if he and his cast were also less self-indulgent. They just don't know when to stop and it becomes tiresome.
The high spot is a 360 degree revolving four chamber box, with fixed wooden tables and chairs. The cast walk, sit, squat, lie, climb, lean, slide, tumble, fall, stand on their heads and generally hang on for dear life as floors turn into walls and walls turn into ceilings and ceilings turn into floors.
Reviewer: Robert Tanitch