Hansel and Gretel
Music by Engelbert Humperdinck; text by Adelheid Wette; English translation by David Pountney
Opera North
Lyric Theatre at The Lowry, Salford
–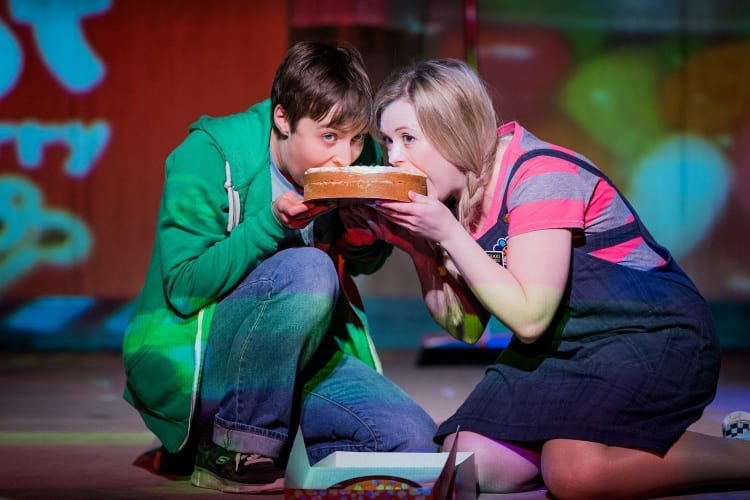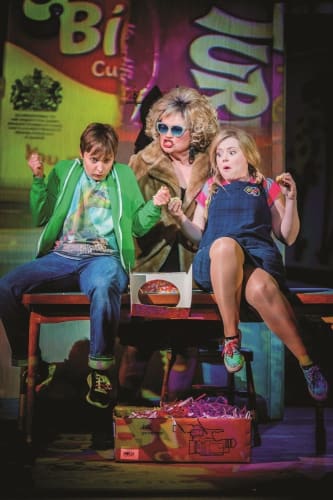 Opera North's production of Engelbert Humperdinck's much-loved late 19th-century opera thrives on the power of childhood imagination. It updates the setting to an unkempt modern-day flat with views over an estate. Hansel (Katie Bray) and Gretel (Fflur Wyn) play together with a very high-tech imagination machine: a video camera which projects their pranks and posturing onto the back wall on a massive scale.
The playful use of this impressive projection technology is undoubtedly the strongest element of the design and staging. Not only does it lead to some inventive scene-setting, but in the opening moments, as Hansel and Gretel take turns filming each other, singing directly into the lens, it gives the audience an unusual and enjoyable close-up view of these magnificent singers at work. Wyn and Bray give charming and fun performances throughout, their voices interlocking beautifully and their liveliness making it all look effortless.
There are numerous delights in the score, as conducted by Christoph Altstaedt, bringing out strong performances all round. Once we reach the forest, the cries of the cuckoo weave antiphonally between the orchestra and Hansel and Gretel. Later still, the siblings awake to question where they are, answering "a paradise" in powerful harmony. The Mother's prayer "send / us / money" hits a series of descending notes to give a sense of real desperation and finality.
Hunger and gluttony weave together in the fabric of this fairy tale. The fridge is empty and mum and dad down on their luck. Mother returns home to find Hansel and Gretel larking about, and in chastising them a jug of milk gets broken. This causes her to send them out to the forest and leads to her despairing plea for cash.
Apparently, trickle-down economics works, as Father (Stephen Gadd) returns inebriated and laden with goodies, telling us how "hunger eats what rich men spew". The Mother's joy at being furnished with tea provides a moment of lovely humour, her previous lows now rocketed to a triumphant high note.
Susan Bullock, who plays the Mother, also returns for a transformational turn as the Witch. In both roles she is impressive, but as this antagonist (named in David Pountney's translation as Rosie Lickspittle) she is glorious, bobbing and swaying with the pulses of the music like a Disney villainess. The modern-day setting is wittily exploited so that the gingerbread house is constructed of Caramacs and BN biscuits; the berries to be picked in the woods are packets of Haribo.
I had some reservations about the staging, directed by Edward Dick. In it, the cheeky central duo only pretend to leave the flat when instructed by their mother, retreating instead to the corner of the room to sit, their faces illuminated by the electronic glows of handheld screens and their ears plugged with headphones. These are distinctly modern youngsters.
So when the parents rush out to look for their endangered children, there's a sense that Hansel and Gretel only imagine the trip to the forest. How much of what happens subsequently is merely taking place in their play world?
Perhaps taking Gretel's question: "Where am I? Sleeping? Dreaming? Or dead?" as a cue, this production is not concerned with giving an answer, but it nagged at me—particularly with the setting of the final scene, in a Christmas-decorated scenario in which Hansel and Gretel have partners of their own, surrounded by the children who in the fiction are liberated from the witch.
Mother and Father return from their search transformed, and aged. They all seem to be playing this jovial game together. So is the whole thing in fact a meta-fiction told by a thankful family together at a time of plenty? Is it a family memory, or a folk one?
I felt confused by this lack of clarity in the staging concepts, particularly as it might suggest a sort of "thank goodness we're not poor after all" resolution to the tale. But for the most part, I was just happy to go along for the ride. Along the way, imagination is certainly celebrated, and there is no faulting the invention of the imagery or the superb performances of singers and orchestra alike.
Giles Cadle's set design, Christina Cunningham's costume and Ian William Galloway's video design all combine to provide an engaging, creative, modern world for these wonderful singers to play in.
Reviewer: Mark Love-Smith