Hansel and Gretel
Englebert Humperdinck, after the poetry by Adelheid Wette
Sächsische Staatskapelle Dresden
Semperoper, Dresden, Germany
From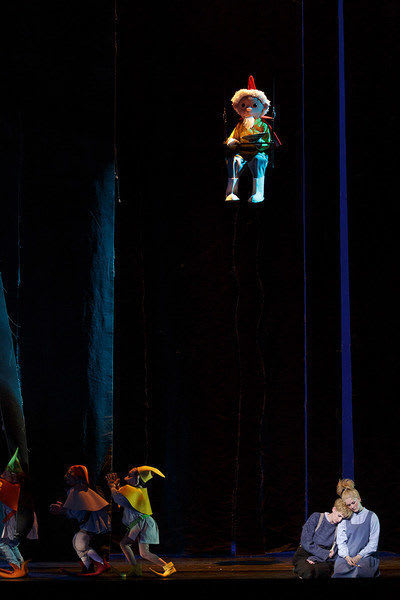 Richard Strauss, who conducted the highly successful première in Weimar in 1893, said that Englebert Humperdinck's Hansel and Gretel was a masterpiece of the highest quality.
I don't know what the Brothers Grimm fairy tales did for you as a child, but they certainly frightened me. Librettist Adelheide Wette, Humperdinck's sister, got rid of the violence, sadism and terror and made the story more suitable for little children. Hansel and Gretel's parents are not bad at all.
A witch still fattens up children and then turns them into gingerbread by baking them alive. In post-World War II Germany, the fantasy was too close to reality, the witch's oven evoking memories of the gas chamber at Auschwitz.
In 2006, Dresden's Semperoper was packed full of very young children. There's no horror in Katharina Thalbach's production, conducted by Johannes Wulff-Woesten and designed by Ezio Toffolutt, which is aimed at children rather than adults. There's only fantasy, relying on silhouette, shadow-play and spectacle. The woodland dream sequence is full of angels, played by young children, who enter the stage by sliding down a chute.
Humperdinck is well served by orchestra and singers. Antigone Papoulkas and Anna Gabler are the guzzling Hansel and Gretel. Irmgard Vilsmaier and Hans-Joachim Ketelsen are their mum and dad. Iris Vermillion is the witch and, when she throws off her wig to reveal a bald head, she looks like a man in drag and she's pure pantomime in the Lily Savage manner.
Hansel and Gretel can be watched on line on the EuroArts channel free.
Reviewer: Robert Tanitch