Hansel and Gretel
Hope Massiah
Theatre Royal Stratford East
(2008)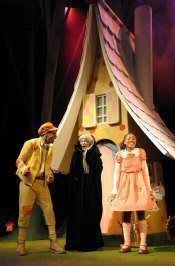 In this Hansel and Gretel, their dad and step-mum are townies seeking a less expensive life renting a converted pigsty in the country. Tony Timberlake as Dad is an unsuccessful entrepreneur who has been trying to sell impractical inventions such as chocolate teapots; now he's attempting to make a go of it as a wood-cutter. Some hope! Especially with a rapacious landlord who's newly into property development. Step-mother is another of Marcus Powell's lovely dames, not so much a man in a dress as a gender change that allows a gentler parody of female wiles: relationships in Stratford pantomimes always seem very real. She didn't bargain with taking on two young teenagers as well as their soon penniless dad and finding 'there's no romance without finance' would be glad to be rid of them. But she's not really the baddy, nor is landlord Squire Giles (Marcus Cunningham); both end up on the side of good. The real baddie, the one to boo, is the Wicked, Wicked Witch of the Wood (Josephine Lloyd-Welcome) who favourite food is children.
Massiah has given the Squire a tomboy daughter, Arabella (a strong performance from Gemma Salter, following her debut here as Julie in Come Dancing) and, lacking an obvious character for the 'Buttons' role, invented Monty Mole to set up a rapport with the audience. Susan-Lawson-Reynolds's Monty, all snub nose and pebble-glasses, pops out of his burrow to recruit their support to warn of danger: 'keep them peeled for me, 'cause moles can't see' is his refrain.
Soon all the cast are in conversation with the house but the audience at Stratford doesn't need encouragement to become part of the show: you always feel this is their theatre - but this was the first time I've heard the audience telling a character to shout louder rather than the other way round!
Of course, it is Hansel and Gretel themselves who the audience take most to their hearts. Natalie Best's little Gretel may seem all trust and innocence but it's a strong performance well matched to her big brother. Hansel has discovered girls and with his nose buried in Courtship for Dummies is out to find one, and set his cap for Arabella. He may have a thing or two to learn but Darren Hart gives him a hip-hop sort of street cred that has the audience rooting for him.
In the frightening forest (a coup by designer Jenny Tiramani, a genius at making less seem more) the siblings have to cope with the Witch's henchman Wolf (a not too frightening Nathan Amzi) who tries to pass himself of as 'Doggy' with a pair of sheep's-wool spaniel's ears - he's much more frightening as a heavily armoured live alarm system with which the Witch's house is wired. They also meet the friendly Yellow Bird, a perky, prancing little character who would be quite at home in Lewis Carroll and gets a sprightly performance from Peter Howe. Some friend: he gobbles up the trail of crumbs which could have let Hansel and Gretel home and has his eyes on Arabella for his dinner after she's been turned into a mouse, but he makes up for all by helping lead mole and a rescue party to find the missing children.
This is a through piece of story-telling. No hold-ups for extraneous numbers, though there are plenty of songs and a lively score along the way from a group of Stratford's house composers and plenty of camply clever choreography from Omar Okai who has found a way to make a company of actors look like seasoned dancers.
Though Stratford's is only my third panto so far this year I'll be surprised if I find one more enjoyable. It has the enormous advantage of the comfortable atmosphere of this lovely theatre and the warm audience it has built in recent years from its local community but I can promise you delight and fun. This isn't just a panto: it's a party.
Runs until 17th January 2009
Reviewer: Howard Loxton