Hansel and Gretel
Engelbert Humperdinck and Adelheid Wette
Semi-staged production by Opera North at Leeds Town Hall
(2005)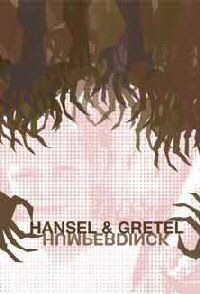 A forest of ghostly silver birches has mysteriously sprung up in the Victorian splendour of Leeds Town Hall, their trunks silhouetted against the mighty organ pipes. It's a simple but evocative setting for a semi-staged Hansel and Gretel, surely one of the most magical of operas, and under the baton of Richard Farnes the orchestra gives a superb rendition of the familiar overture. Sadly, although the playing and singing are superb throughout, director John Fulljames and designer Soutra Gilmour have come up with a modern-dress concept almost Disneyesque in its contempt for the work's charm and subtlety.
Readers familiar with the works of the brothers Grimm, those scholarly conmen who collected fairy tales from a few middle-class friends and passed them off as authentic German mythology, will need no introduction to the story. Julianne Young and Jeni Bern are the most convincing Hansel and Gretel I've seen for a long time, and thanks to their excellent diction most of their words come across despite the venue's less than perfect acoustics. Sarah Pring (Mother) and Christopher Purves (Father) are equally effective as the feckless parents and Peter Hoare obviously relishes his role as the first tenor Witch many British opera-goers will have seen. Rebecca Bottone is a delightful Sandman, a shock-haired little chap in evening dress, and she also shines as the Dew Fairy. It's a good job the music is in such good hands because the staging is singularly magic-free.
One example typifies the whole: at the end of Scene Two the children get lost in the forest as night falls and pray to their guardian angels. Back in the 1980's an English National Opera production turned the angels into comforting childhood icons such as lollipop ladies, cinema usherettes and bobbies on the beat. It was a genuinely insightful little moment and brought tears to many a grown-up's eye, but what do we get from Fulljames and Gilmour? A parade of children in baseball caps who proceed to force-feed Hansel and Gretel with hamburgers, ice-cream and chips (sorry, "fries"). The production might as well have been sponsored by McDonalds. Or is the whole thing a comment on the relentless Americanisation of European culture? Alas, I think not - although the family's unquestioning belief in both Christianity and cannibalistic witches strikes a contemporary note
The staging's one redeeming feature is its amusing use of instruments and instrument cases, thereby making a virtue of necessity as the singers and orchestral players are obliged to share the same space. The children collect berries in a violin case and the witch comes to a nasty end in a kettle-drum. It's a nice touch but it doesn't excuse the dumbing-down and uglification (to borrow a word from Lewis Carroll) of the concept as a whole.
At Leeds Town Hall on 18th and 22nd January 2006
Reviewer: J. D. Atkinson