Happily Ever After
Developed from King and King by Linda de Haan and Stern Nijland
Action Transport Theatre
Unity Theatre, Hope Place, Liverpool
–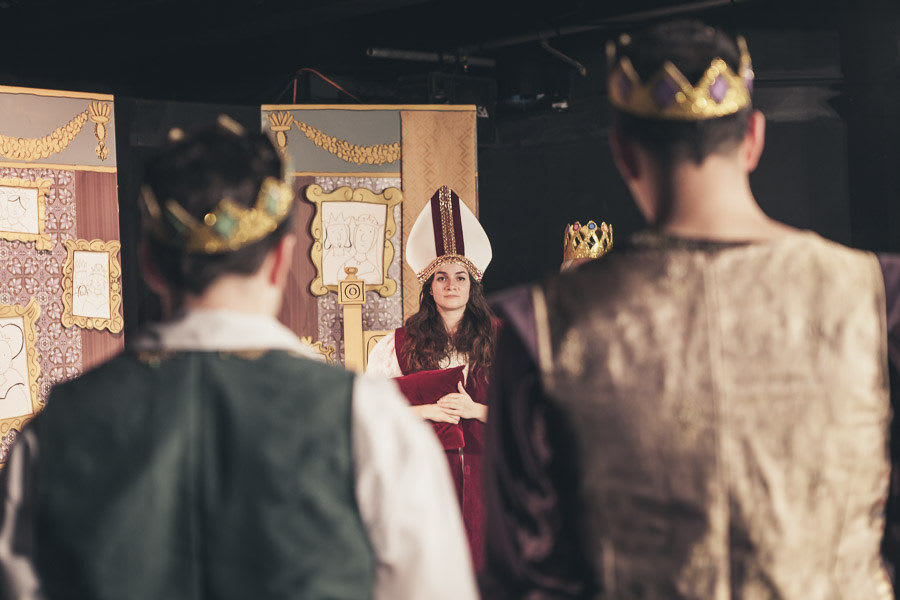 Action Transport Theatre's Happily Ever After aims to open discussion among young schoolchildren about same-sex relationships (and in so doing, to confront such issues as homophobic bullying).
Based on the children's book King and King by Dutch authors Linda de Haan and Stern Nijland, the production shows how such serious matters can be approached with a light yet firm hand. A good laugh can go hand-in-hand with a serious discussion.
There is no hand-wringing here, no villains, not even much conflict. What we have instead is a witty, delightful show which does the job, whilst being a constant joy to behold. Any issues children in the audience have with the single kiss in the show seem less to do with it being shared by two men than that it is a kiss. We all knew at their age that kisses are generally soppy and yukky.
In schools, the performances are accompanied by wrap-around discussions delivered and facilitated by LGBT North West.
There is trouble at the Palace. The King has passed away (this is implied rather than shown). The Queen (the marvellous Bruno Mendes) is getting weary of running the land. So weary, she can even fall asleep while shaking the hand of one of her loyal subjects. Prince Bertie (Paul Curley) is not yet ready to assume the duties of state—to be honest, he's a bit immature (Curley enjoys himself being twenty-one going on seven at this point).
The solution, his wise mother concludes, is to find him someone to love; someone who can share the burden of rulership with him.
A succession of eligible princesses (each played with relish and verve by Eve Shotton) is invited to meet him with a view to marriage. One Princess is fun but not his type; another is hyper-energetic (fun but OTT); a third is scarily domineering (leaving in a majestic huff when her advances are rejected).
Finally, an elegant, restrained princess enters, who dances balletically across the chequered floor of the Palace. Prince Bertie is at first intrigued and then clearly smitten. However, it is not the classy princess who has won his heart, but her equally stylish brother (gracefully rendered by Ady Thompson).
Far from being jealous or crestfallen, the princess is happy for the two lads. The Queen herself is simultaneously delighted and relieved that her son has found love.
There follows a brief and charming ceremony—ably conducted by Archbishop Shotton—concluding with that kiss. (No tongues, by the way, just a delicate, hesitant peck).
There is a light and imaginative touch to Nina Hajiyianni's production; her cast move with great precision and take full advantage of the absence of dialogue to express their moods with impeccable physicality.
The lack of words invites the children in the audience actively to interpret what's going on. The absence of conflict around the Prince's choice of partner allows for this same-sex romance to be celebrated just as the falling in love of any young couple. Precisely as it should be in 21st century.
Patrick Dineen's music finds fun ways to communicate both the repetitious tedium of palace chores and the magic of meeting that special person. (As the burgeoning of romance becomes apparent, the lighting of the set—cleverly designed by Bek Palmer—is rather beautiful).
On a personal note, Her Majesty the Queen clearly gave me a mischievous wink from the balcony. Good to know I'm still irresistible to rich widows.
Happily Ever After is the perfect vehicle for tackling homophobia for early years children. If you're an educator, book it now.
Reviewer: Martin Thomasson