Happily Ever After
Adapted for stage from King and King by Linda de Haan and Stern Nijland
Action Transport Theatre
Whitby Hall, Ellesmere Port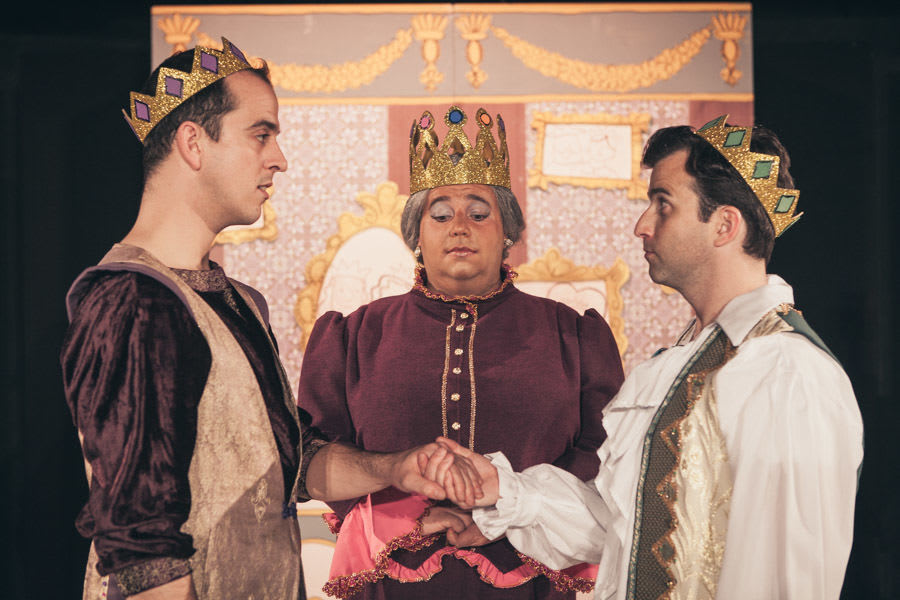 A young prince has just got married and the children who witnessed the wedding have designed "Congratulations" cards in celebration, sending their wishes for future happiness.
"Just love each other forever," instructs one extravagantly decorated card from a child called Alex.
Nothing remarkable in this, you might think, except that the happy couple in Action Transport Theatre's latest production are Prince Bertie and Prince Lee.
Developed in consultation with LGBT Youth North West (with input from a group of primary school teachers), Happily Ever After is adapted from King and King, a Dutch children's book written by Linda de Haan and Stern Nijland.
Her Majesty the Queen (Bruno Mendes, regal and hilarious by turns) is getting tired; so tired she has a tendency to nod off halfway through onerous official duties like waving to the crowd or shaking hands with her subjects. Clearly ruling alone (due to her husband's early demise) is wearying work.
Ideally, she'd like the younger generation to take over her crown and with it, her royal duties. Prince Bertie (Paul Curley, all innocence and charm), however, doesn't feel prepared for the role of monarch. He likes to have fun and fool around. Truth be told, he's more than a little bit scared of all that responsibility.
Deciding that a young king needs a partner to support him through life, the Queen sets about finding Bertie a wife. Things do not go well; none of the princesses seems to tempt Bertie and one, Princess Consuelo, (Eve Shotton, all latina passion, hissing and claws) scares him half to death!
It seems Prince Bertie faces life alone and the poor, weary Queen will be stuck ruling the realm until her dying day. Then in walks the genteel, balletic Princess Madeline (Shotton again). For Prince Bertie, finally, it's love at first sight.
But it isn't Princess Madeline who captures his heart; it's her handsome chaperon and brother, Prince Lee (a warm and capable Ady Thompson). What's more, the attraction is clearly mutual, even though this shy young pair need a little prodding from Bertie's Mum to bring them together.
Cue not only a royal wedding but the promise of a coronation, as Prince Bertie with Prince Lee by his side, at last feels man enough to take the step up to kingship.
Will they all live happily ever after? Well, what do you think? Of course they will!
Aimed at year 3 upwards, the production has recently completed a successful tour of eight Cheshire West and Cheshire schools. The twenty-five minute, dialogue-free piece has also played to year 4, 5 and 6 children, with LGBT Youth North West (Education Adviser Rachel Williams) offering a 'wrap around educational package' for teachers and students.
It's hard to imagine a better way to counteract homophobia in schools than by presenting positive images of gay relationships to children young enough to take them at face value. The absence of words proves to be a boon rather than a burden and, as one member of the audience at today's special showing puts it:
without words, you understand every moment.
Artistic director Nina Hajiyianni has coaxed vibrant, well-choreographed performances from the cast, with Eve Shotton in particular relishing the opportunity to play no fewer than four princesses (and a footman). Rebecca Palmer's design is bright and uncluttered, and the music, composed by Patrick Dineen, adds a sense of fun and sets a playful, welcoming tone.
Primarily funded by Cheshire West and Chester Council Equality and Diversity Fund, the hope is that this piece can now be further supported and developed. It certainly deserves a wider audience.
Head teachers, leaders of community groups and others interested in hosting the show, should contact Charlotte Mountford, Communications Manager (p/t), Action Transport Theatre, Whitby Hall, Stanney Lane, Ellesmere Port, CH65 9AE, telephone 0151 357 2120 / 07815 096 819.
Reviewer: Martin Thomasson