Happy Never After
Hannah Rodger
James Quaife Productions
Pleasance Theatre
–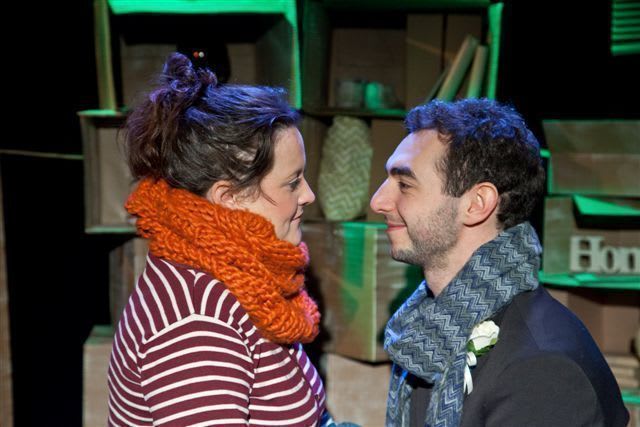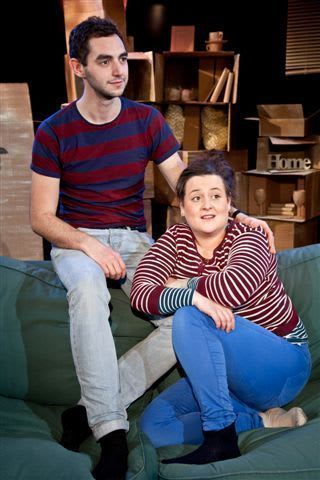 This debut play from Hannah Rodger has a freshness and an ear for real speech that is a delight to encounter. It is a picture of an ecstatically happy young couple who can't get enough of each other and are just moving into their first flat together.
The staging by director Luke Sheppard and designer Gabriella Slade uses piled cardboard boxes and a heavy sofa which the couple lug in at the opening and later can turn into a railway compartment or a bench in a hospital waiting room, while the boxes are the source of any necessary props and even, with a brilliantly simple touch, make the whole place a disco. The contrast to the naturalness of the dialogue serves to heighten its reality.
Neil Jones (Liam Mansfield) is just about to pull out the engagement ring and make a marriage proposal when his partner Jen Williams (Jessica Ellis) reveals the spectre of cancer and what was all happiness could turn into tragedy.
Though Rodger doesn't ignore the problems of living together and seriously considers the position of people who really want to have children when circumstances seem to make that impossible, this is a play full of warmth and humanity. I cannot imagine better casting for this delightful Welsh couple—these are actors I could happily watch for hours when they play with this beautiful balance of lightness and intensity. I could easily see this pair and this writer signed up to make Jen and Neil into a television series.
However, it is for a piece of totally enjoyable theatre that Happy Never After so surely succeeds. We don't give stars on this site but if we did this would get a full five
Commendations too to producer James Quaife for presenting this as a double bill with Jake Brunger's People Like Us. At a time when many theatres, both West End and fringe, are offering playgoers a single play that can sometimes run less than an hour and still charge full price, he presents a programme of two nearly hour-long plays on a single ticket.
However, if you are one of those people who has an attention span that stops at an hour it is well worth the ticket price for this play alone.
Reviewer: Howard Loxton