Happy to Help
Michael Ross
Celia Dugua in association with Shout In The Dark, Kabnis Productions, Claire Evans & Park Theatre
Park Theatre
–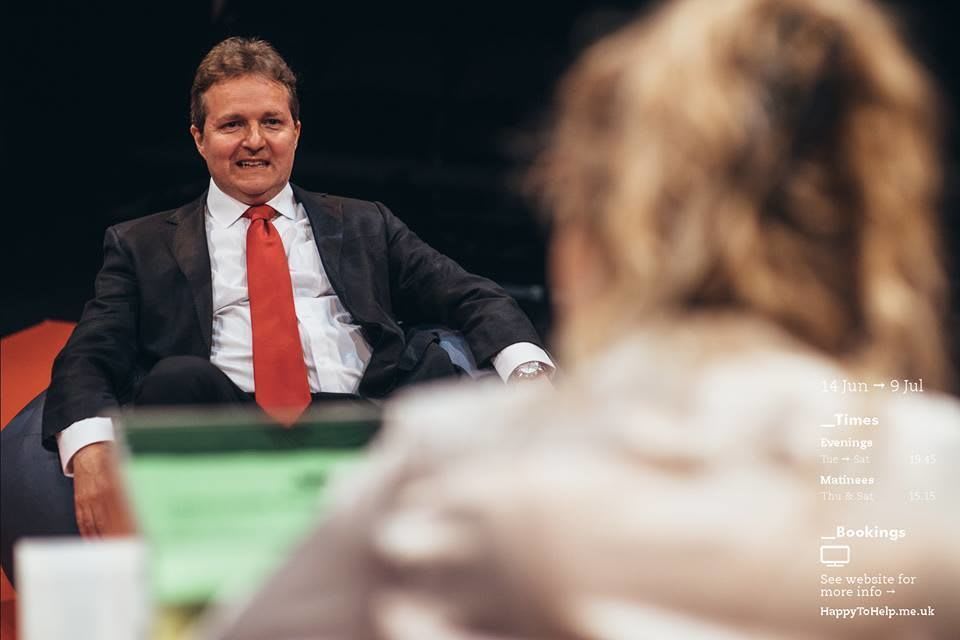 Michael Ross's play Happy to Help opens with an uneasy meeting between a farmer selling his land and a senior executive Tony Manning (Charles Armstrong) of the supermarket chain Frisca, who is hoping to buy the land. The farmer is holding a shotgun as he explains the way Frisca has driven him to despair through unscrupulous methods to increase profits at his expense.
The scene is powerful and disturbing. It also reflects a distress many farmers will have felt at the ruthless practices of some supermarkets.
Happy to Help is a gentle satire on life inside one branch of the fictitious supermarket Frisca which in its harsh labour activities and anti-union approach is clearly aimed at the American firm Wallmart.
Fifteen years after the short opening scene, Tony is managing director of Frisca UK. He arranges to go undercover as a shelf stacker to see from the inside how a store functions.
Elliott (Jonny Weldon) is also a shelf stacker. Secretly he is recruiting for the trade union USDAW, but is failing to persuade his workmate Josh (Ben Mann) who has his eyes set on a career with a band he performs with after work.
The strict and at times very strange branch manager Vicky (Katherine Kotz) has her own secrets, one of which is her passion for Josh. At some point, she intends to demonstrate very forcibly her interest in Josh.
There are a few moving scenes in the play, particularly towards the end when Josh is forced by his job to give his friend Elliot a choice that is little more than another cruel company scam and is probably aimed at getting rid of the union.
Interspersed between the scenes are spoof commercials that poke fun at the corporate approach to its customers.
However, the plot only loosely hangs together with a lot of improbable incidents that stretch its credibility. This makes it difficult to believe in or care about the characters or the serious issues that are touched on.
The audience did laugh and I couldn't see anyone who wasn't looking at least amused. But, despite a good cast that includes Charles Armstrong's impressive comic timing, the unlikely sequence that takes place undercuts the humour.
Happy to Help is a light entertaining satire but it could and should have been so much more.
Reviewer: Keith Mckenna