Happy Everyday!
Jaan Tätte, translated by Triin Sinissaar
Stage Spell Theatre Company
Lion and Unicorn Theatre
(2010)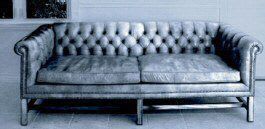 Jaan Tätte is an Estonian actor, singer and songwriter who has had a number of plays produced in Estonia and this British premier is his second play seen here. It is a wry look at marriage, fidelity and longing that could be set in a bourgeois household anywhere. Designer Cara Newman has given it a sparsely furnished room of pristine Syrie Maugham elegance and whiteness with a hint of Alice in Wonderland with oval shuttered windows and a series of plaques with what look like red peppers on them as decoration that reflects the teetering between naturalism and fantasy that marks Liisa Smithy's production.
It starts with what looks like a clandestine relationship between a very ordinary middle class husband (Kevin Potton) and an attractive neighbour (Lucy Laing) with the man's wife (Annabel Pemberton) due back any minute but all is not quite as it seems. When the wife does return it is to announce that she is happily in love with a man she has met at the airport and wants to set up a ménage à trois - or should we count the neighbour in and make it four?
A marriage which has become boring for the wife, a husband whose libido is not what it was and the other woman carrying a torch for him but never rousing any sexual interest in him seems all seem very naturalistic. The uninhibited attitude of the wife is less unusual and sets up the comedy, especially when discussion gets down to which man will pay which bills but by then this whole thing has become a game because the incomer is such a weirdie. The odd experiments in which he says he is involved are part of the script but I don't know whether is due to writer or director that, having established that part of his attraction to the wife was his excessive hairiness he is played by an actor not particularly hirsute or whether it is director or actor David Swain's idea to play him like a zany. It doesn't take off as a piece of classic clowning but does emphasise his childishness: the petulant dependent little boy who never grows up - the alternative to the husband who is a boring fart.
There is some very unnatural phrasing in the playing, particularly from the wife which adds to the surreal as opposed to naturalistic feel. You never believe this is a real household but a construct to give a little light amusement with its clever twists on the marital foibles that it illustrates and as such it is gently entertaining but rather too extended for its content.
Until 12th June 2010
Reviewer: Howard Loxton