Hard Times
Deborah McAndrew adapted from Charles Dickens
Northern Broadsides
Dukes Theatre, Lancaster
–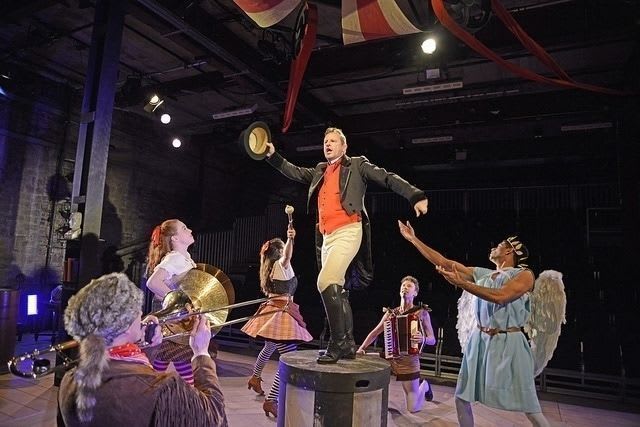 Roll up, roll up, and marvel at the Big Top delights that writer Deborah McAndrew has woven into Charles Dickens's Victorian morality tale.
Back then there was political correctness of a different hue, characterized here by the strict educational standards of Thomas Gradgrind, and put severely to the test when the circus comes to town, offering all sorts of diversions to the young and inquiring minds of his children.
And it's this circus ring of authenticity that McAndrew and director and composer Conrad Nelson play to in an entertaining and accessible production. It provides the musical interludes amidst all the melodrama. Those, the occasional brass intermissions, root the story solidly in the Northern setting of Coketown.
Dickens is thought to have based his fictional milltown on his experiences of visiting Preston in the 1850s. Doubtless he also borrowed another nearby community for the surname of a leading character, one Stephen Blackpool.
He's the working man who can do no right for doing wrong, caught between his trade union colleagues and an especially intransigent employer, the bumptious Bounderby.
Dickens's characters naturally always come loaded with names that suit their personalities—perhaps making it easier for actors to adapt accordingly.
In a production whose 10 players often double up for 25 roles, there are some intrinsically rewarding and intricate portrayals here.
Marvel at the mesmerising hand movements of Andrew Price, as the measured Gradgrind, or Howard Chadwick as the self-made, mutton-chopped mountebank Bounderby. Victoria Brazier is also particularly versatile as Mrs Sparsit and other roles. Then again this is ensemble playing of the highest order, where all 10 swap characters, and musical instruments, with ease.
Playing this game of Victorian society's snakes and ladders is ideally suited to the Northern Broadsides theatre company's wide-angle stage abilities.
Reviewer: David Upton