Hardboiled: The Fall of Sam Shadow
Rhum and Clay Theatre Company and Beth Flintoff
Rhum and Clay Theatre Company and The Watermill Theatre in association with New Diorama Theatre
New Diorama Theatre
–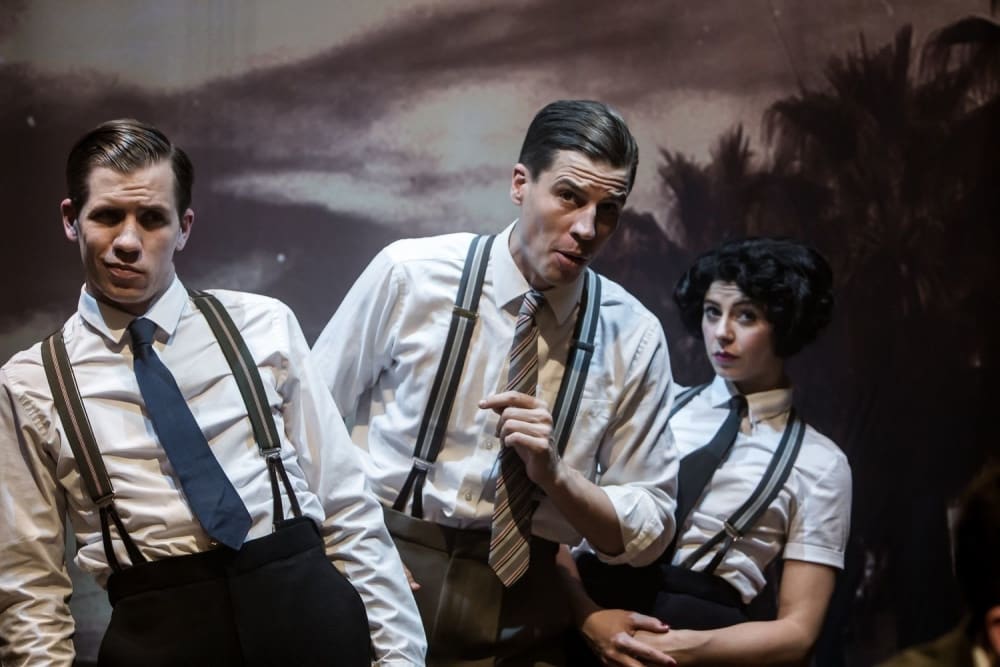 Hardboiled: The Fall of Sam Shadow plunges the audience straight into the murky world of the film noir with a sequence involving glamorous broads, gangsters, copious amounts of dry ice and of course hard liquor and cigarettes.
The seamless multi-roling, fluid movement of set and sultry music sets the tone for the piece in which the cast of four bring to life all of the usual shady suspects. The company play with the form, affectionately nodding towards the melodramatic elements of the genre but never crossing the line into pure parody.
There are blackouts all over LA but our hero Sam Shadow (Julian Spooner) is more immediately concerned by the tale of femme fatale Scarlett Addison. Her lover has gone missing and her jealous husband might have something to do with it…
Jess Mabel Jones shines as Scarlett, fluttering her eyelashes and gesticulating in a gorgeously rehearsed manner embodying every type of manipulative but irresistible noir woman. This is no mean feat when her basic costume is that of trousers, shirt and braces—to signify Scarlett she simply adds a fur wrap. This contrasts beautifully to the character of Betty where the addition of some glasses transforms her into Sam's loveable secretary.
Indeed, this basic costume works equally well for Christopher Harrisson and Matthew Wells who step in and out of character swiftly covering cops, employees of Addison electrical, nosy neighbours and even newspaper columns with aplomb.
The addition of a few props and select pieces of costume enhances the look of the piece but there is no pretence here; the cast morphs from scene to scene creating locations as they go. The use of the window and doorframe is particularly imaginative and combined with stylistic movement helps to capture a filmic quality—we see elements of scenes as if from different camera angles.
Featuring a car chase, violence, drinking, a hint of romance and an appropriate level of intrigue, Hardboiled paints a vivid picture of a seedy world that unfortunately isn't too far removed from elements of our own. The pace does drop slightly midway but, with such committed performances and in such a beautifully visualised setting, Hardboiled certainly captures both the dry humour and the candid cynicism of the classic tough-talking thrillers.
Reviewer: Amy Yorston