Hardcross
Dominika Visy
Heckcelsior
Bread and Roses Theatre
–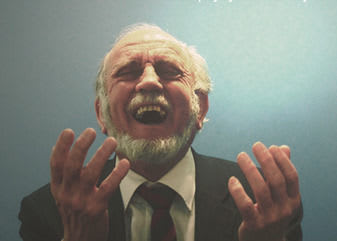 When they hear of their father's death, the Hardcross children all have high expectations for their inheritance. Rodney Hardcross, a hugely successful businessman, was the son of a miner but had amassed a fortune. His money has already provided them all with a comfortable existence, though not necessarily a happy one.
Elder son Philip has been his hard-working manager, groomed to take over the business; brother Martin is an artist who has lived not from his own effort but his father's hand-outs; sister Joyce still lives at home, a dutiful daughter.
The siblings are not close, they don't meet often and their relations with their cold-seeming father were distant. Philip never wanted to be part of his father's business, Martin, who adored his mother, blames his father for her death and Joyce just longs to have her own life. Now they can start a new future but, when they are called to confer by their father's lawyer, they find there will be conditions to their inheritance.
Dominika Visy is reworking an old plot used by Christopher Marlowe and perhaps others before him but brings her own twists to it. There is an underlying theme of the way money warps things, a feminist plea for independence, a reminder of the way that being work-driven can ruin a marriage.
It doesn't provide much background (not even the nature of the Hardcross business) or explore its ideas deeply but is structured to present a sequence of new revelations, uncovering a little about their relationships, and surprises.
Written as a series of short scenes with long speeches, it gets some impassioned playing, though the writing often feels too formal for real conversation. Paris Bailey as stolid businessman Philip discovers emotion in a bottle, Katie Rickerby's Joyce gets a glimpse of romance with Joao Matos's slow-thinking lawyer and Ross Kernahan momentarily suggests Martin could be a real artist as he interrupts his illicit liaison with his brother's wife Francine (Anna-Maria Georgiades) to make a sketch of her.
These all seem more like pawns than real people. Though Tony Parkin, an actor much more experienced that his fellows, makes Rodney Hardcross much more natural, Dominika Visy as director is being deliberately stylised. Her designer Paloma Hernandez Santos has kept things simple: a set of black wooden blocks reconfigured by the actors to change location and the props all stylised monochrome.
In a venue configured in a way that offers no on stage access, each change is carefully choreographed and marked out with lighting alterations before cast re-enter from the only doorway. This ritual has its own elegance but it halts the action, sometimes seeming as long as the scenes that it separates. As director of her own script, she could surely have contrived things to avoid so many interruptions and the implausibility of someone going to bed fully-clothed.
The deceased's ashes make a strong visible statement as his children deliver their eulogies, but you can't help wondering how they got there—the cremation would normally take place afterwards.
Reviewer: Howard Loxton