Hard Times
Charles Dickens, adapted by Stephen Jeffreys
Compass Theatre Company
Lakeside Arts Centre, Nottingham
(2006)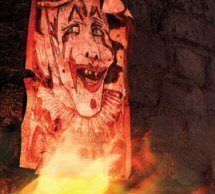 Adapting the work of a revered author such as Charles Dickens is a daunting prospect: his characters come leaping off the page, the settings are entirely unforgettable and there is unparalleled drama in his writing.
The task becomes even more difficult when the novel has previously been turned into a critically acclaimed television dramatisation with actors of the calibre of Timothy West and Patrick Allen.
Sheffield-based Compass Theatre Company have given themselves an even more demanding assignment - by using only four actors for their touring version of Hard Times. But artistic director Neil Sissons points Stephen Jeffreys' excellent adaptation in the right direction and it's a spectacular success.
Hard Times is set in the aptly named Coketown, a smoky, choking, industrial heartland in the north of England. In Mr Gradgrind's school, facts are the only thing that matters. His ideologies come before individuals - and erect a barrier between himself and his children Tom and Louisa.
A business associate of Mr Gradgrind, Josiah Bounderby, is a bombastic merchant who comes into money and marries Louisa. A comical figure, he turns into a hypocritical boss who believes he is morally right in whatever he does because he's wealthy.
Then there's the weaver Stephen Blackpool, anxious to be rid of his wife so that he can marry the woman he really loves. But he is ostracised when he refuses to join the trade union.
Michael Onslow appeared in Compass's first tour of Hard Times six years ago. He gives a stunning performance, taking on five roles and bringing to each of them a freshness and versatility that has to be admired. He's particularly resourceful as the comical Bounderby, his description of how he had a tough childhood being reminiscent of Monty Python's four Yorkshiremen sketch; and the short-tongued, flamboyant circus manager Sleary.
Making an equally massive contribution to Hard Times is Chris Porter. He gives a towering performance as the strict Gradgrind who finds it difficult to show emotion towards his daughter. Porter switches comfortably and convincingly into the roles of reckless Tom and careworn Blackpool.
Sonia Beck is a delight as the working-class, warm-hearted Sissy Jupe who accepts Gradgrind's offer of an education; the malicious, scheming Mrs Sparsit who spies on others so that she can use the knowledge she gains for her own ends; and the hard-nosed union rep Mary Stokes who wants a better life for everyone.
Naomi Watts gives a workmanlike performance in her five roles and comes into her own as Louisa when she tearfully berates her father because "you turned my mind into a trivial, calculating machine and my heart into a wilderness" and when she admits she never loved Bounderby.
Funny in parts, this version of Hard Times is imaginatively staged by Neil Irish and atmospherically lit by Jason Taylor. The actors prove that few props are necessary when the imagination is stimulated. There's a clever game of draughts mimed by Bounderby and Mrs Sparsitt which led to someone behind me exclaiming "fantastic!".
Jeffreys' adaptation probably sticks to the original more than Arthur Hopcraft's 1977 television series did. But there were times when I wished the director had made a few cuts. Occasionally the pace understandably slackens off in this production which is almost three hours long. It means intense concentration is called for to ensure you don't mix up some of the minor characters.
On the whole, though, the good times far outweigh the hard times.
"Hard Times" tours to Oundle, Scunthorpe, Cambridge, Harlow, Richmond and Sheffield until December 9th
Reviewer: Steve Orme