Harvest
Richard Bean
New Perspectives
Yvonne Arnaud Theatre, Guildford
–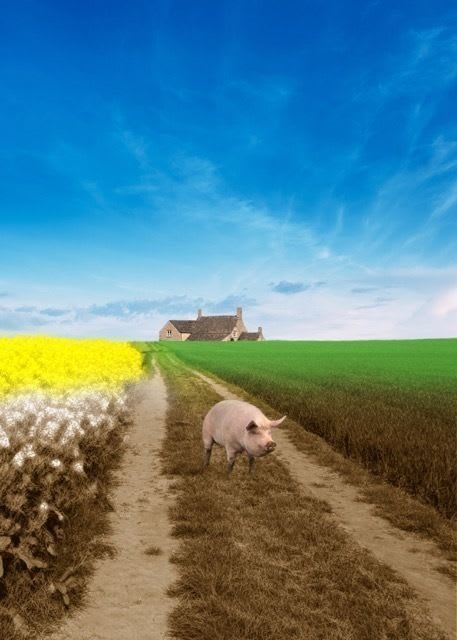 This is the story of the Harrisons, a farming family in Yorkshire, and the tale covers nearly a century taking in two world wars and all the trials and tribulations that can beset mankind, problems which apply in different measures to urban life as well as rural.
We meet them in 1914 in the farm kitchen where two brothers, Albert and William, are arguing about which of them should go to war leaving the other to look after the farm as well as local lass Maudie, but the saga really began when in 1875 their father won a bet with the local drunken squire and the land is now theirs, including the responsibility and work involved to make it profitable.
We drop in on them again in 1934. William has returned from the war minus a leg but still determined to succeed and is obsessed with turning the business into a pig farm. Meanwhile Albert has married Maudie but failed to achieve an heir to carry on with the business. We drop in again in 1944 with POW Stefan turning out to be really nice guy who marries their niece Laura and for a while the business flourishes, until bureaucracy and circumstances interfere. The Ministry of Agriculture wants corn, so their cattle might have to go, and later there is a battle with the EEC and their ideas about factory farming.
Over the years, the whole of life is here: a terminal illness brought on by asbestos, a fatal accidental shooting, commercial failure, birth, death, attempted rape and finally an armed robbery but, with true Yorkshire grit, they all carry on determinedly against whatever is thrown at them. The whole is played out in the same set of the central farm kitchen with characters sitting outside the frame waiting to take their turn, scenes and timing changed by two cage-like structures wheeled forward and the appropriate year and title displayed for each of the seven scenes.
All six actors perform extremely well, most of them managing more than one character which at times is a little confusing, but the one constant is Tom Edward-Kane as William ageing very convincingly from a nineteen-year-old boy full of a high-spirited life to an amputee on crutches and finally a centenarian in a wheelchair giving a forthright opinion on everything. Bean's script contains a lot of humour and Edward-Kane makes full use of it right to the end. The final scene had me in stitches as two masked and armed robbers demand access to the money of the now-elderly William and Laura (Elizabeth Twells) but have to wait while Laura watches the Lottery. As a side issue, they might well have found a new pig farmer.
John Askew manages to switch seamlessly from the rather effete Squire Agar and nearly steals every scene as itinerant farm worker Titch—a man who loves pigs in more way than one. In true Yorkshire fashion, he speaks frankly and 'honestly' and has the best one-liners—even casually admitting he was lately sacked for stealing.
All in all, a very enjoyable production and an insight into life on the land—no sentimental musing on the beautiful countryside here.
Reviewer: Sheila Connor