Harvey
Mary Chase
Royal Exchange Theatre, Manchester
(2005)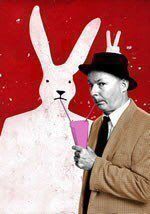 The Royal Exchange's Christmas offering this year is Mary Chase's play Harvey, most famous for the 1950 film version starring James Stewart.
Elwood P Dowd is the most pleasant and friendly man you could ever hope to meet. He lives with his sister and his niece and, so he tells everyone, his friend Harvey - a six-foot-tall, invisible white rabbit. The women of the family, fed up of not being able to invite anyone home in case they encounter Elwood and his 'friend', try to have him committed to an asylum, which would also give them power of attorney over his house. After a lot of confusion, the question is whether Elwood would be better off if he were 'cured' of seeing Harvey than he is now. There are also suspicions that other people have seen the rabbit and have been afraid to admit it.
Ben Keaton is wonderful as Elwood. His superb sense of comedy brings the most out of every laugh in the script and throws in a few more besides, plus he also creates moments that are genuinely extremely moving. As his sister Veta, Polly Hemmingway manages to get plenty of laughs from her breakdown from being mistaken for a psychiatric patient and having to put up with her brother's good cheer, whatever happens to him. James Smith is also very good as the head psychiatrist who begins, after a drinking session with his patient, to see things from Elwood's point of view. In the smaller parts, Jean Challis creates two nice and very different characters in Aunt Ethel - just the kind of aunt who is feared by everyone in Wodehouse's stories - and the psychiatrist's timid wife, and Joe Speare plays a nice character of the taxi driver, just appearing at the very end.
The Royal Exchange has given us an enjoyable, gentle family comedy for the festive period. There are some times when the play seems to dwell on things that distract from the plot and the humour, and some of the comedy is not staged and timed to best effect. This is all made up for by a great comic performance from Keaton, and an ending that brings a tear to the eye but still sends the audience out laughing.
Harvey runs until 7th January 2006
Reviewer: David Chadderton