Hatch
Adriano Adewale and Peter Glanville, music by Adriano Adewale
Polka Theatre and The Royal Opera
Polka Theatre (Adventure Theatre)
–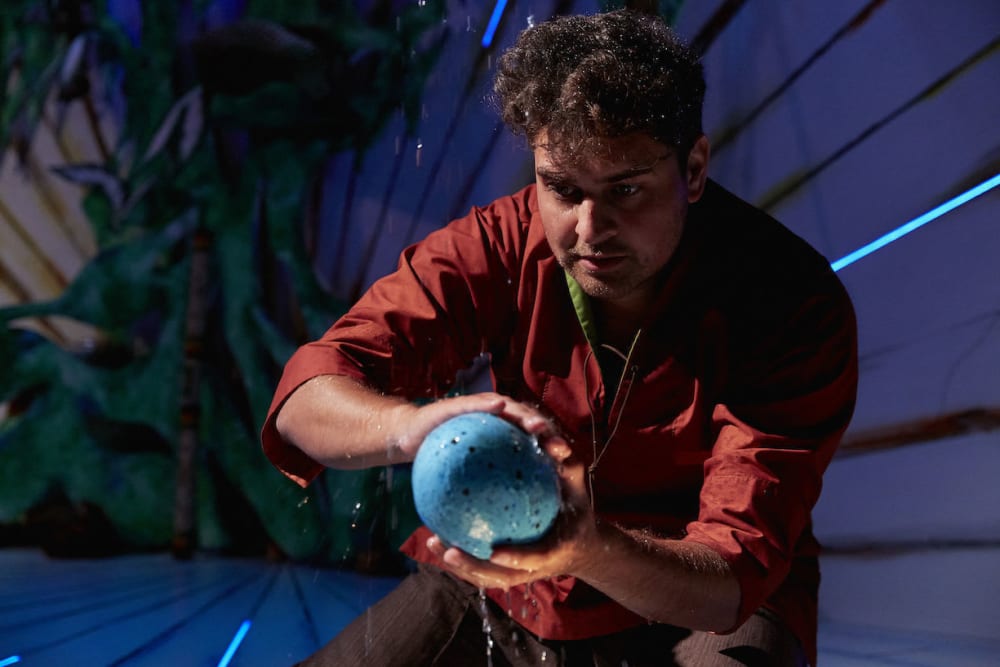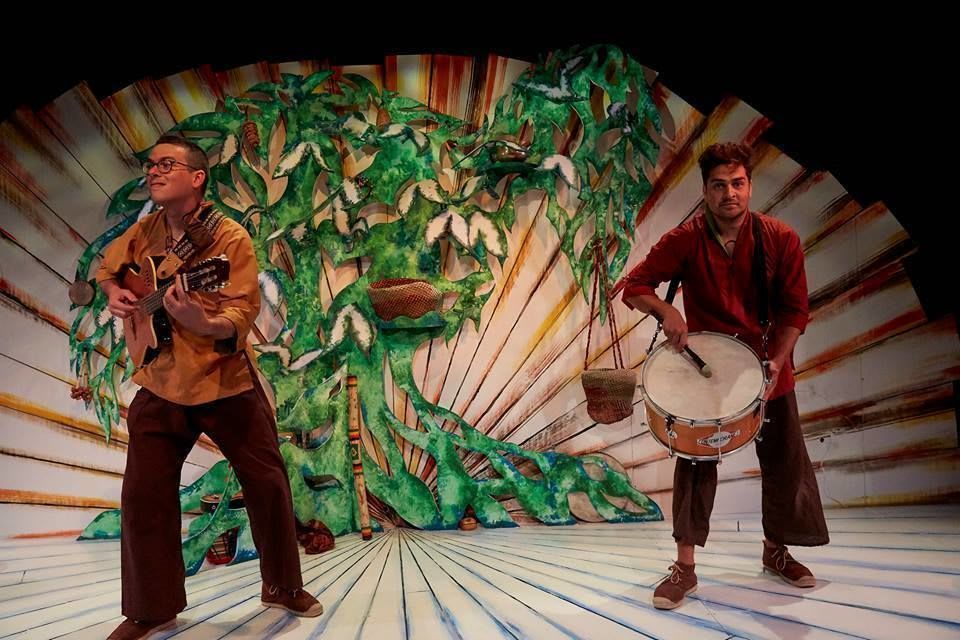 This totally engaging performance introduces an egg and an audience to the world of sensation and music. It is aimed at an audience of two- to five-year-olds who sit comfortably on the floor in front of its low stage made up of boards that radiate from a stylised tree.
Sophia Lovell Smith's colourful set provides branches to hang things on and secret caches that open up to provide props and instruments while Aaron J Dootson's lighting adds atmosphere and variety including changing bright colours through the cracks in the boarding. They provide an apt and practical setting for two talented performers who, when I saw Hatch, held their young audience (including some on the autistic spectrum) totally rapt for its whole 40 minutes.
This is a play in which the dialogue consists of just one word: its title, which is spoken, not very often and almost always very quietly, to the Egg that is at the heart of the story.
It begins with Brazilian musician Luiz Morais creeping in and using bird whistles to create a variety of birdsong in which he is joined by British actor Oliver Kaderbhai, a conversation developing between them and a chorus of coos, chirps and whistles.
These "birds" take in their environment and make sure the children do too. The sound builds to a tune with a ground bass and Oliver finds a rattle, then a ring of tiny bells, a castanet, and a sort of maracas while Luiz has begun to play a guitar. Another tap on the floor and Oliver discovers a little egg in the bag that had held the small instruments while Luiz has picked up a drum. So pianissimo you hardly hear it, they breathe "Hatch!" to the egg.
When that egg disappears, the sound of a flute heralds the discovery of a new egg, bigger and blue. It is rolled on the floor, floats through the air (is it already dreaming of flying?), bounces on young heads and a couple of dad's ones and then settles down on Luiz's shoulder before starting off on a journey of sensory exploration.
A plastic sheet is waved up and down to create a gentle breeze then settles like a cloud over the egg before carrying it skywards. Later, the egg will journey in other ways, discover water and be buried in earth while the sound of new instruments will also be introduced: an African mbira, an Irish bodhrán, mandolin, wooden and metal xylophones, improvised percussion and finger clicks along with the audience producing gentle two-finger to full palm rhythmic lapping.
The blue egg will take flight with wooden xylophone keys making improvised wings, will be gently urged to hatch and end up in a bag-nest on the tree where at last, with a crackly sound, its shell will start to crack. When a chick emerges, Hatch is over.
Adriano Adewale's samba and jazz influenced score is delightful and beautifully performed by actor-musicians who establish excellent contact with their young audience. Co-directors Adriano Adewale and Peter Glanville have created an entertainment that, as they follow the arc of its very simple story, will stimulate youngsters' interest in the difference of sound sources and the making of music.
Reviewer: Howard Loxton