Haunted
Edna O'Brien
Royal Exchange, Manchester, production
Grand Opera House, Belfast, and touring
(2010)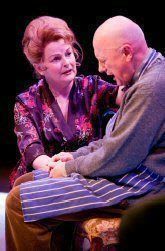 Niall Buggy's dangerously magnetic performance as the bow-tied and baggily corduroyed Jack Berry in the Royal Exchange's touring production of Edna O'Brien's Haunted, currently playing Belfast's Grand Opera House, won't be the first time you'll have met such an engagingly failed son of one of Ireland's once aspirationally great houses.
Cut off without a penny by a mother disdainful of his marriage to a brassily blonde barmaid (Brenda Blethyn in powerhouse mode), he fell on compatively hard times, clerking at race cources, afternooning in saloon bars, tending his suburban garden, flirting when he had the chance.
A widower, perhaps, his cardigans swapped on occasion for the striped blazers of another age when he imagines himself as a stage-door-johnny, Jack 'Quincey' Berry plants roses for the child his wife miscarried whilst producing a quote from Shakespeare - or indeed Plato - at the every pop of the Madeira bottle's cork.
But this, as are so many Irish dramas, is a memory play. So whilst ghostly figures come and go behind designer Simon Higlett's translucent doors, other panels of the green, curved and towering cyclorama offer vaginal rose buds opening and closing on particular emphases before turning, towards the curtain, into the cells of prostate cancer and Alzheimer's pregenitors.
Indeed, as Brenda Blethyn's bustling spouse slaps her varicose veins, recalls the days they swam naked in an Irish lake and begins to note that her beloved clothes, her Balenciagas in particular, are disappearing one by one, the audience is asked to ask itself is there anyone there who's still alive.
For at the core of Jack's story is his version of his doomed attraction to young Beth Cooke's scarily bruised, pale and virginal Hazel, a young girl whose grasp on any of the realities is compromised by her stumbling careers as both a teacher of elocution to lonely men and as a purveyor of antique clothes in a life overshadowed by her grandmother's pursuit of clairvoyance.
Beguiling and wondrously performed by all of the cast, Braham Murray's glistening production, rich in O'Brien's deliberately far from pellucid poetry, is played out under the gaze of a solitary doll, a product of Mrs Berry's workaday job and a signifier of a myriad teasing allusions, amongst them the Berry's miscarried infant and unworldly Hazlel's childlike fate.
Wandering off into Belfast's cold February air, Blethyn's evocation of her surviving sexuality, in a line borrowed from one of Buggy's seed packets, that the contents be "kept moist until seedlings are established" will have haunted many in the packed auditorium.
Till 29th February, then touring, details www.royalexchangetheatre.org.uk
David Chadderton reviewed this production in Manchester. It was also reviewed by Allison Vale in Bath.
Reviewer: Ian Hill