Havisham
En-Root Theatre Company
Lion & Unicorn Theatre and touring
(2010)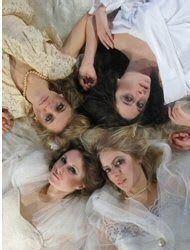 This devised work, by a new company formed from final year students at Bath Spa University, takes its theme from Charles Dickens's Great Expectations in which, as you probably remember, young hero Pip visits Satis House, a mansion where the clocks have all been stopped with their hands at 8.40. An ageing spinster, the rich Miss Havisham, lives there with Estella, her adopted daughter. She still wears an old wedding dress and on her dining table still stand the remains of a wedding feast. These remnants have remained there since she was jilted at the last moment many years ago. Pip falls for Estella but she rejects him as a common labouring boy and he goes on to many more adventures before the two meet up again.
This is not a retelling of Dickens's story but a performance piece that gives us not one but four Miss Havishams, painfully looking back and indoctrinating Estella with distrust and loathing, attempting to use her as a means of wreaking revenge on men.
There seems no clear purpose in having four Miss Havishams, all here still young but with smudged mascara and ash soiled cheeks. They speak in unison or the rather flowery phrases of their speech flow from one to the other like a Greek chorus. Although they look and are dressed slightly differently there is no suggestion that they represent different aspects of the woman or her at different ages. There is no discussion or dialogue between them, though they do all address their adopted daughter. This multiple representation of the character seems to have been developed no further than a theatrical effect, though that in itself adds some visual and aural interest to a very limited scenario.
The piece re-enacts the former fiancé's infidelity and the arrival of the letter announcing his rejection of his bride and shows us Pip being set up to enact a parallel rejection by Estella. It is a neat idea but is given no wider resonance and the significance of why two blue-bonneted ladies should descend to plunder things from the wedding feast like the village hags in Cacoyannis' film of Zorba eluded me.
A great deal has clearly gone into creating this piece, designed and mounted with considerable attention to detail. It is elaborate for a show touring for very short runs. These young people at the beginning of their careers are to be commended for the effort and energy they have put into their work but, theatrically effective ghoulish singing and heavy piano thumping may be, they somewhat overdo them here and they must be aware of self-indulgence and in future projects they should try to bring a more acerbic critical eye to their work, something which is always difficult with a group creation, and try to clarify the content and purpose behind what they are setting out to make.
Tour ended
Reviewer: Howard Loxton