Hay Fever
Noël Coward
Royal Lyceum Theatre and Citizens Theatre
Lyceum Theatre, Edinburgh
–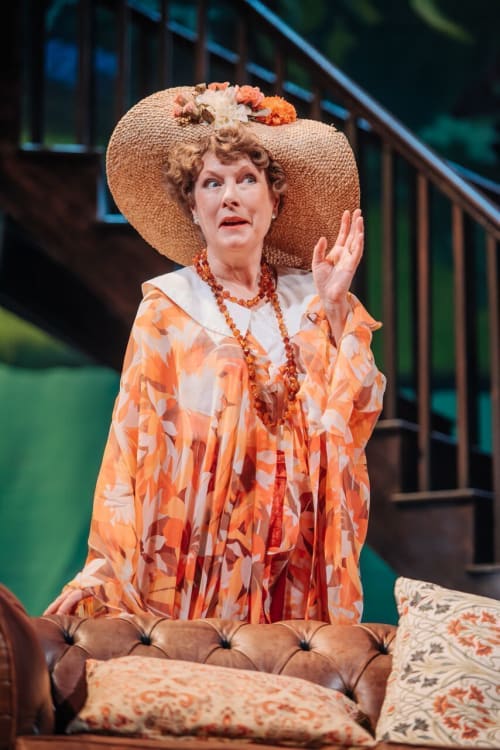 The Lyceum is keeping Edinburgh nourished with seasonal produce: Wonderland for Christmas, a ghost story for the long nights, winter's tale in the snow and now winsomely ushering in a Blissful Spring.
Coward's Hay Fever is a marvellous weekend party at the country home of the Bohemian Bliss family. The play is only eight years from its centenary, but it is holding up pretty well for a comedy very much of its time.
It seems at first formulaic with each of the four family members inviting a lover of another generation for the weekend. The characters though are very well drawn and even better spoken.
The simple plot and set—everything takes place in the one room of the Bliss's house by the Thames—allow for the focus to be on the characters who can be delightful but often beastlie too, but always witty.
Former actress Judith Bliss (Susan Wooldridge) is undoubtedly the head of the family with husband David Bliss (Benny Baxter-Young) mostly confined to his writing desk. Judith's young guest is Sandy Tyrell (Nathan Ives-Moiba), an energetic young boxer.
Meanwhile, their children are puppy-like Simon (Charlie Archer), who channels his energy into drawing and has invited the somewhat older Myra Arundel (Pauline Knowles) as his lover, and sister Sorel (Rosemary Boyle), who attempts to escape her eccentric family with square diplomat Richard Greatham (Hywel Simons).
Two of the funniest performances have, as is often the way, the shortest stage time. Simon's guest, naïve young flapper Jackie Coryton (Katie Barnett), delivers some of the best sustained rabbit-in-the-headlights stares when she finds herself in tricky situations.
Holding everything together is housekeeper Clara (Myra McFadyen), the Bliss family's only visible servant. McFadyen also literally holds the production together, providing the front-of-curtain musical interlude rather than have a second interval.
Wooldridge as Judith makes the most of this diva role, an actress who has forgotten where the stage ends—an enormously fun role to fill, but absolutely critical for the play to work—gliding everwhere and never missing a moment to steal the scene.
She is far from the only diva, as the rest of her family show when the party begins a simple party game. This is one of the play's finest moments, the drama and comedy drawn from the game "in the manner of" is just wonderful.
The set is not complicated with a suitablly artistic painted river scene backdrop. The costumes, though, are beautifully detailed, particularly Knowles's, allowing her to really vamp it up—completely unrecognisable from her turn in Jumpy last year.
A still fresh Coward comedy for the spring—bliss.
Reviewer: Seth Ewin