Hay Fever
Noël Coward
Rose Theatre, Kingston
(2010)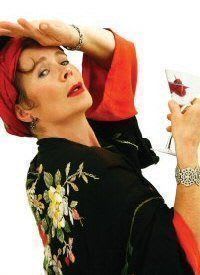 The programme image for Stephen Unwin's revival of Noël Coward's Hay Fever depicts a youthful looking Celia Imrie as Judith Bliss, a between-the-wars star of the West End theatre who, having taken early retirement from the stage, is missing the buzz.
Now she has the trick of turning any domestic crisis into self-dramatising opportunism and histrionic double-takes while seamlessly switching to impromptu rehearsals of scenes from Victorian melodrama.
Away from the bright lights her background is the bohemian family villa in Cookham with its magnificent view of the Thames, where we first discover her with a basketful of garden flowers, twitting her two grown-up children with a delicious lightness of touch — daughter Sorel (played by Georgia Maguire, making an impressive professional theatre debut) and Joshua McGuire as the brilliant but unruly son Simon. Meanwhile novelist husband David has shut himself away in an attic study struggling to finish his latest book.
One might suppose that Coward's first masterpiece, a larky celebration of bad manners in the Home Counties, is a quintessentially English piece. Not so.
A useful programme note by actor Simon Callow reveals that the impressionable young author, still in his early twenties, had been staying with the great American actress Laurette Taylor and her husband Hartley Manners, whose house parties were notorious for their eccentric behaviour, subjecting their guests to outlandish games and a heady atmosphere of flirtation.
All of which Coward imported wholesale into Hay Fever (which he claimed to have dashed off in 1924, in the space of just three days), a beautifully structured but otherwise virtually plotless comedy revolving around a weekend that begins on Saturday afternoon as four casually invited guests find themselves competing with their hosts for tea and cake, but swiftly ends over the remains of Sunday breakfast when — battered, bruised and romantically compromised — the guests make their unseen departure while their hosts continue squabbling.
Thanks to a strong line-up there is no suggestion that the visitors are merely supporting cast. Alexandra Gilbreath as Myra Arundel, a man-eating vamp, gets involved in an hilarious embrace with Stephen Boxer as Judith's husband David, which seems about to turn into a cause for recrimination and marital breakdown. But this is one of those clever Coward twin-level tricks in which characters say one thing while thinking and meaning something entirely different. Great fun.
The two younger visitors, respectively guests of Judith and David, are Sam Swainsbury's impressionable romantic Sandy and Holly Jones (also making her theatre debut) as the weepy Jackie, who soon duck out of the Bliss connexion to find their own private moment of bliss in the library.
There is also a fine cameo from Katy Secombe as the domestic drudge who was once Judith's stage dresser. But the outstanding performance, a master class in technical finesse, comes from Adrian Lukis as the terrified man from the FO, a diplomat with a nervous tic, who can manage small-talk, winning laughs with his attempts at kindly politesse, but finally stands among the other characters, rooted to the spot but managing to focus the whole audience attention on his wordless panic attack. Great acting.
Simon Higlett's two-level set design seems to offer us an upper floor mainly as a means of filling the vast height of the Rose stage. But the most effective design feature is the Cookham river backdrop which thanks to a fine lighting plot by Paul Pyant marks the passage of time from a sunny Saturday afternoon to a rain-drenched Sunday morning, plus a moonlit evening of obscure games and mock melodrama in between.
Celia Imrie has been offered a leading role in a major film and will be giving her final Kingston performance on Saturday, October 9th. But from Monday, October 11th, the role of Judith Bliss will be taken by Nichola McAuliffe.
It is anybody's guess how this change will affect Unwin's ensemble production. But it could be instructive to catch both these actresses who will obviously play the character with their own very personal performing styles.
Reviewer: John Thaxter