The James Plays - James I: The Key Will Keep the Lock, James II: Day of the Innocents, James III: The True Mirror
Rona Munro
National Theatres of Scotland and Great Britain
National Theatre (Olivier Theatre)
–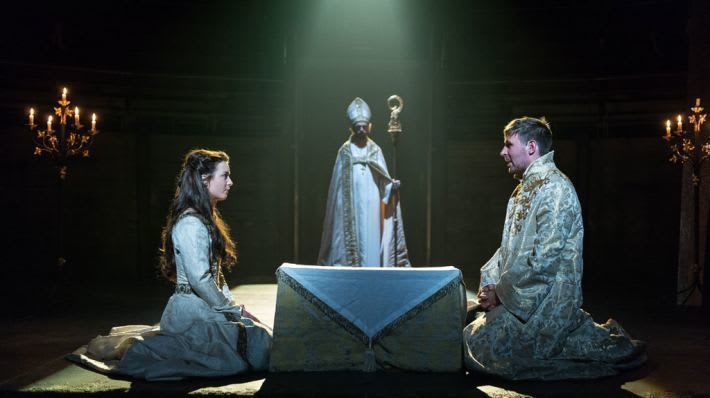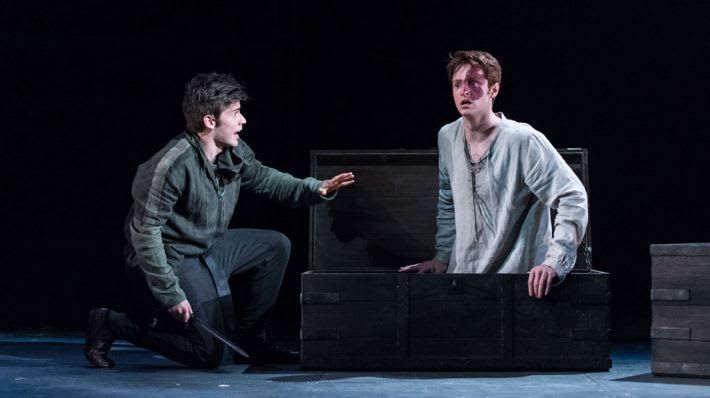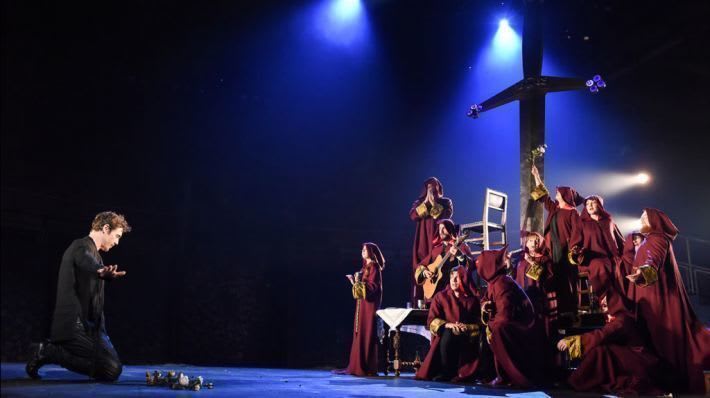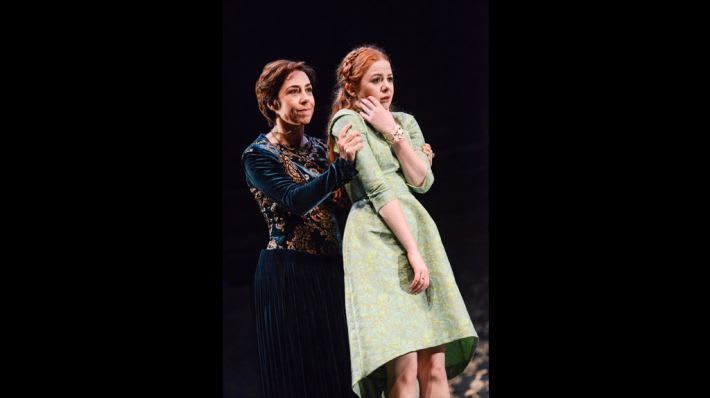 Like most simple Sassenachs, I know little of fifteenth-century Scottish history, but that is no drawback as far as this trilogy of plays by Rona Munro is concerned. This is drama that tells its own story but, to set it a southern context, it covers the period from the Battle of Agincourt until just after the death of of Richard III at the Battle of Bosworth Field.
Shakespeare covered English events in his Henry VI plays and Richard III, but this is easier going than his overload of feuding Dukes and Earls and unashamedly propagandist pitch for the new Tudor dynasty. Scotland's somewhat similar ruthless competition for power seems more clear-cut as a struggle between a self-aggrandising nobility and the establishment of royal rule, at least as these plays present it.
Rona Munro has sometimes amalgamated historic characters and changed chronology a little to suit dramatic purpose, as she freely acknowledges. Nevertheless, though not exactly what happened (and who can tell what that was?), this seems a pretty open and honest interpretation of the Scottish past and it makes for some imaginative and gripping theatre under Laurie Sansom's direction.
Jon Bausor's design creates an area that feels like a gunnery platform with a raised bank of audience set on stage mirroring the Olivier's circle and make something halfway between traverse and in-the-round. It will also be used by the actors and the royal throne is set there, dominantly high, symbolically and physically. A huge sword, its point driven into the pavement, rises above the action: it represents the blade that is cited as the solution of dissension. It will run blood, burst into flame or flash brightly at times in the action.
Music with a Celtic lilt, songs that draw on medieval poems, including some writ by royal hand, and the thundering drums of war provide a sound score that creates a poignant atmosphere and carries one scene on to another in a swift-flowing production.
Costume suggests the medieval but with some modern touches that serve as reminder of the contemporary relevance of this struggle for Scottish governance, identity and independence. Language embraces full-bloodied modern vernacular as well as having a Scots emphasis and accent that may sometimes challenge an English audience.
Kingship and the building of a nation are the main themes of this trilogy. Early in the first play, King Henry V of England sums of the royal role. "You have to fuck women you don't know," he tells James of Scotland, "and execute your relatives." There is a lot of both in what follows but, though we witness a royal deflowering in a bed surrounded by Scottish nobles, blood-soaked murders and stylised battles, what most engages in their eight hours of drama is the cruelty, the tenderness and the manipulations of human relationships.
James I: The Key Will Keep the Lock
The first James, captured aged 12 by the English when fleeing to France for his own safety, has been their prisoner for 18 years. Henry V, a much crueller figure than Shakespeare's heroic Hal, is trying to goad him into ordering the execution of Scottish Lords who've been fighting against England with the French. But this peaceable, artistic Scot is not the pushover Henry thinks.
James McArdle shows his cultured, gentle James develop in political cunning and cold determination to change Scotland from a country of competing factions into one ruled by law with a king who wields real power, aided by the clever support of Stephanie Hyam's Joan, an English noblewoman whom he met only on their wedding day.
Their marriage was supposed to ensure that he remained England's puppet, but she was his loyal supporter, using her skills to run court and country, though oblivious at first to how much the uncommunicative king actually loved her.
Gordon Kennedy as Murdac Stewart, who had ruled as Regent but was won over to help create a stable Scotland, makes him a canny politician. He still loses his head because of the continued rebellion of his family, led by wife Isabella (Blythe Duff) and son Big James (Cameron Barnes).
Does power corrupt this James or is he driven by political necessity? The taunts of a hollow-faced Henry V (James Sives) follow him ghost-like until finally vanquished by a triumphant display of violence.
James II: Day of the Innocents
Violence is a continual presence in this trilogy. James II saw his father murdered. Hidden in a trunk, the little prince, so easily identified by a strawberry mark across his face, survives. Such memories haunt him and we see his nightmares acted out in puppetry and live.
Competing lords at first control him until another Douglas, known here as Balvenie, sets up their arrest and sudden execution. Greedy Balvenie (Peter Forbes, malevolently dissembling) gains James's trust. He has his own eye on the throne. His son William doesn't want the crown and is the King's best friend.
Mark Rowley plays him with an open heart, a good man among many monsters, who wants to do great things at the King's side. He turns against his father by insisting on a football match and games instead of political business as the traditional way to celebrate Holy Innocents Day.
With Mary, James's Queen (Stephanie Hyam) and the king's sister Arabella (Rona Morison) supportive, things seem set for more peaceful times, but James puts distance between himself and William to exert his kingship and William sees his ambitions thwarted and refuses to extract himself from alliance with some other nobles. Their friendship ends in savage violence.
While Laurie Sansom's direction still keeps this play very watchable, it is not so clear in its exposition as its partners and perhaps has less to tell a modern audience, but it is a necessary link in the Stewart story.
James III: The True Mirror
Here, Munro uses the metaphor of a mirror to make people see themselves as they really are.
Sansom kicks this third play off with a modern dress Ceilidh. Perhaps it is there to remind people of modern relevancies, that if we don't learn from history we end up reliving it, but it is spirit lifting, (a perhaps needed touch for those who are seeing three plays in one day and need settling back in after their dinner break) good fun and lets the audience identify the actors out of role.
This James tends to extravagance with a treasury that can't afford it. Fortunately, his wife Margaret is a born household and money manager. Even though living apart in Stirling Castle, this Danish born princess keeps close tabs on state affairs and finances in collaboration with John (Gordon Kennedy), Head of the Privy Council. He is becoming increasingly attracted to her, while James has made a mistress of a young laundress called Daisy (Fiona Wood).
Parliament won't find James £70,000 to finance a pilgrimage to Amiens. (Why Amiens? He's thinking of building a cathedral and wants to take a look at that one.) He does manage to set up a choir to travel around with him. Music is James III's thing, and perhaps his personal assistant Ramsey (Mark Rowley) the only person probably who really loves him.
You can't help liking Jamie Sives's capricious James even as you realise how impossible he is as King. With Sofie Gråbøl as his sensible and gentle queen, they become the pivot of this play. When James presents her with a mirror, intending to show her how grim she looks, at least to him, it has the opposite effect, surprising her by her youthfulness but causing him and his mistress concern.
As Parliament and nobles show increasing dissatisfaction with the King, Margaret sets out to mend affairs by convincing him he must apologise to Parliament. She appears to have succeeded, but, when the King appears, apparently contrite, he flares up and scandalises them by his behaviour.
Margaret steps in and restores order. Gråbøl is splendid addressing the Three Estates and describing her own love for Scotland. This is Scotland's National Theatre being its most nationalistic and it is very moving. It is only a temporary respite of course—there will be more blood to follow—but, despite the violence and greed and the fierce land grabbing by rival families, these three plays also have a strong strain of humanity and humour.
If this is what a collaboration between our two National Theatres can produce, may there be much more of it.
Reviewer: Howard Loxton