Head Over Heels: The Go-Go's Musical
Songs by The Go-Go's, conceived and original book by Jeff Whitty, adapted by James Magruder, based on The Arcadia by Sir Philip Sidney
Gartland Productions & Chris Maguire
Hope Mill Theatre
–

Listing details and ticket info...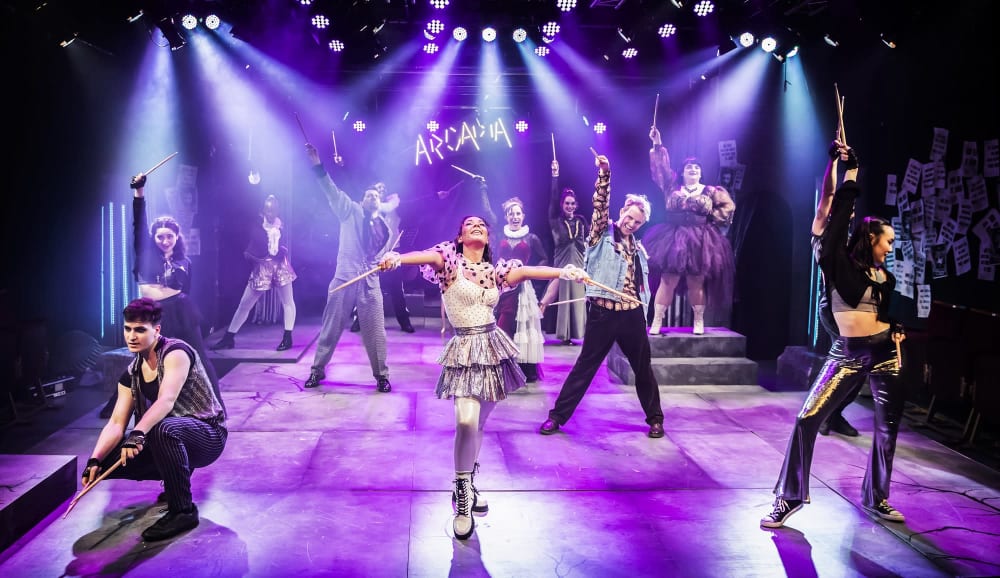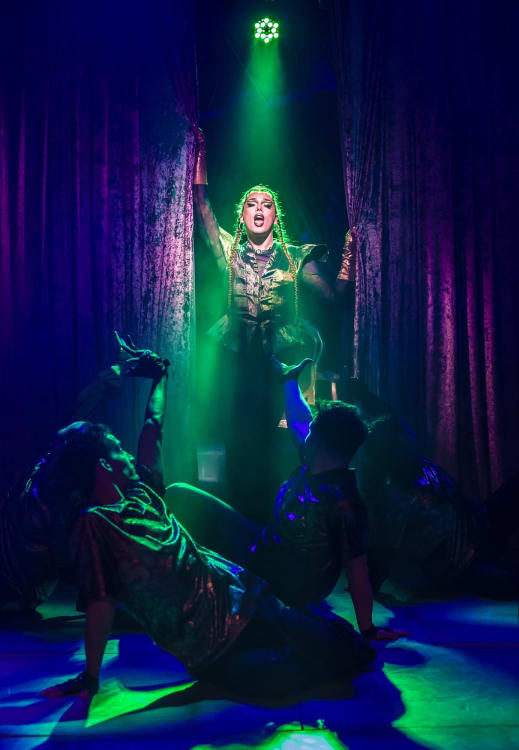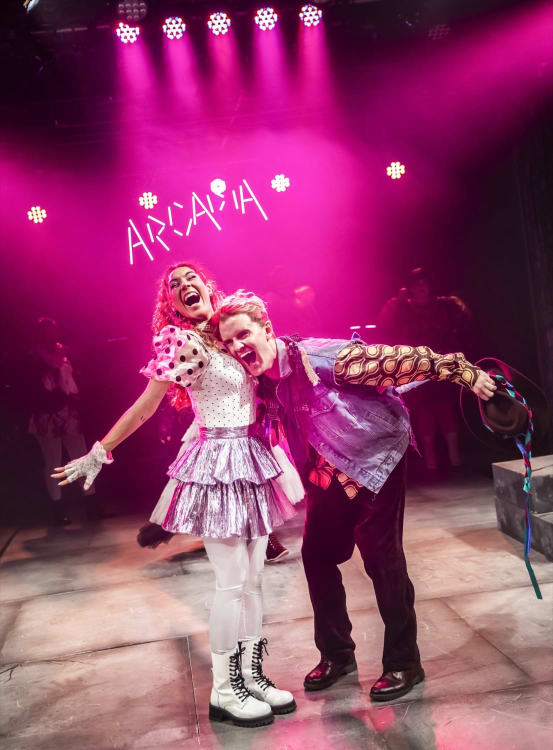 The year opens at Hope Mill with this recent musical based on the fifteenth-century romance Arcadia by Sir Philip Sidney with a book by the writer of Avenue Q and songs from the back-catalogue of '80s American all-female pop-rock band The Go-Go's (described as 'punk' in the programme, but then American punk was very different from British punk).
Visually, we appear to be in an underground rock club of, perhaps, forty years ago with a decadent classical feel, as Sophia Pardon's design mixes concrete half-pillars that could be from a Greek ruin with a neon (or modern low-energy equivalent) 'Arcadia' sign and costumes from clothes that clubbers of the late '70s and early '80s may have worn. The dialogue, however, is based on Sidney's original with a few modern twists, and it took me a little while to tune my ear to the Elizabethan language within this setting.
Even greatly simplified from Sidney's original, the plot is still rather contorted. Set in a sort-of Ancient Greece, the kingdom of Arcadia thrives on something called 'The Beat'—as unsubtle an intro to one of the best-known songs ("We Got The Beat") as anything in We Will Rock You. The King, Basilius (Fed Zanni), after telling his younger daughter Philoclea (Maiya Quansah Breed) she must reject the shepherd Musadorus's (Luke Bayer) proposal, is told that the Oracle is being replaced by Pythio (Iz Hesketh). The new oracle makes four predictions (one up on Sidney) and says that if they all happen—each indicated by the fall of a flag, actually a brightly coloured frock—Arcadia will lose The Beat.
Among many complications, Musidorus comes back dressed as a female Amazon warrior Cleophila (yes, really—it's from Sidney) and consummates his relationship with Philoclea, the King commits adultery with own his estranged wife Gynecia (Julie Stark) and his conceited older daughter Pamela (the irrepressible Jenny O'Leary) discovers that the reason she isn't interested in her long line of male suitors is she prefers her female companion Mopsa (Khadija Sallet). During this, servant Dametas (a stand-out performance from Daniel Page) grows increasingly anxious as he collects the falling flags.
It ends with the King having to fight to save his kingdom, and an apparent tragedy, but all eventually ends well for everyone after some rather too wordy explanations to tie up the various strands of the plot.
it's certainly a fun show, even if the plot can be hard to follow and fairly insubstantial. Director and choreographer Tom Jackson Greaves, who choreographed the wonderful The Book Thief at the Octagon a few months ago, claims in the programme that there is a contemporary political allegory, but while there are positive messages about difference, diversity and acceptance, there isn't enough substance for it to say much more.
The strength of the show is in its music, which works surprisingly well with the story and sounds terrific under Arlene McNaught's musical direction, with strong vocals, lovely harmonies and a great backing band who aren't named in the programme. I've been to a few shows here where the sound has spoiled it for me, but Christopher Bogg's sound design is spot on, with plenty of power and great clarity. Greaves's sharp choreography, mostly danced by ensemble members Alison Driver, Timo Tatzber, Samuel Routley and Marina Tavolieri, perfectly fits the style of the music and setting.
While hardly an undiscovered classic, there's fun and great music to be had here as well as a few topics that will resonate with modern audiences.
Reviewer: David Chadderton