Heads Up
Kieran Hurley
Show And Tell
Battersea Arts Centre
–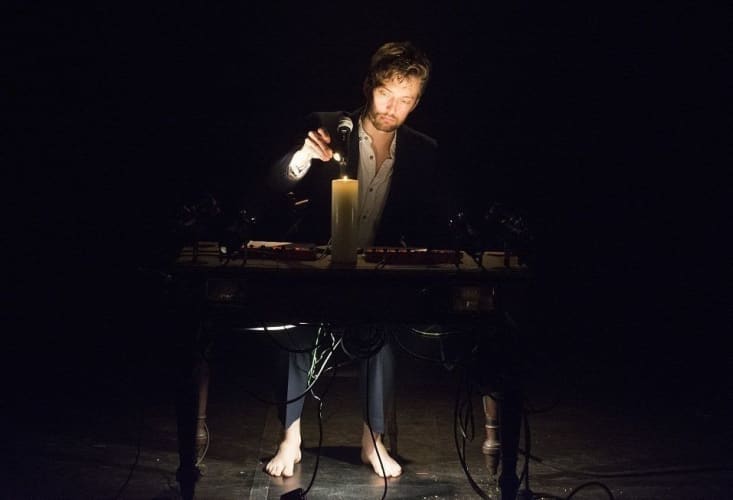 Kieran Hurley's furious poetic monologue on the approaching apocalypse is exciting and sometimes funny. He sits wearing a black suit, centre stage at a mixing desk, a candle flickering beneath the microphone, the spotlights giving an intense whiteness to his face and feet. The thumping rhythms of the soundscape emphasise the urgency of his words.
He tells the audience that his story takes place in a city like theirs. It is a story about the end of the world that begins and ends with a breath. Its characters are believable, their separate stories unsettling. They are addressed directly as "you".
There is the trader Mercy who deals in futures, watching the market for signs and patterns. She is the first to spot the imminent catastrophe. But no one will listen. Instead she is thrown out of the office.
The twelve-year-old Ash is forced to endure a school assembly whose subject is cyber-bullying which everyone knows relates to a sexually explicit image from her that is being circulated on the Internet. Afterwards, she sits on a high window ledge as the sky begins to burn.
Abdullah is desperate to keep his low-paid job at the coffee shop. He is especially worried because the company has posted on the staff bulletin board that his performance has been less than "people perfect behaviour". Convinced that management will send in a secret shopper to test how he responds, he mistakenly believes that a strange group who arrive protesting at the shop are in reality undercover spies.
The self-centred celebrity pop star Leon seems to care about no one, including his wife who is in labour. He simply shovels back the cocaine, drives his car recklessly and babbles about his latest fad: saving the bee.
These are the witnesses to the final phase of the approaching end of the world. They are wrapped up in their own anxieties and unable to do anything about what is happening.
The monologue is a tense warning, a "heads up" to what will happen unless the planet changes direction. It offers no alternative to its narrow nihilistic vision of a doomed capitalism. There is only its poetic conviction that things cannot remain the same.
Reviewer: Keith Mckenna