Hear Me Raw
Daniella Isaacs
Lipsink
Arcola Theatre, London
–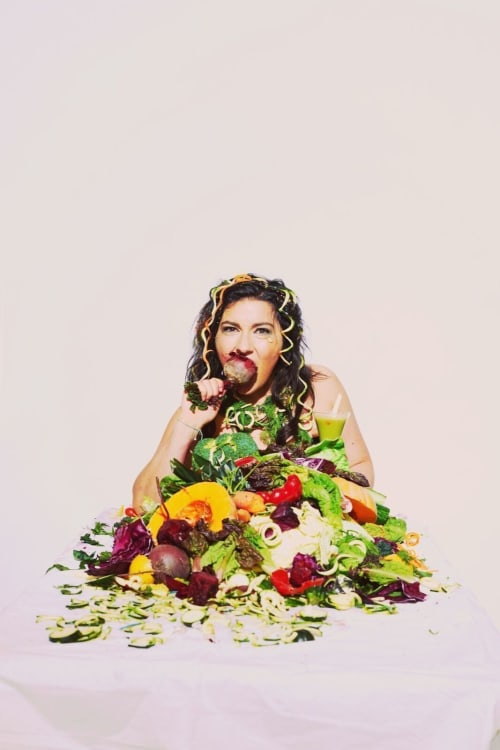 Clean eating is looking increasingly grubby of late. After a series of scandals, notably the controversy surrounding disgraced Australian health guru Belle Gibson and the ridicule meted out in some sections of the media to Gwyneth Paltrow's wellness brand Goop, former "Green Girl" blogger and actress Daniella Isaacs has created an autobiographical show based on her experiences in the ways of kale, quinoa and almond milk.
The piece takes the form of a one-hour Powerpoint wellness workshop. Isaacs, glowing evangelically, and seemingly having emerged from the gym, greets the audience members with a beaming smile as they arrive. She stands in front of a work bench laden with blenders and pots of organic substances. She claims the workshop will have to be delayed because her mother is still on her way.
The lecture continues in aspirational mode, occasionally interrupted by beeps from Isaacs's telephone. But it soon deteriorates, as the kitchen implements begin to glow and speak to her, the slides stutter, and the evangelism decays into a confessional tale of family woe, anxiety, and orthorexia. Some of the characters are voiced by real family members. We glimpse scenes from Isaacs's increasingly troubled personal life, as she endures physical and mental decline, and each implement or pot takes on the persona of family members of varying degrees of helpfulness.
By the end, white top stained in green juices, Isaacs, whose performance is engaging throughout, gives a very real sense of having been defiled by clean eating.
It is a manic experience, but one that suits the content. You feel like you're drowning in green hashtags. There are some confusing transitions, including an awkward date in "Polpo" that begins very abruptly. Since she does not always appear to speak directly to each object, it occasionally takes some moments to identify Isaacs's interlocutors, but this can partly be explained by some indistinct sound in the Arcola. To some extent, those obscure transitions helped to underscore the neurosis.
The play has a healthy, if potentially trite, universal message about embracing imperfection, and is perhaps aimed principally at those who have been betrayed by some of the more outlandish claims of the wellness industry, especially young women. Clearly a project of great passion and personal insight, it is unlikely ever to be endorsed by Paltrow.
Reviewer: Tim Fox