Heart of Darkness
Andrew Quick and Pete Brooks
imitating the dog in co-production with Marche Teatro (Italy) and Cast
York Theatre Royal
–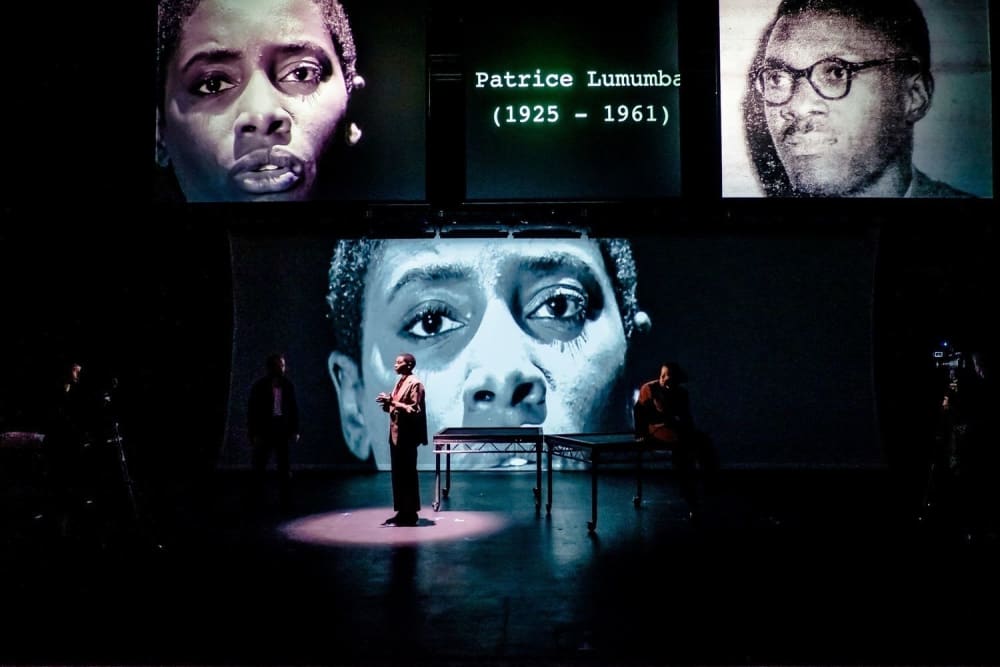 Over the past twenty years, Andrew Quick and Pete Brooks's imitating the dog has evolved a distinctive style for its performance work, making use of video technology and technical trickery to create complex live projections through which they tell their stories.
So as the narrative of Heart of Darkness begins to unfold, we see the actors lining themselves up on stage and manipulating two video cameras to frame particular shots, while above them the filmed results of their moves play out.
The manoeuvres involved are often fiendishly technical, with actors adroitly positioning their sightlines relative to the camera to create the onscreen illusion that they are looking each other in the eye, while the physical bodies on stage might be nowhere near each other.
Perspective and shadow are used brilliantly. Footage from documentaries, as well as from Francis Ford Coppola's famed 1979 adaptation Apocalypse Now, also features in the dense, sometimes Wooster Group-esque fabric of imagery and live performance.
To describe this as filmic is not quite right; it's something more. The presence of three smaller screens and one large backdrop, rather than just the one image, provides ample opportunity for Simon Wainwright's projection and video design to create a more montage-like assemblage, and digital effects as well as awe-inspiring lighting (designed by Andrew Crofts) mean that often the aesthetic evokes the flexibility and expressivity of the graphic novel rather than the fixed frame of the film.
The imagination and invention involved in staging long scenes in transit, evincing the monotony, tension and later bewilderment of a journey into threatening and uncharted territories, are at times entrancing.
The cast are well-drilled and make these complicated set-ups seem effortless. They are all strong performers, but Keicha Greenidge stands out in the central role of Marlow, drawing on a controlled emotionality and excellent range. Matt Prendergast, too, takes on the most varied set of characters and delivers a powerful, committed and often transfixing performance in each.
Early on we discover that the "darkness" that Conrad was describing at the end of the 19th century has been transposed; we're taken into a world in which Kinshasa, and the African continent as a whole, has prospered, while Europe has fallen into brutal disrepair following the devastating wars of the twentieth century and the failure of the capitalist experiment.
Such knotty reversals deal productively with the problem of reading the novella in a world in which colonies may have crumbled but the spirit of colonialism seems to be making a bizarre and wretched return.
When a projected title announces that we're moving "six months earlier", it's yet more intriguing to see that this means in real time—i.e. we are also to witness this group of performers starting to devise the piece, tussling with the difficulties behind staging this work in this place and time.
I found those sections far less rewarding overall, though—most come across as pre-emptive strikes against censorious critique, as staged programme notes, or as unnecessary footnotes to the creative process. For me, the decision to have the central figure depicted as a woman of colour (rather than a white male colonialist) was made thinner rather than more interesting by our hearing the debate behind the choice.
Likewise the analogies between capitalism, colonialism and zombie movies, which seemed more interesting as provocative backdrops for the main action. The slightly arch performance of these supposedly impromptu debates also failed to convince me that these were real people exercising real opinions.
The introductory programme note itself focuses almost entirely on anxieties about the challenges of staging a potentially problematic but widely acclaimed work, of which African scholars and artists—given voice in the production itself—have already mounted a deep and engaged critique. But, when read as a response to these anxieties as much as to Conrad's novella, this is still a satisfying, beautifully crafted, thoughtful and ambitious performance.
Reviewer: Mark Smith