Heathers The Musical
Book, music and lyrics by Kevin Murphy and Laurence O'Keefe based on the film by Daniel Waters
Bill Kenwright and Paul Taylor-MIlls
Curve Theatre, Leicester
–

Listing details and ticket info...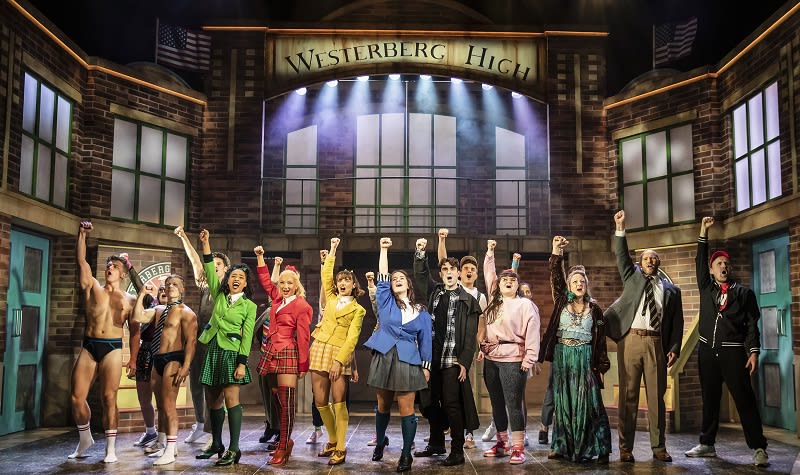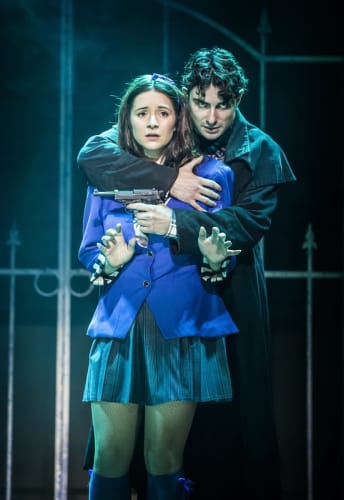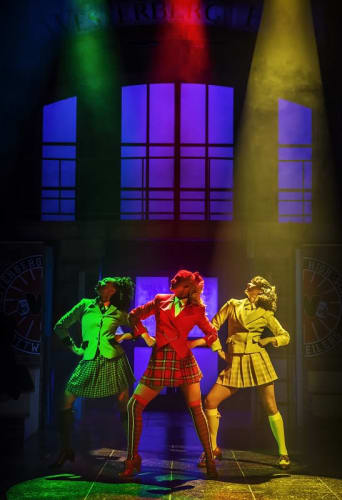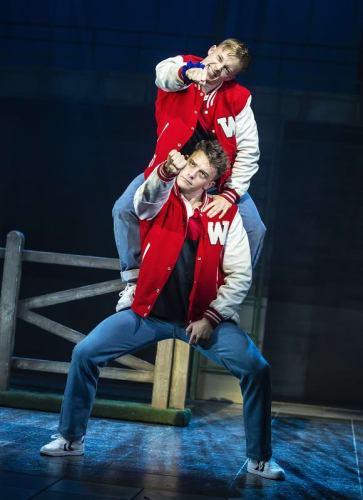 This is something of a mishmash of a musical. Source material is Daniel Waters's 1989 cult movie Heathers (starring Winona Ryder and Christian Slater), which itself sparked many subsequent high school-set, clique-based films. Heathers The Musical opened off-Broadway in 2014, the West End in 2018, and first toured the UK in 2021. This current UK tour comes to an end in September.
The plot veers off in various directions, particularly in act two, however, to summarise, Veronica (Jenna Innes) is a student at Westerberg High School, and, to avoid bullying by a notorious gang of three girls named Heather—thus the eponymous Heathers, specifically gang leader Heather Chandler (Verity Thompson), Heather Duke (Elsie Zavou) and Heather McNamara (played for this performance by Eliza Bowden, not pictured above)—she allows her talent for forgery to be her route into their gang. Veronica is also intrigued by the arrival of new boy Jason 'JD' Dean (Jacob Fowler), quoter of poetry and different from the loutish jocks and misfits in the school.
Heather C, aka "mythic bitch", gets Veronica to forge a fake love letter from Veronica's friend Martha (Kingsley Morton) to college jock Ram (Morgan Jackson). Veronica's romance blossoms with JD until he challenges her for sending the note, and from then on, Veronica learns quickly about JD's alarmingly sinister side as his plans for her redemption ending in murder. Things then spiral out of control—with explosive results.
The earlier "mishmash" description relates to the book and characterisations. Some pretty heavy themes are featured, in particular, suicide, gun violence, sexual violence and bullying, and to root for and also believe why characters do what they do, the audience needs convincing. I wasn't, unfortunately, mainly due to stereotypes, one-dimensional characters a-plenty and left-field plot twists.
The cast did a superb job in terms of the energy and enthusiasm of their performances, with powerful vocals and enjoyable choreography; director Andy Fickman certainly keeps the pace up. Regrettably, though, the sound balance seemed too in favour of the drum and bass, sometimes uncomfortably so, often drowning out lyrics.
Set in 1989, this timeframe didn't dominate in terms of the show's costume aesthetic or language; the score also doesn't hint at the 1980s, it's more of a selection of contemporary bouncy, fun songs and power ballads. More memorable songs are "Seventeen" and its reprise, and the preposterous "My Dead Gay Son", which, although containing one of the more left-field moments, is fun. The Greek chorus and Veronica's conscience comprising Heather C, Ram and his mate Kurt (Alex Woodward), all brandishing croquet mallets, and with Ram and Kurt resplendent in underpants and socks, is an amusing detail.
Judging by the audience mix, this musical has great appeal to late teens who dress in colours according to their preferred Heather, and the cast were delighted to be on the receiving end of multicoloured hair scrunchies thrown on stage during the curtain call.
The original film was darkly comic and the musical continues the black comedy theme, however, the tone comes across as flippant rather than funny and the swings between teen love, bullying and extreme violence just don't work. Notwithstanding dramatic irony, post-Columbine and many other subsequent high school tragedies should, to me, invite at least a revisit to how some of these themes are tackled.
Reviewer: Sally Jack