Heathers the Musical
Book, music and lyrics by Kevin Murphy and Laurence O'Keefe, based on the film screenplay by Daniel Waters
Bill Kenwright and Paul Taylor-Mills
Leeds Grand Theatre
–

Listing details and ticket info...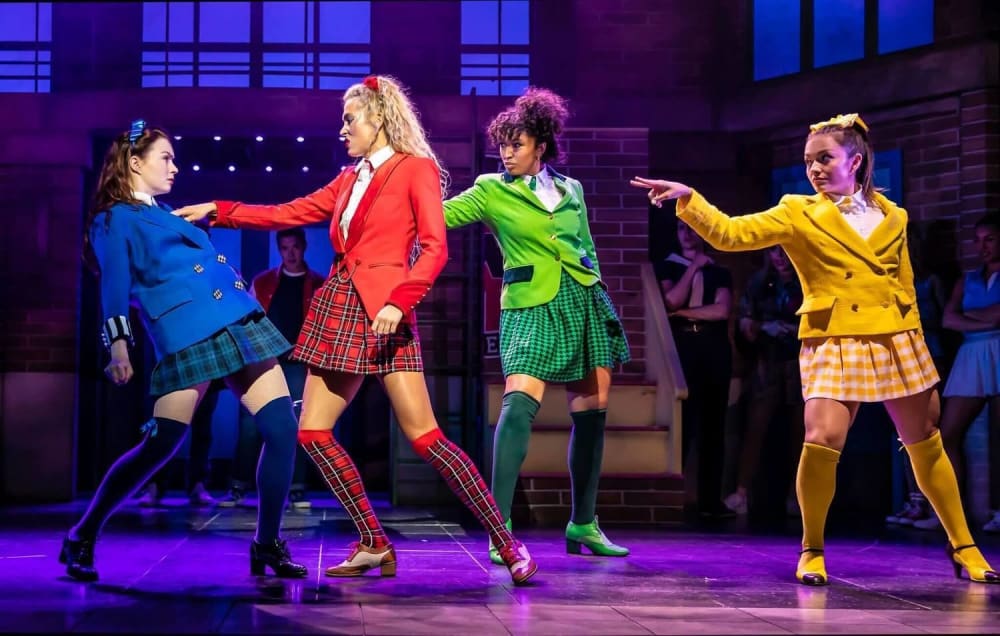 As a devotee of the original film, I approached the musical of Heathers with a mixture of excitement and trepidation. Would the stage version manage to replicate the movie's razor-sharp wit? Could the film's gleeful dissection of high-school tropes translate successfully to the theatre? Would the lead actors capture the murderous élan of Winona Ryder and Christian Slater, the Bonnie and Clyde of '80s teen cinema?
Adapted by Kevin Murphy and Laurence O'Keefe, who also co-wrote the music and lyrics, Heathers sticks closely to the original film. Just in case you "had a brain tumour for breakfast", the show centres on Westerberg High School, where the students' lives are dominated by "mythic bitch" Heather Chandler (Maddison Firth) and her two main acolytes, Heather Duke (Merryl Ansah) and Heather McNamara (Lizzy Parker).
When our clever and funny heroine Veronica (Rebecca Wickes) is accepted by the Heathers, it looks like her days of being a social outcast are over. However, when she refuses to participate in their cruelty any longer, she joins forces with a mysterious new student, JD (Simon Gordon), with murderous results.
There is a long-running tradition of songwriters plundering the cinema for source material, and in some cases the musical version manages to overshadow the original; examples of this phenomenon include Little Shop of Horrors, Hairspray and Legally Blonde. Despite building up a huge following since 2013, the musical version of Heathers doesn't manage to escape the shadow of the 1988 original. Whilst edgier and more subversive than most mainstream musicals, too much of the film's darkness and ambiguity has been lost during the adaptation process.
This is not to say, however, that I wasn't often entertained by Andy Fickman's slick, fast-paced production. Gary Lloyd's high-octane choreography is performed with great verve by a talented ensemble, and the songs—whilst not particularly memorable—are solidly crafted. That being said, I wish the coolest of '80s teen movies had been given an equally edgy soundtrack, possibly in the vein of Spring Awakening.
The production is powered by a number of strong performances. As Veronica, Rebecca Wickes shows off a killer set of pipes and a natural flair for comedy. She is nicely complemented by Simon Gordon, who plays JD with a suitable blend of bravado and vulnerability.
Maddison Firth excels as the main bully, and her performance during "The Me Inside of Me"—where the now-dead Heather watches in delight as she is memorialised by her classmates—provides one of the evening's most striking scenes. Equally impressive are Merryl Ansah, who seizes the social crown (or, in this case, scrunchie) with a fierce rendition of "Never Shut Up Again", and Lizzy Parker as the most fragile member of the show's unholy trinity.
Mhairi Angus brings pathos to the role of Martha Dunnstock, the Heathers' main object of ridicule, and her performance of "Kindergarten Boyfriend" adds an extra dimension to a character that was barely fleshed out in the film. Finally, Liam Doyle and Rory Phelan are suitably stupid and loathsome as jock assholes Kurt and Ram.
Heathers played to rapturous applause on the evening I attended, and I'm aware that the show has cultivated a huge following. While I prefer the black-hearted original, I'm sure that musical fans will find much to enjoy in this colourful and dynamic production.
Reviewer: James Ballands