Heathers the Musical
Kevin Murphy and Laurence O'Keefe, based on the film by Daniel Waters
Bill Kenwright and Paul Taylor-Mills
New Victoria Theatre, Woking
–

Listing details and ticket info...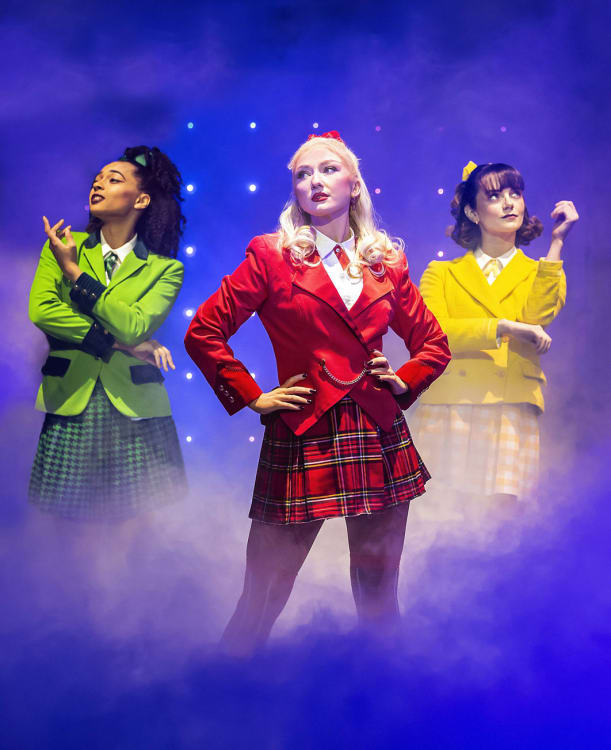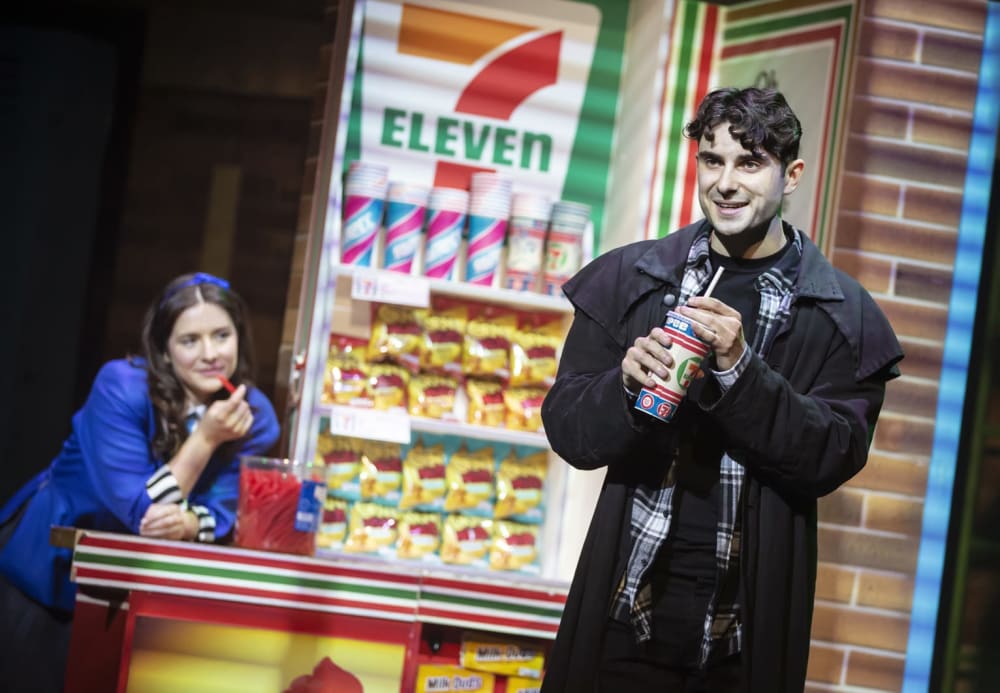 Heathers the Musical is a dark, dark comedy shown in Technicolor. Despite an uncomfortably difficult subject matter, Andy Fickman's directing still manages to hook us in and make us laugh.
The musical is based on the 1988 cult movie classic Heathers which inspired so many subversive high school movies. The film is a cynical, subversive take on teenage angst through school which hacked right through the normal conventions of teen movies. Three girls names Heather rule the school, and Veronica wants to hang out with them to give herself an easy ride through the difficult environment.
New boy on the block JD arrives and attracts Veronica, who really can't stand the Heathers even if they do save her from bullying. With JD as her boyfriend, Veronica steps away from the clique and they don't like it. As they make her life miserable, troubled JD steps in to dispatch the nastiest teenagers in the school for the sake of his girlfriend. Jacob Fowler as JD encourage us to pity a frankly homicidal maniac. This standoffish, nihilistic portrayal is complemented by superb vocals. Alongside Jenna Innes as a determined and gutsy Veronica, the pair shine in this absurd storyline.
In 1988, the idea of a high school kid gunning down his classmates seemed so far-fetched it was easy to turn this into a subversive comedy. In 2022, the subject matter is far more controversial, and you can see why Kevin Murphy and Laurence O'Keefe (writers) tone down JD's (the murdering boyfriend) character. Now he is less cool and more creepy, and the murders aren't shocking but more cartoonesque. It is a little problematic that such a wealth of difficult subjects are speedily glossed over, from suicide to eating disorders.
The show is energetic, full of bright, bold colours and peppy songs but cut with a streak of ironic nastiness in the script. It is the character's pain which drives the show—pain of having to drag themselves through a judgemental high school, and in JD's case the pain of losing his mum.
Heather's music is pretty generic, easily forgotten as soon as you leave the theatre. The highlights really come from the lyrics, but in "Freeze Your Brain" and "Seventeen", Murphy and O'Keefe manage to marry their wit with their best composition. The volume throughout is loud—I imagine they are aiming for in-yer-face, but it often grates as just too much noise.
The other highlight is "My Dead Gay Son" which opens act 2 with much hilarity and a moment of pure joy. It manages to be just surprising enough to keep me laughing as it turns the fake suicide of two jocks into a hymn for tolerance and love.
The whole cast are outstanding, particularly in the vocal department. They deliver an energised, slick performance of this upbeat adaptation. Bitchy, preened and always ready with a pithy putdown, Verity Thompson excels as chief Heather Chandler.
This show is funny, bold and most of all delivered with superb performances from all involved.
Reviewer: Louise Lewis