Heaven Eyes
David Almond
Théâtre Sans Frontières in partnership with Alnwick Playhouse
Arts Centre Washington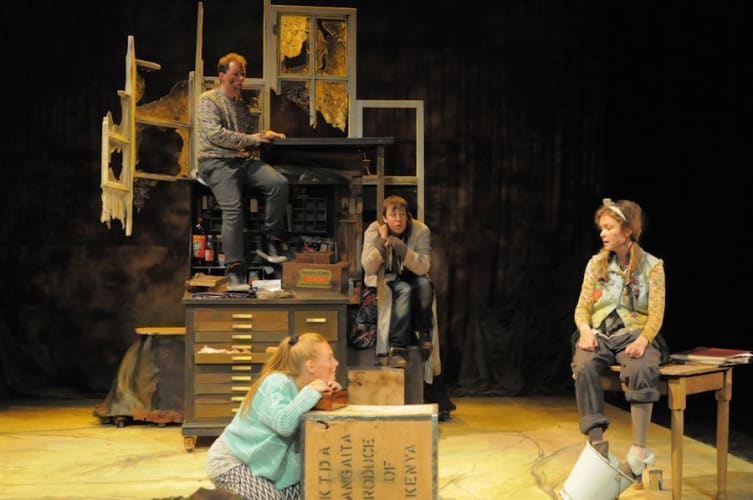 I saw the evening show of Théâtre Sans Frontières' production of Heaven Eyes at Arts Centre Washington. The audience was primarily adult but there were a couple of rows of kids.
At the end there was enthusiastic applause; the company did their curtain calls and left the stage as the house lights came up. We started to leave but the kids were not satisfied; they continued to applaud until the cast came back on and took another few bows. Then they let them go.
That, I think, says so much, not just about the production but about the appeal of David Almond's work for children.
Heaven Eyes, which is about three teenagers running away from an orphanage to find freedom, is grittily realistic but with an other-worldly edge which clearly appeals to children. These three, although very different to each other, have one thing in common: they have no families but do have images in their minds which are, perhaps, a mixture of memory and fantasy.
Escaping from the orphanage, sailing away down the Tyne on a raft made from a door and meeting the enigmatic Grampa and the somewhat fey Swedish girl whom Grampa calls Heaven Eyes, they forge their own family ties through the experiences—some of which are quite scary—they have on the way.
The three teenagers—Erin Law (played by Natalie Ann Jamieson), January Carr (Lawrence Neale) and Mouse Gullane (Robert Nicholson)—are all very different, as are their reactions to the strange duo of Gampa (Paddy Burton) and Heaven Eyes (Swedish actress Maria Lindh).
Their reactions reflect their characters: Erin soon bonds with the Swedish girl, Mouse wants to be useful and help Grampa in his digging for "treasure" and January is sure they are going to be murdered and so becomes aggressive. It is a credit to Almond's writing and the performances of Jamieson, Neale and Nicholson that, in the short amount of time we see them before the meeting with Grampa and Heaven Eyes, their very different reactions seem perfectly natural to us and what we would expect of each of them.
The strength of the characterisation is evident in the part of Maureen (played by Sarah Kemp), a member of the orphanage staff, whose patronising do-goodery in the one scene in which she appears reveals her total lack of understanding of her teenage charges.
It's a fine cast, sensitively directed by John Cobb, and the rest of the production supports writer and performers well. Alison Ashton's set is compact and flexible, morphing from scene to scene with deceptive ease, and Alison McGowan has created one of the most lifelike (although that may not be quite the right word—I will not elaborate further as it might be a bit of a spoiler!) puppets I have seen in a long time. Ken Patterson's music and Kevin James's lighting add their contribution to the mood and atmosphere.
The play is at the Caedmon Hall, Gateshead, on 28 and 29 October, the Kirkgate Centre in Cockermouth on 7 November and the Phoenix Theatre, Blyth on 11 November.
Reviewer: Peter Lathan