Hedda Gabler
Henrik Ibsen, in a new version by Patrick Marber
National Theatre
Grand Opera House, York
–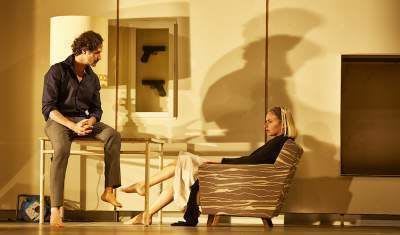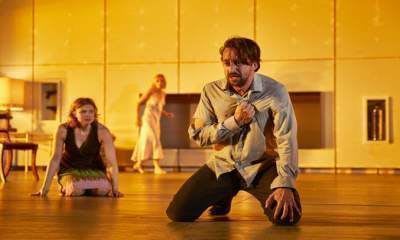 In Antony and Cleopatra (1607), Shakespeare wrote of the Egyptian queen's endless complexity, her "infinite variety". If any other female character in Western drama deserves such a description then surely it's the titular anti-heroine of Ibsen's late masterpiece Hedda Gabler (1891).
One of the great triumphs of this new version of Hedda—adapted by Patrick Marber and directed by Ivo van Hove—is that it does justice to the protagonist's protean nature. On the one hand, she is cruel (arguably evil, at times), monstrously self-absorbed and an out-and-out snob. On the other, she is witty, intelligent, playful and filled with energy (albeit of a demonic kind).
At the beginning of the play, Hedda (Lizzy Watts) has just returned from a lengthy honeymoon with her new husband, a pleasant but dull academic named Tesman (Abhin Galeva). It soon becomes clear, however, that Hedda married him out of a sense of obligation rather than genuine affection.
Bored by her spouse and his adoring aunt (Christine Kavanagh), Hedda amuses herself by interfering in the lives of those around her, particularly her former school friend/victim Mrs Elvsted (Annabel Bates) and her former beau Lovborg (Richard Pryos), a dazzling intellectual with a drinking problem.
Although Hedda exhibits villainous tendencies, she is also a victim. Van Hove describes her, rather brilliantly, as "the prisoner of herself, of her own incapacity": surrounded by opportunities, she lacks the will to build a meaningful life. She is also preyed upon by Judge Brack (Adam Best). At first glance, the characters seem to share a certain affinity—both have a jaundiced view of the world—but it soon becomes clear that Brack's ultimate desire is to control Hedda.
Over the last few years, Belgian director Ivo van Hove has earned rapturous reviews for his bold revivals of classic works. His version of A View from the Bridge (1955), for example, stripped away the naturalism of Miller's play and presented it as a modern-day Greek tragedy. Van Hove achieves a similar trick in his production of Hedda Gabler. The nineteenth-century trappings of Ibsen's original drama have been swept away, resulting in a play that could be set at any point over the last two centuries.
Designed by Van Hove's long-term collaborator Jan Versweyveld, this production of Hedda is visually stunning. The set, a stark city loft apartment with minimal furniture, reflects the title character's coldness. Versweyveld's gorgeous lighting, which infiltrates the room through a balcony window, cruelly exposes the lack of love in Hedda and Tesman's new abode.
Tom Gibbons's atonal sound design adds to the sense of unease, and—as we've come to expect from van Hove's productions—there are striking bursts of popular music. I was particularly moved when Joni Mitchell's "Blue" was played for the first time, but the effect palled on subsequent occasions.
Ultimately, Hedda Gabler will rise or fall based on the quality of its leading lady. Ruth Wilson was much lauded for her performance in the original National production, but Lizzy Watts refuses to languish in her shadow. She is utterly enthralling and deftly captures the volatility and complexity of Ibsen's sphynx-like heroine.
There are some excellent supporting turns as well. Abhin Galeya is a far more appealing Tesman than we're used to: he's less of a tweedy bookworm and more of a rakish hipster. As Aunt Juliana, Christine Kavanagh is suitably warm and maternal—the precise opposite of Hedda.
Adam Best is ferocious as Brack, particulary in one unsettling scene of violence which hammers home the character's deep-seated misogyny. As Lovborg, a man who struggles to overcome his demons, Richard Pyros gives a performance of real pathos.
Hedda Gabler is an endlessly fascinating play, and Ivo van Hove's production is the best version I've seen.
Reviewer: James Ballands